Anne Frank's House
The Anne Frankhuis in Amsterdam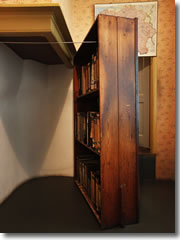 A bookcase swings aside to reveal the hidden staircase up to the apartment where Anne Frank hid—with her family and another—from the Nazi occupation of Amsterdam during World War II. (© Anne Frank House; Photo by Cris Toala Olivares)When 13-year-old Anne Frank began her diary in July of 1942, she dealt with the usual problems of adolescence—feelings about her family and the boy next door. But she also wrote about the defining fact of her life.
Anne Frank was Jewish, and she had just moved into a hidden attic apartment with seven other people, comprising two families, as the Nazis occupied Amsterdam.
For two years Anne lived in these cramped quarters, with only a crack in the blacked-out window and some pictures of movie stars on the wall to remind her of life in the outside world.

Anne Frank's room in the Anne Frank House, Amsterdam. (© Anne Frank House; Photo by Cris Toala Olivares)Eventually, tragically, the Franks and their companions were betrayed, and all were deported to various concentration camps.
Anne went first to Auschwitz, and then, as the Nazis retreated, was moved to Bergen-Belsen.
Anne Frank died of typhus just weeks before the camp was liberated.
Of the eight people who lived in that Amsterdam attic, only Anne's father, Otto Frank, survived. His model of the rooms as it looked in those years of concealment and Anne's photos on the walls are all that adorn the little apartment, hidden up a steep stair concealed behind a swinging bookcase.

Anne FrankIn the more museum-like rooms downstairs, displays detail Anne Frank's story and the larger story of the Holocaust in Amsterdam.
The bookshop carries copies of that remarkable Diary of Anne Frank in dozens upon dozens of languages.
Half a million people come to pay their respects here every year, so expect shoulder-to-shoulder crowds and arrive early.

| | |
| --- | --- |
| The Travel Store | |
Details
Anne Frankhuis
Prinsengracht 263 (just below Westermarkt)
tel. +31-(0)20-556-7100
www.annefrank.nl


Tram:
13, 17;
Bus:
142, 170, 172
; Canal Bus:
Red or Orange (to Anne Frank House/Keizersgracht) or Green (to Anne Frank House/Prinsengracht).


Open:
Mar 15–Sept 14 daily 9am–9pm (Saturdays and July-Aug to 10pm), Sept 15–Mar 14 daily 9am–7pm (Saturdays to 9pm)
Adm