Dutch tulips
The tulip fields of the Bollenstreek and the flower auction in Aalsmeer
Between Haarlem and Leiden stretches a 20-mile strip of land known as the Bollenstreek ("Bulb District," sometimes called the bloemstreek, or flower district) This is Holland's bulb belt, home of the world-famous Dutch tulip fields.
These lowlands slung along the edge of the North Sea, spread across the provinces of Noord Holland (North Holland) and Zuid Holland (South Holland) just west and southwest of Amsterdam, are carpeted with mile upon mile of fields of gladioli, hyacinths, lilies, narcissi, daffodils, crocuses, irises, dahlias—and, of course, the mighty mighty tulip.
On tulips
Tulips aren't even Dutch. They arrived from Turkey in the 1590s and quickly became popular. By 1620, tulip mania had taken hold and growers could not keep up with demand. By 1636, some rare bulbs were sold for their weight in gold. Soon after, though, the floral market bottomed out in the Great Tulip Crash. Bulbs have come down in price a wee bit since then, but the Netherlands remains one of the world's largest producers of flowers.


When to see Dutch tulips
The earliest blooms burst into color in January, and the floral show doesn't slow down until the late-blooming lilies make their exit near the end of May.
The core season lasts just two months: from the third week or March to the third week of May.
Mid-April is the prime time of the tulip, centered around a Flower Parade in Keukenhof usually on the third Saturday in April (in 2012: April 21).
The top tulip gardens and nurseries
Just driving or biking through the countryside is rewarding, but there are a few stop-offs you'll want to make as well.
Keukenhof Gardens

Keukenhof GardensIf you're here from late March to late May, rush to the Keukenhof Gardens in Lisse (tel. +31-(0)252-465-555; www.keukenhof.nl), perhaps the top floral gardens on Earth, to see their 7,000,000-plus bulbs in full, blow-out bloom over 80 acres and 5,000 quare meters of greenhouses.
It's open March 22 to May 20 (exact dates vary year to year), daily from 8am to 7:30pm, and there are cafeterias on-site so you don't have to tear your eyes away from the chromatic spectacle surrounding you.
Biking the dutch tulip fields
Best strategy: rent a bike in Amsterdam, buy a bike day-pass for the train, take the train to Leiden, bike the tulips fields (well-signposted), stop at Keukenhof for lunch and a tour, and end up in Haarlem for some afternoon sightseeing before taking the train back to Amsterdam. Or vice-versa (Haarlem to Leiden). A route meandering through the tulip fields is about 34 km (20 miles).


To get to Keukenhof, take bus 54 from the Leiden train station (4/hr.; 25 min.); Bus 58 from Schiphol airport's B1/B3 bus platforms (4/hr.; 35 min.); or a tour from Amsterdam (or use public transport via Schiphol airport as above).
How to get to the tulip region
Buses running between Haarlem and Leiden service the region.
Haarlem is just a quick 20-minute ride by train from Amsterdam.
Leiden is 33–46 minutes by train from Amsterdam.
The Bollenstreek (Bulb District) is well signposted, with a tulip trail you can folow by bike or car that roughly parallels (and sometimes uses) the N208 highway.
A word on Leiden
If you start in Haarlem, you end in Leiden (www.vvvleiden.nl), a lovely university town of gabled townhouses, wandering canals, and ancient hofje (courtyard almshouses). It was the birthplace of Rembrandt and Jan Steen, and played hometown to the pilgrims before they sailed off to Plymouth Rock and the first Thanksgiving.
Leiden is also—in keeping with the floral theme—home to the Hortus Botanicus at Rapenburg 73, one of Europe's oldest botanical gardens, planted in 1590 (tel. +31-(0)70-527-7249, www.hortusleiden.nl); open daily 10am to 6pm (in winter to 4pm and closed on Mondays).
You can return to Amsterdam or Haarlem, or stay in Leiden at the Hotel de Doelen (tel. +31-(0)71-512-0527, www.hoteldedoelen.com,

), Rapenburg 2, with stylish doubles in a 17th-century house for around €105 (or online from €85).
Aalsmeer: The great Dutch flower auction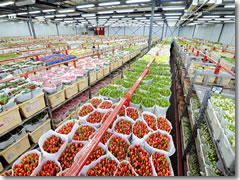 Just part of the 41,561 square meters (447,359 square feet) of cold storage rooms at the FloraHolland Aalsmeer auction site. (Photo courtesy of FloraHolland.)One of the bulbfield region's chief attractions is just six miles south of Amsterdam at the flower auction in Aalsmeer (Legmeerdijk 313, tel. +31-(0)297-397-000, www.floraholland.com), the biggest trade center in the world.
They may just be flowers, but don't laugh. This is a $5.8 billion-a-year industry—and that's just for this one company (which is, albeit, the largest player)—contributing 20% to the Dutch balance of trade and representing between 6,000 and 8,000 growers.

The auction floor at Aalsmeer. (Photo courtesy of FloraHolland.)You can watch from the visitors' gallery as 3,850 cut flowers (and 302 other plants) are sold per minute in giant lots. Prices are bid down in price at a breakneck pace, as cut flowers especially are extremely perishable and must be moved quickly.
Fourteen massive clock-light dials tick down rapidly from 100 to 1—as the numbers count down, the price drops—and the first bidder to buzz in on that lot stops the clock at that price and gets his super-sized bouquet (because there's only one bid, it's like a huge game of chicken).
The Aalsmeer flower auction runs Monday to Friday from 7 to 11am (try to show up before 9am for the best action).
How to get to Aalsmeer
Bus 172 (www.connexxion.nl) heads to Aalsmeer from Amsterdam's Centraal Station.
Tips
Take a tour: Prefer someone else to take care of the logistics and provide a professional guide for your day trips? Try a Tulips tour via our partners at Viator.com:


| | |
| --- | --- |
| The Travel Store | |
details