Hostels
This room is your room, this room is my room, this room has 30 other people snoring in it so how the heck am I ever going to get some sleep?
Some hostels, like this one above Lake Bled in Slovenia, can be quite cozy and comfy. Big city hostels in Europe rarely look this good.
If you're really scrimping on every eurocent, or are particularly fond of fraternizing with primarily youthful backpackers, you might want to stay in hostels, where you can get a bunk in a shared dorm for around $7 to $30.
I'm not a fan of hostels. Never did like them, really, not even when I was a backpacking student, but that's just me.
You, though, might enjoy the camaraderie, the chance to rub elbows with other English-speakers, the evenings of contributing an ingredient to the communal spaghetti dinner someone is whipping up in the kitchen while your laundry spins in the back room, a dreadlocked dropout strums a guitar, and everyone sits around and shares travel tips and recently discovered gems not yet in the guidebooks.
Oh, and the massive savings. That's the upside to the hostelling experience. The downsides, though, are enough to keep me away, despite the savings.
The Downsides—Why I Don't Like Hostels
Hostels tend to be far from the center of town, occasionally on the city outskirts (though smaller, private outfits—ones not affiliated with Hostelling International—are starting to sprout up closer in to city centers), and they fill up with high-schoolers in summer.
The biggest drawbacks: they almost always impose evening curfews (10pm-midnight or so), midday lockout periods , and limits on how long you can stay (often no more than three days ).
Plus just imagine sleeping in a room with 30 other people and all the noises that can emanate from that many snoring (and remarkably flatulent) bodies tossing and turning on squeaky cots.
You may only be able to reserve a day in advance, or not at all, so show up early.
Also, if you truly came to see the local country and meet its people, that ain't gonna happen if you always hang out with groups of Americans studying abroad, Australians on a gap year before college, and party-hearty German twenty-somethings.
OK, enough on the philosophy and clientele. Let's get to the nitty-gritty.
The Nitty-Gritty
Like I said, you stay in bunks in dorm-like shared rooms —depending on the hostel, from 2 or 4 beds per room to as many as 100 beds in a single gymnasium-like space. Hostels have been trending toward the smaller rooms model in the past few years (4-6 beds per room), but most have a mix of smaller and larger rooms at differing prices. Many are sex-segregated by room or floor.
There are lockers for your bags; use them.

Grabbing a bed in a traditional hostel is a bit like staying at summer camp, only without the lanyards. These days, such rooms full of bunk-beds are being replaced with teensy "dorms" of just four to eight beds each.
You always pay a per-person rate —which means it can be a savings for singles, but two or three people traveling together can usually find hotels for the same price or even less. Families can often find hostels with 4-bunk rooms for semi-private housing.
Bathrooms are always shared —sometimes each dorm room has its own; usually its a giant bath down the hall shared by all dorms.
Breakfast is often included, and other cheap but lackluster meals are available.
To stay in many hostels, you must be a card-carrying member of Hostelling International (see below)—or the card will at least get you a discount. However, I've found that official HI-affiliated hostels tend to be the most depressingly institutionalized ones: school-marmy, rigid, bland, and boring. Private hostels tend to be far more interesting, festive, salubrious, and fun.
Note I keep calling them simply "Hostels." The only ones that are still officially "youth" hostels are in Southern Germany, where the old under-26-only rule is still applied. Most hostels are now open as cheap digs for anyone of any age, and increasingly budget-minded families, adventurous folks in their forties, and even backpacking grandparents are availing themselves of this cheap-o option.
And A Sack to Sleep In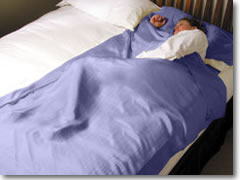 Buy a sleep sack before you go or make one. Hostels will accept homemade ones out of a basic cotton top sheet (fold it in half the long way, sew across the bottom and 2/3 of the way up the side), as well as the kind I use: the silk sleep sack you can get from travel and camping outfitters that packs teensy and is dreamily comfortable.
Most hostels provide a blanket, but require that you use your own sleep sack, which is basically a sheet folded in half lengthwise and sewn across the bottom and most of the way up the side—sort of like an ultra-thin sleeping bag (and sometimes called a "sleeping bag liner").
However, note that you cannot use your own sleeping bag, or a sleeping bag liner with a thick pile to it. This is because Lord knows where you've been and for all the hostel know your bag is infested with bedbugs, which they'd rather you not introduce into their beds.
Should you lack one, some hostels will sell you a sleep sack on the spot.
How to find hostels
Hostelz.com (www.hostelz.com)- At last check, the largest hostel booker, with nearly 39,000 listings.

HostelWorld (www.hostelworld.com) - Premier independent booking site for hostels around the world, representing 23,000 hostels in 186 countries. It also helpfully includes particularly cheap hotels as well as campgrounds.

Hostelbookers.com(www.hostelbookers.com
) - Some 17,000 hostels in 2,500 destinations.
Hostelling International (www.hihostels.com) - The official international hostelling body, giving its stamp of approval to one or two hotels in cities and town around the globe. This ends up totaling more than 4,000.
Sign up as a member ($28, $18 age 55 and over, free under 18, $250 lifetime) and you get a car getting you about 5% to 10% discount at official hostels—many of which will sell you (or insist upon selling you) the membership/card on the spot.
The website lets you search to find official HI properties around the world so you can get the info on location, rules, and prices.
Hostels.com (www.hostels.com) - One of the biggest repositories of hostelling information and reviews of some 31,000 hostels, both HI and independent.
Hostelmania.com (www.hostelmania.com) - Another biggie, with 30,000 hostels on tap.
National Outfits
Many of these country-specific sites will cover independent hostels in addition to the official Hostelling International ones.

Book a hostel
| | |
| --- | --- |
| The Travel Store | |