Haarlem
A millenium-old Dutch city just 20 minutes from Amsterdam

The Grote Markt and Haarlem's old city. (Photo by Jane023)Haarlem makes perhaps the finest day trip from Amsterdam, offering a much more laid-back and less hectic version of a tidy, tiny Dutch city (pop: 150,000).
It also has a lovely church on the main square and several fine museums, including one devoted to the paintings of hometown artistic hero Frans Hals.
The Grote Kerk


There are actually two "Cathedrals of St. Bavo" in Haarlem. The old cathedral, called the Grote Kerk on the main square (above; photo by CT Snow), and its replacement built in 1895–1930 on the west side of the Leidsevaart canal on the southwest corner of the city center (pictured below; photo by Tasja)


The town's pretty central square, Grote Markt, is anchored by the late Gothic church St. Bavokerk, better known as the Grote Kerk (tel. +31-(0)23-553-2040; www.bavo.nl), built in just 130 years—fast, for a medieval cathedral.
Inside are artist Frans Hals's tombstone, a cannonball embedded in the wall during the Spanish siege of 1572 to 1573, and one of the world's great organs, a 68-stop 5,068-pipe beauty built by Christian Müller in 1735 to 1738—both Handel and a 10-year-old Mozart once came to play it.
From mid-May to mid-October the church hosts free organ recitals Tuesdays at 8:15pm (in July and August, also on Thursdays at 4pm). The church is open Monday to Saturday 10am to 4pm (to 5pm in summer). Adm.
Seventeenth-century shops and houses gather like barnacles on the church's south flank. These were built so rent could be charged to help with church upkeep.
The Frans Hals Museum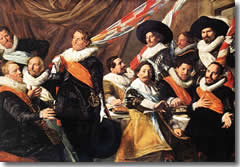 Frans Hals' Officers of the Civic Guards of St. George (1627) in the Frans Hals Museum of Haarlem.Haarlem's biggest attraction is the Frans Hals Museum (tel. +31-(0)23-511-5775, www.franshalsmuseum.com), Groot Heiligeland 62, set up in the pensioner's home where the painter spent his last days in 1666.
Many Dutch painters from the 16th century to today are represented, but Frans Hals's works make up the bulk of the collections.
Frans Hals may not be as famous as his compatriots Rembrandt and Van Gogh, but he is a seminal figure in European painting and Dutch history, a 17th century master who painted for both the nobility (lots of portraits) but also for the emerging merchant (middle) class rather than the church. Therefore, many of his works depict typical life and typical settings of the Dutch Golden Age, the next best thing to a photograph of Dutch life 300 years ago.
A sidetrip to see The Little Dutch Boy" (of finger-in-dike fame)
Fans of the story Hans Brinker or the Silver Skates and head eight miles north of Haarlem to the cute little burg of Spaarndam, where there is a memorial to the (sorry, fictional) little Dutch boy whose quick thinking and ready finger saved the countryside from being inundated when a hole appeared in the local dike. It's all hung in 17th century-style rooms that often bear a striking resemblance to settings in the works themselves. Speaking of which, be sure to check out the 1750 dollhouse, a precise replica in miniature of a Dutch townhome of the day.
The Frans Hals museum is open Tuesday through Saturday 11am to 5pm, Sunday noon to 5pm. Adm.
Where to eat in Haarlem
The boisterous, tavern-like Stadscafe (tel. 023/532-5202) at Zijlstraat 57 has hearty Dutch food at great prices.
Where to stay in Haarlem
The
Hotel Carillon
has clean doubles in the heart of town at Grote Markt 27. (tel. +31-(0)23-531-0591,
www.hotelcarillon.com
; doubles €80 list, or
from €65 online

)
Its neighbor,
Amadeus Hotel
at Grote Markt 10, is almost as cheap and perhaps a notch nicer—still simple, but thoroughly adequate. (tel. +31-(0)23-532-4530;
www.amadeus-hotel.com
; doubles €75 list, or
from €71 online

)
Tips
How to get to Haarlem: Every half hour or so a train (www.ns.nl or www.raileurope.com) makes the 20-minute jaunt from Amsterdam. The Haarlem train station is on Stationsplein, a bit to the north of the historic center. It's only about 800m (a 10-minute stroll) down Kruisweg from the train station to the central square, Grote Markt (turn right out of the station, then left; about halfway along you'll cross a canal), or city bus 3 will take you into the center.
Visitor information: The main VVV tourist office downtown is at Verwuft 11 (tel. +31-(0)900-616-1600; www.haarlemmarketing.nl)—though there also should be a small info office just outside the train station at Stationplein 1—with a Haarlem Marketing office on the main square at Grote Markt 2.

| | |
| --- | --- |
| The Travel Store | |
details