Europe in a campervan
Camping is a great way to see Europe, but you needn't be tied down to tent pegs. RV rentals are as easy in Europe as they are here at home.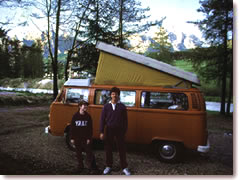 Our hippie-orange VW campervan took my family (the author, on the left age 12, his Uncle Marc, on the right age 19) everywhere in Europe. This campground is by a mountain stream high in the Italian Dolomites. (Photo by Frank Bramblett)
• Why RV?
• Campervan costs
• Renting an RV
• Where to campPicture a small figure singing and running across a mountain field of wildflowers, surrounded by craggy, glacier-capped Alps. No, it isn't a scene from a musical. It's me, age 12, indulging unashamedly in a full-bore Sound of Music moment.
Camping in Europe can do that to a fellow, even an adolescent boy who normally wouldn't be caught dead doing Julie Andrews impressions.
I loved the hippie-orange VW campervan my family owned when I lived in Rome as a child (that's it, and me, in the picture on the left). It had a temperamental sink, a hilariously dinky engine puttering along at the back that would have trouble motivating a lawn mower let alone drag my family up the side of an Alp, and a moldy canvas siding in the pop-top where I slept at night yet which my parents steadfastly refused to let me ride in whilst cruising down the Autobahn.
Seeing the continent by camper allowed us to experience a Europe most travelers on the train-and-hotels route miss. The freedom of camping meant I watched a meteor shower from the banks of the Thames, far from the bright lights of London; I battled valiantly with a recalcitrant a washing machine in Northern Italy that turned out to be a dryer (the clothes came out very warm and full of soap powder); and I swam—along with the German kids from the site next to ours—in the little river flowing past our campground deep in the Black Forest.
Why RV Europe?
RV Swaps
Already own an RV? Want to hit the road in a camper in Europe, Australia, or anywhere else without having to pay high rental fees? Find a local motorhome owner in that country who's willing to swap his for yours and you can both vacation for free (uh, plus gas):

• icacaravanning.org
• Motorhomeholidayswap.com
• Nzmca.org.nz
• UKmotorhomes.net/exchange.shtml
• lsinzelle.free.fr/Echange.htmAn RV vacation combines the best parts of European travel—visiting the great art cities, driving the countryside, exploring villages and vineyards, and discovering hidden mountain meadows where you can indulge in show tunes—without the usual expense.
How much does it cost to travel by campervan?
These days, double rooms in dowdy two-star European hotel cost about $130 per night. Add a midsize car rental ($470 per week) and you're spending a minimum of $200 per day for a couple, or $280 for a family of four (assuming the kids stay in the parents' room).
A campervan, on the other hand takes care of a vehicle and lodging all at once. Rentals run roughly $700 per week ($910 in summer) all told—details are below. You could park it by the side of the road at night and sleep for free, but let's assume you prefer campgrounds. That'll add $30 per night ($45 in high season). The total cost—for transport and lodging for up to four people—is $130 per day ($175 in high season).
That's about half the price of staying in a hotel and renting a car.
(Yes, you'll guzzle a bit more gas than the rental car family, but since most RVs are diesel—but few rental cars are—that alone will nearly balance out the price difference on fuel.)
Other benefits of RVing
It's not just the savings. You also get all the cultural benefits of leaving the standard tourist route and hobnobbing with others who have ditched minibars for camp stores and traded pillow mints for tent poles. It's a great way to strike up fast friendships with vacationing Europeans.
In a hotel, you rarely get to know the people in the neighboring rooms, but campers in adjoining sites are quick to chat. Many nights you end up pooling the barbecue and bottles of wine with the neighbors and sharing travel stories under the stars.
Finding a Campervan
Rent an RV in Europe
• Autoeurope.com
• Ukmotorhomes.net
• Motorhomesworldwide.com
• Ukandeuropetravel.com
• Wickedcampers.com

Rent an RV in the U.S.
• Autoeurope.com
• CruiseAmerica.com
• Wickedcampers.com
• Elmonterv.com
• RVra.org
• Motorhomesandcars.com

Rent an RV in Australia, New Zealand, or South Africa
• Autoeurope.com• Motorhomesandcars.com
• Spaceshipsrentals.com.au
• Wickedcampers.com.au
• Britz.com
• Maui-rentals.comThe best sites to find a campervan or motorhome to rent in Europe are www.autoeurope.com, www.ukmotorhomes.net, www.motorhomesworldwide.com, Wickedcampers.com, and www.ukandeuropetravel.com, all of which link to dozens of rental outfits across Europe.
Base RV rental costs & choices
A smaller campervan—which sleeps two below, plus one or two smaller chaps up in the pop-up tent on top—rents for $60 to $75 per day in winter, up to $100 to $130 in summer.
A larger, Winnebago-style RV that sleeps four to five people will run $70 to $100 per day in low season, $110 to $180 in high season.
Size matters. For those of you used to the road behemoths here in the U.S. that are twice the size of an average New York apartment, know that European RVs tend to be rather smaller and lighter.
There are several good reasons for this—and for limiting yourself to the smaller vehicles.
European roads are narrow and winding, and gas incredibly expensive—figure on getting 23 miles to the gallon at $5 per gallon—so avoid renting anything longer than six meters (about 20 feet).
Sick to the common Class Cs, which handle more like a car than a big rig, and you'll be fine.
European RVs have traditionally been manual transmission, but automatic seems to be taking over.
The minimum rental period is almost always seven days.
Rentals in Germany tend to be cheapest—though once you pick it up, you can drive anywhere.
Check into any restrictions on taking it into Eastern Europe.
British rentals often add a fee if you take the vehicle to the Continent.
Added fees & taxes
There's often a ridiculous "service fee" of $100 to $175 added to the price.
$30-per-day collision insurance (CDW) is usually required.
Bedding and towels cost another $70 to $80 (bring your own).
Make sure any quoted price includes VAT (tax), which can run to 19 percent.

You may want to get an International Camping Carnet, which is required in a few countries (Denmark comes to mind), and useful in others, where it can stand in for having to hand over your passport. It costs a shopping $45 from organizations like Family Campers and RVers (www.caravanclub.co.uk).
Finding a Place to Park It
A campsite by the side of the little river in Sneem, County Kerry on the west coast of Ireland.
While there are loads of European campgrounds out in the sticks for the get-back-to-nature crowd, there are also plenty of in and around the major cities.
Although most city campgrounds are on the edge of town—count on a 30–45 minute bus or subway ride to the historic center—there are loads of exceptions.
You can get a spot in the Bois du Bologne woods overlooking the Seine in Paris (011-33/01-45-24-30-00, www.campingparis.fr), set up camp on the beach just outside Venice (011-39-041-53-2511, www.camping-miramare.it), or take in a sunset panorama over Florence at Campeggio Michelangelo (closed in 2014)(011-39/055-681-1977, www.evacanze.it).
Local tourist offices list area campgrounds. There are an obscene number of camping-related Web sites in Europe; Googling the words "camping" plus the place you want to go results in a whole crop of regional directories. I also list a few dozen on the main camping page.
The Italian site CamperOnline.it (you can get an English version of the menubar; www.camperonline.it) is choc-a-block with info on camping and RVing all across Europe, including hundreds of country-specific links to tons of other useful Internet resources, free sites to park your RV, and on-line camping catalogues.

| | |
| --- | --- |
| The Travel Store | |