New Zealand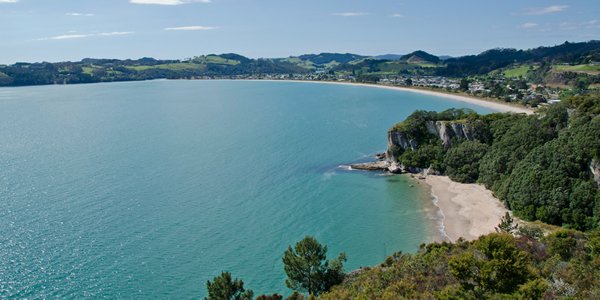 Mercury Bay, Coromandel Peninsula, North Island, New Zealand.
A travel guide to adventures in New Zealand
Adventureland
New Zealand is the adrenaline capital of the world. There are more adventure sports and adrenaline activites in New Zealand than you could tie up with the world's longest bungy cord...



Top 10 North Island adventures
• Black Water Rafting (Waitomo) - Tube an uderground, glowworm-lit river.
• Rafting Kaituna (Rotorua) - Plunge over the world's highest rafatable waterfall.
• Agroventures adrenaline park (Rotorua)
• Kayak Cathedral Cove (Coromandel)
• "Lost World" caving (Waitomo) - Take a 333-foot abseil.
• 4X4 & off-road adventures (Rotorua)
• Waimarino glowworm kayak (Bay of Plenty)
• ZORB (Rotorua)
• Mountain biking redwoods (Rotorua)
• Auckland Harbour Bridge bungy jump (Auckland)No doubt about it: New Zealand is in.
Once written off as merely "clean, green, and full of sheep," this South Pacific nation is gaining a rep for vibrant cities, adventure outdoors activities, friendly Kiwis (the people, not the fruit), and raw, pristine nature.
The Alp-like mountains, rolling farmland, fjord-ridden coastlines, dense forests have sold the world on New Zealand thanks in no small part to the ten-hour-plus tourism commercial called "Lord of the Rings."
With all that nature, it's no surprise that this real life Middle Earth is an outdoors-oriented country, where bungee jumping was born and even the former Prime Minster can be spotted paddling a sea kayak.
To soak up the adrenaline, head to Queenstown on the South Island.
If you prefer the cultural scene of a capital city, hit Wellington on the North Island and discover why so many visitors take one look around and say, "I could live here."
» New Zealand in a nutshellA.K.A. Middle Earth
Kiwi filmmaker Peter Jackson shot his entire blockbuster Lord of the Rings movie trilogy here in New Zealand...

| | |
| --- | --- |
| The Travel Store | |
details