Cruising the Svalbard Arctic
Cruises along the fjords and island of Spitsbergen and the Svalbard Archipelago, home to some of the world's largest glaciers, chilly Ukrainian miners, quirky scientific researchers—and, of course, the armored talking bears of The Golden Compass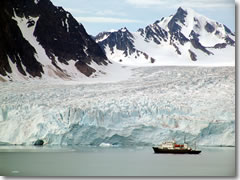 The Aurora Expedition's Polar Pioneer cruise ship at the Monaco Glacier, Spitsbergen, Svalbard, Norway.To really see Spitsbergen (sometimes spelled Spitzbergen), you need to take either an overland trek or, more simply, a cruise along the coast.
These cruises visit various fjords, stopping the the Russian-Ukrainian mining community of Barentsburg and the international research station of Ny-Ålesund, and making landings at the site of long-vanished whaling communities, abandoned mining operations, and weather-beaten old trapper's huts.
Virtually all Spitsbergen cruises take place late June through August. A typical cruise can last from six to 15 days, and departs from the island's capital village, Longyearbyen. A few longer, wider-ranging cruises start on the Norwegian coast, or continue from Spitsbergen to Greenland and/or Iceland (details below).
How much does a Svalbard cruise cost?
Other Svalbard activities
These local outfitters can provide everything from day hikes to week-long treks, cross-country ski expeditions, kayaking in the fjords, dog-sledding trips...you name it:

www.spitsbergentravel.no
www.wildlife.no
www.basecampexplorer.com
www.namipunga.com
All told, including airfare from the U.S.? The cheapest Spitsbergen cruise clocks in around $3,850 (with Hurtigruten, below)—but that's only on a single 2010 sailing.
Normally, you should expect to pay a minimum of about $5,000 to $7,500 total (with the price going up for longer trips, swankier cabins, and more layover time in Oslo).
Which brings me to some fine print. Prices below—all of which are for the 2010 sailing season—are per-person based on double occupancy. Singles can expect hefty supplements on the order of 150%.
Unless otherwise noted, quoted rates do not include airfare from Oslo (about $450–$550), nor do they include transatlantic airfare (which you should expect, in the height of summer, to run anywhere from $700 to $1,200 from New York, more from anywhere else). This is not me talking; this is how the cruise lines present their prices.
OK, on to the good stuff:
Cruise lines to Spitsbergen
Here are some of the best companies: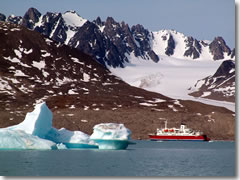 The G Adventures MS Expedition cruising the fjords of Spitsbergen, Svalbard, Norway.Excellent and respected Canadian adventure tour company (on their website, click on Destinations: Arctic for Spitsbergen cruises).
Though Hurtigruten (below) has the cheapest trip by a long shot, that's only for a single sailing this year. All of its other cruises are more expensive than those on G Adventures, making G Adventures the overall price champion.
What's more, G Adventures is currently offering (on bookings made by Feb. 28) $500 off Spitsbergen itineraries, bringing the price of the 9-day "Spitsbergen - The Realm of the Polar Bear" cruise from $3,699 per person to $3,199 (of which there are half a dozen sailings in July and August).
There's also a slightly longer, 11-Day "Realm of the Polar Bear" version that has half a dozen departures in July and August and costs $6,369—or $5,869 if you book by Feb. 28.
G Adventures also offers a few longer (11-day to 2-week), wider-ranging Arctic cruises to start and end the season (and to get its ship, the MS Expedition, to and from Spitsbergen in the first place):
A 14-day "Arctic Highlights" cruise that also visits Greenland and Iceland with a single, Sept. 8 departure and a starting price of $4,899.
A 15-day "Norwegian Fjords and Polar Bears" trip, the name of which undersells it, since in addition to doing the whole fjord-riddled coast of Norway from Bergen to Tromsø (including the Loften Islands) and cruises some of Svalbard's other islands before ending on Spitsbergen, it actually leaves from Leith in Scotland, giving you a chance to visit the Orkney and Shetland Islands en route. It leaves June 30, 2010 and costs from $5,299.
This is a Norwegian company (used to be called Norway Coastal Cruises), so Spitsbergen is part of their home turf. It also happens to be the company with which I sailed on my own Svalbard trip (though, in a quirk of fate, the trip was actually aboard a G Adventures ship chartered by Hurtigruten; Hurtigruten has since switched back to using one of its own ships, the brand-new MS Fram).



On any Spitsbergen cruise, Zodiacs get you out to experience the nature up close—whether tooling around a bay filled with icebergs or making shore landings to explore the island's history, flora (a surprisingly lush tundra), and fauna (including Svalbard reindeer, Arctic foxes, and the ever-popular, ever-dangerous polar bears).Most of the truly excellent guides are Norwegians or otherwise European, and most are fanatical about the Arctic, just chock full of interesting information, fascinating history, and Arctic lore. Note that the basic packages also include a first night's stay in a Longyearbyen hotel and a tour of the town.
Hurtigruten offers the best price on a cruise—from $1,339 per person for a 6-day "Polar Encounter" trip—but the catch is that this only has one sailing date in 2010: July 7, so if you want it at that price, book it soon.
Otherwise, there are the:
9-day "Svalbard Explorer" (from $4,016pp) with 4 sailings in June
9-day "Kingdom of the Polar Bear" (from $5,403pp) with 10 sailings June–Aug
11-day "Climate Package" (from $4,823pp) with a May 29 sailing
As with G Adventures, these prices don't include the airfare from Oslo, though Hurtigruten does offer a full soup-to-nuts add-on package that includes all roundtrip airfares, including from New York-Newark, plus 2 nights in an Oslo hotel (one before the cruise, one after), roundtrip flights from Oslo to Spitsbergen, and all airport transfers for $1,999 (air from other U.S. cities via Newark also available), plus about $489 in taxes, air surcharges, and fees.
All of which means that, should you book that cheapest "Polar Encounter" cruise, you can get the entire trip, out of New York City, for $3,827.

On any cruise with any company, shore excursions include visits to vanished whaling stations, weathered trapper's huts, and (here) abandoned mining operations, a glimpse into the history and economy of one of humanity's most distant outposts.Premier cruise line for the scientifically-minded, but pretty costly, However, unlike most others, they do include the cost of airfare from Oslo—and if you book by March 31, 2010, you can get at least $1,000 knocked off the price tag.
The 11-day "Land of the Polar Bears" cruise has 8 eight sailings June–early Aug. and costs from $7,260.
The 16-day "Norway's Fjords and Arctic Svalbard" takes a classic fjord cruise up the Norwegian coast from Bergen to Tromsø, then crosses the Berents Sea to spend four days cruising in Spitsbergen, then you fly back to Oslo. It sails on June 6 and Aug. 13, and costs from $10,160.
Those prices do not include transatlantic airfare, which when bought from the company starts around $1,195 from Newark.
Australian expedition cruising outfit with two sailings (July 8 and 18) of an 11-day "Circumnavigation of Spitsbergen" that costs A$6,080 (US$5,846).
They also do a 14-day "Jewels of the Arctic" Spitsbergen-Greenland-Iceland journey, and a 14-day "Norwegian Coastlines & Spitsbergen" cruise. Both start at A$7,655 (US$7,360).
| | | |
| --- | --- | --- |
| Related Articles | | Outside Resources |
This article was last updated in April 2008. All information was accurate at the time.



about | contact | faq

Copyright © 1998–2010 by Reid Bramblett. Author: Reid Bramblett.