Vincent van Gogh Museum
The Van Gogh Museum is home to 200 of the master's paintings and 500 of his drawings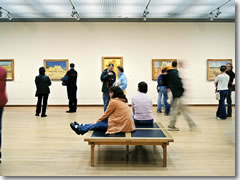 The Netherlands' most famous modern artist was an under appreciated, tormented genius who sold only one painting in his lifetime—to his brother.
Bouts of depression led him at one point into an asylum and at another to hack off his own ear after an argument with the painter Gauguin.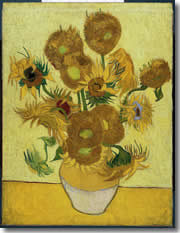 Van Gogh's Sunflowers, at the van Gogh Museum of AmsterdamYet even while the artistic establishment was virtually ignoring him, van Gogh managed to carry the freedom of impressionism to new heights, and he created an impressive, intensely expressive style all his own.
At this monument to the artist, you can follow a chronological progression of his works, 200 paintings and 500 drawings, alongside letters and personal effects (some of which feature in the paintings on display).
A few of his more famous canvases here include The Potato Eaters, Sunflowers, The Bedroom at Arles, Gauguin's Chair, Self Portrait with a Straw Hat, and The Garden of Daubigny.
At the exhibit's end hangs the powerful Crows over the Wheatfield, one of the last paintings the troubled master completed in 1890 before committing suicide at the age of 37.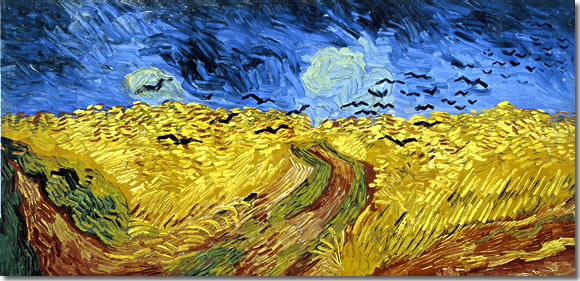 Tips

Skip the long lines at the Van Gogh Museum by booking ahead.Skip the lines: Buy your tickets to the Van Gogh Museum ahead of time and you can skip the entry lines:


| | |
| --- | --- |
| The Travel Store | |
Details
Vincent van Gogh Museum
Paulus Potterstraat 7 (at Museumplein)
tel. +31-(0)20-570-5200
www.vangoghmuseum.nl
Tram:
2, 3, 5, 12, 16, 24.
Bus:
145, 170, 172.
Canal Bus:
Red, Green, or Orange (to Rijksmuseum/Van Gogh Museum)


Open:
Daily 10am–6pm (to 10pm Fridays)
Adm