The smoking cafes of Amsterdam
Yes, weed is (sort of) legal in Amsterdam—in some places and in some cases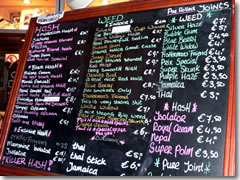 A menu of hash, joints, and marijuana at a smoking cafe in Amsterdam.There's a special kind of "coffeehouse" or "coffee shop" in Amsterdam, where the drug of choice decidedly ain't caffeine.
Under increasing pressure from the European Union, the Netherlands is cracking down on drugs both soft and hard, but the country is still pretty lenient when it comes to marijuana.
NOT the last call for Mary Jane
Yes, you can still light up in an Amsterdam smoking cafe. Foreigners can still buy joints, hash brownies, etc.

There is some confusion on this matter, as a few years ago it seemed the laws were about to change.

In 2011, the Dutch government announced plans to ban foreigners from toking on marijuana, substituing membership-only clubs o the coffeshops, with only the Dutch eligible to become members.

Well, they did manage to push though a ban on sales of cannabis to foreigners in the border towns of Maastricht and Terneuzen.

However, the rule was successfully fought most elsewhere, and now it is up to each municipality to regulate such soft drug sales—and most, Amsterdam included, have continued to allow adults over 18 to buy up to 5 grams per day.
Contrary to popular belief, weed is illegal here, though the police unofficially tolerate possession of a small amount for personal use—less than 5 grams (it used to be 30).
There are now some 220 of these venerable establishments in Amsterdam, all allowed to sell you small amounts of grass and hash—they even have marijuana menus—along with joints (rolled with tobacco) and various hash products, coffee, tea, and juice. Oddly, food is not allowed, so for the munchies you'll have to head elsewhere.
You must be 18 years old to enter a coffe shop, and you are limited to 5 grams of cannabis per day.

A branch of The Bulldog, a chain of smoking cafes in Amsterdam. (Photo by Stevethethief)The most famous smoking coffee shop is Bulldog, whose main branch is at Leidseplein 15 (tel. +31-(0)20-627-1908; www.thebulldog.com), with another in the Red Light District at Oudesijds Voorburgwal 132.
Tips
Just remember: This is the age of the cellphone camera and Facebook, so anyone who wouldn't want to be caught toking shouldn't inhale. "But I was in Amsterdam!" does not usually cut it as an excuse to your boss/spouse/Congressional ethics committee.
Take a tour: Prefer someone else to take care of the logistics and provide a professional guide? Try an Amsterdam tour via our partners at Viator.com:
| | |
| --- | --- |
| The Travel Store | |
Details
Bulldog
Leidseplein 15
tel. +31-(0)20-627-1908
www.thebulldog.com
Also: Oudesijds Voorburgwal 132