The Heineken Experience
Toss Back a Few on the Heineken Brewery Tour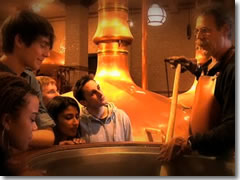 What couldbe more family-firendly than learning about beer on a tour of the Heinken Experience?At more than 130 years old, Heineken is one of the world's favorite lagers. The Heineken Experience, just down the canal from the Rijksmuseum, operated as the company's main brewery from 1868 to 1988.
Although the actualy brewing operations have moved to a bigger, newer facility outside town, you can still tour this venerable suds factory, reimagined as "The Heineken Experience."
The self-guided multimedia tour includes plenty of corporate and beer history, a bottle-your-own station, some pseudo-rides (experience what it's like to be a bottle rattling down the factory conveyor belt!) and—naturally—a bar. Fun fact: The old fermentation tanks in which the exhibits have been installed could hold a million glassfuls of beer.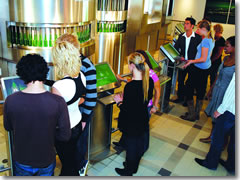 The "Bottle your own beer" station at the Heinken Experience.A short film covers 5,000 years of beer making in about five minutes, which is probably as much history as a true brewhound can take in one sitting.
For some reason, the cost of the tour has gone from free to €15 (yes, they actually expect you to pay for their own corporate shill)—which wouldn't be so bad if they weren't so stingy with the product. You only get two free rounds in the bar at the end (though you get to keep the commemorative glass).

Tips
Planning your time: Expect the Heineken Experience to take about an hour to 90 minutes (depending on how long you spend in the bar). Note that even though it closes at 7pm, the last entry is at 5:30pm.
Skip the lines: Buy your tickets to the Heineken Experience ahead of time and you can skip the entry lines:

Essential Amsterdam Package (canal cruise, all-day bike rental, and entry to either the Rijkmusuem, Van Gogh Museum, or Heinken Experience)
| | |
| --- | --- |
| The Travel Store | |