Museum Amstelkring
"Our Lord in the Attic" (Ons' Lieve Heer op Solder) is a Catholic church hidden away on the upper floors of ancient townhouses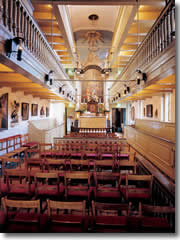 "Our Lord in the Attic" (Ons' Lieve Heer op Solder) in Amsterdam.Although the giant Gothic Oude Kirk (Old Church) is just down the block, this tiny, well-preserved baroque church is much more interesting because it was built to be a secret place of worship, spread across the connected third floors of a trio of 17th-century homes in the heart of the Red Light District.
Although Amsterdam is famed for its tolerance, it did go through a period in the 16th and 17th centuries when the practice of any religion save the official Dutch Reformed Calvinism was forbidden.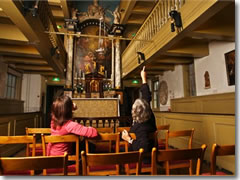 Museum Amstelkring, "Our Lord in the Attic," Amsterdam.In order to worship, Jews, Mennonites, Lutherans, and, in this case, Catholics, had to go underground—or above ground, as the case may be—and hold services in secret.
One of the houses below the church has been restored for visitors—it's the oldest Amsterdam house open to the public.
| | |
| --- | --- |
| The Travel Store | |
Details
Museum Amstelkring
Oudezijds Voorburgwal 40 (about 3 blocks from Centraal Station, on the far side of the Damrak's canal)
tel. +31-(0)20-624-6604
www.opsolder.nl


Tram:
4, 9, 16, 24, 25 (any to Dam Sq.);
Canal Bus:
Red, Green, Blue, or Orange (to Central Station).

Open:
Mon–Sat 10am–5pm, Sun 1–5pm
Adm