Casa Batlló
★★★

The roof of Gaudí's Casa Batlló. (Photo by Bernard Gagnon)
Gaudí's most eye-catching apartment building, a masterpiece of Art Nouveau moderisme in in Barcelona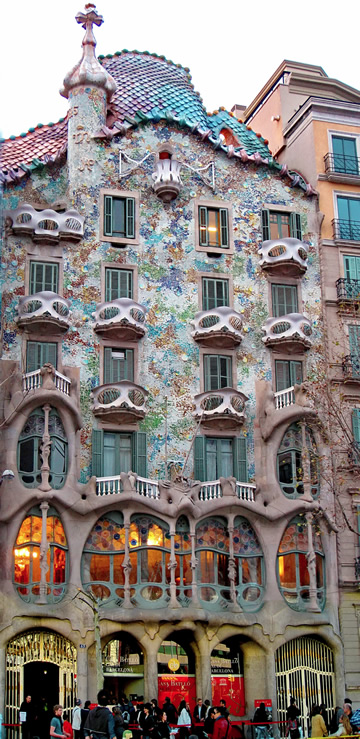 The Casa Batlló. (Photo by Amadalvarez)This is the crowning jewel of the entire Modernisme movement, with curvaceous theater-mask balconies, soft-serve minaret chimneys, ceramic-chip mosaics on the facade, and a roof shaped like a dragon's back complete with tiles that shimmer in dark rainbow colors like an oil slick.
Gaudí's other major residential building up the block, La Pedrera, may get the bigger museum and the tourist crowds, but colorful Casa Batlló (1904–06) is more interesting.
The amazing thing about this place is that Gaudí did not simply draft the overall lines and spaces of the building.
He designed every single architectural element and decorative detail, right down to the ovens and the vases, the door handles and the trash cans.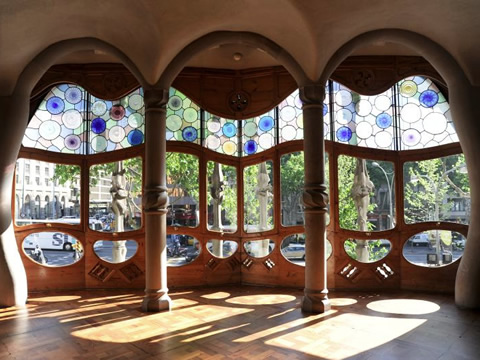 A window inside the Casa Batlló. (Photo by Jacquline Poggi)The reason I call this house the Modernisme crown jewel is that this is Art Nouveau at its best—not just decoratively, but philosophically—designed on a human scale for everyday use by ordinary (albeit well-heeeled) citizens.
Visiting Casa Batlló
Casa Batlló is now open to visitors on hour-long self-guided audio tours, which get you in to see the main staircase, the inner courtyard, the historic Batlló apartment on the mezzanine, and even up onto the roof.

A detail from the roof of the Casa Batlló. (Photo by Chongming76)However, this was not always so.
I'll never forget visiting for the first time in 1994—long before the house was opened to tourists.
I was just standing below the Casa Batlló with my wife, admiring the details, when a resident happened to return home, shopping bags dangling from his hands.
I would imagine that someone who lives inside an architectural landmark and one of the most photographed buildings in town would get sick and tired of tourists, but when I smiled at him and he smiled back at me.
Then he unlocked the door, gestured for us to scoot inside behind him, and with a conspiratorial wink and a finger to his lips, trundled up the dimly lit staircase to his apartment, leaving us to explore this modern masterpiece at will and let ourselves out when we were done.
Tips & Links
Casa Batlló details
How long does Casa Batlló take?
Casa Batlló tours
Save with a sightseeing pass
Useful links & resources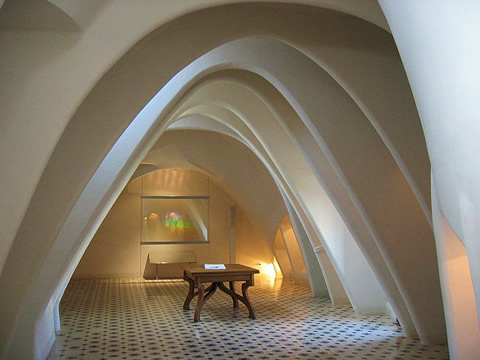 A room in an apartment of the Casa Batlló.
Related Articles
| | |
| --- | --- |
| The Travel Store | |