Casa Milá (La Pedrera)
★★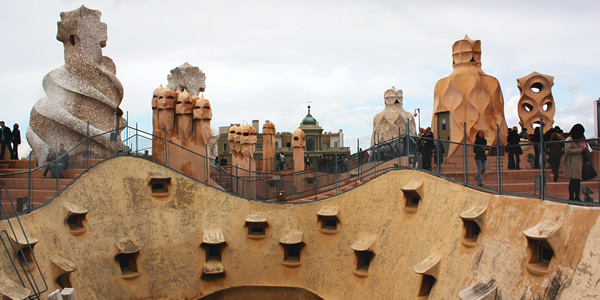 The roof of Gaudí's Casa Milá "La Pedrera." (Photo by Kyle Taylor)
Gaudí's massive, undulating apartment building in Barcelona

Gaudí's Casa Milá "La Pedrera." (Photo by Arnaud Gaillard)Casa Milà—often called La Pedrera ("the quarry") for its undulating rocky shape, all poured cement set with chips of bone-white cermaic tile—is a magnificent apartment block designed by Antoni Gaudí in 1906–12—and declared a UNESCO World heritage Site in 1984.
Here, especially, Gaudí seemed to avoid straight lines at all costs—the whole place looks like it's melting. The amazing thing is that Gaudí did not just design the overall lines and spaces of the building, but every single architectrual element and decorative detail, right down to the door handles and the trash cans.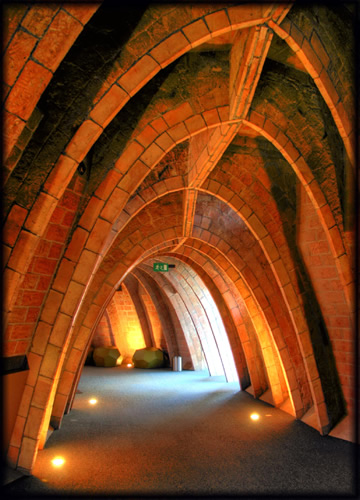 An arched corridor inside the Casa Milá. (Photo by Matthias Ott)There's an exhibition space on Gaudí and Modernisme inside—as well as the chance to enter the "period aparmtent" preserved and furnished just the way it would have been for a typical early 20th century family—but by far the best reason to visit is so you can tour the architectural fun park and swirly, ice-cream chimneys of the roof.
There's also a room on the top floor for temporary exhibitions with its own (small) admission fee.
La Pedrera at night
Even better, return after dark for the "Secret Pedrera" tour to see how the locals actually live here, and to wander the rooftop all lit up with weird, colored lights—and when admission is limited to just 30 people at a time—but costs nearly double (€30).
Hey, at least you also get a cup of cava (Catalonian champagne) at the end.
Tips & Links
La Pedrera details
How long does La Pedrera take?
Casa Milá tours
Save with a sightseeing pass
Useful links & resources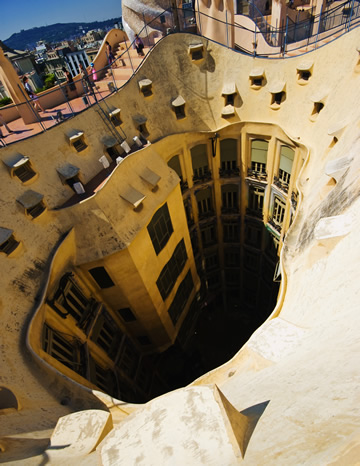 A courtyard of Gaudí's Casa Milá "La Pedrera" from the roof. (Photo by Marc Hanauer)
Related Articles
| | |
| --- | --- |
| The Travel Store | |
Casa Milá, aka "La Pedrera"