Poble Espanyol

The main plaza in Barcelona's Poble Espanyol. (Photo by Klearchos Kapoutsis)
Tour Spain in a nutshell at the Poble Espanyol "Spanish Village" on Montjuïc Hill in Barcelona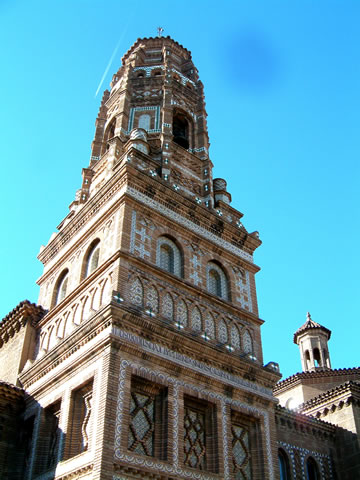 A replica of the Torre de Utebo from Zaragoza in Barcelona's Poble Espanyol. (Photo by Hedwig Storch)For the 1929 World's Fair, Barcelona created a simulated Spanish village high on top of Montjuïc.
Here, 117 houses, structures, streets, and squares reproduce Spanish monuments and buildings from over the last 1,000 years.
Think of it as an early version of EPCOT, only one focused just on Spain—and instead of rides, it has restaurants, souvenir shops, flamenco bars, and a surprising number of artisan workshops and craftsperson studios crafting (and selling) traditonal Spanish goods.
Arts & crafts

A lacemaker working in the Poble Espanyol. (Photo courtesy of the Poble Espanyol)About 40 of the replica buildings are craft workshops, where on-site artisans make everything from lace, cermaics, leather, glassware, and jewelry to hand-woven fabrics, paper products, wrought-iron, stained glass, and even a traditional guitar maker.
You can even take lessons (weekdays; roughly 10am–3pm) in everything from glass-blowing, basketry, leatherwork, and making your own stained glass to crafting ceramics like Picasso, baking bread, and farming a Mediterranean garden.
The Poble also hosts exhibits of contemporary art, from gallery spaces to outdoor sculpture gardens.
Dinner, drinks, and dancing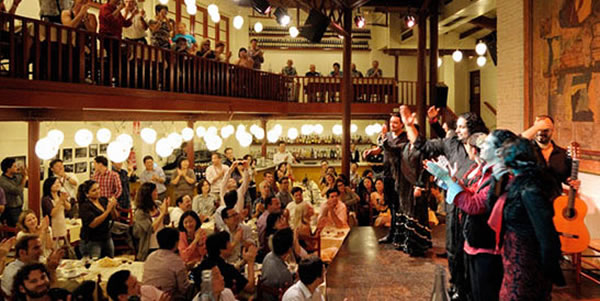 The Flamenco show at El Tablao de Carmen. (Photo courtesy of El Tablao de Carmen)Eigthteen of the Poble Espanyol's structures have been converted into restaurants, cafes, and delicatessens with everything from tapas and crepes to Andalusian dishes (at Patio Cordobés) and plenty of Catalan cuisine.
The Poble Espanyol also features monthly culinary showcasess, and furthermore highlights the food culture of a different region of Spain on the last Saturday of each month at its Gatropop events—all of which helps take this from being a historical bit of touristy kitsch into something approaching genuine cultural interest. Or at least culinary interest.
With other buildings housing discos, bars, and even a flamenco club (El Tablao de Carmen), the Poble Espanyol makes for an entertaining spot for a full evening out.
Tips & Links
Poble Espanyol details
How long does Poble Espanyol take?
Poble Espanyol tours
Save with a sightseeing pass or combo ticket
Useful links & resources
Related Articles
| | |
| --- | --- |
| The Travel Store | |
El Poble Espanyol de Barcelona