Museu Picasso
★★

Studies from "Las Meninas" by Pablo Picasso in Barcelona's Museu Picasso. (Photo by Ivan Lian)
The greatest Picasso museum outside of Paris, filled with his early works, is in Barcelona

Picasso's Science and Charity (1897) painted at age 16.Although born in Andalusia, Pablo Picasso (1881–1973) moved to Barcelona at age 14, and it was here, in the academy where his father taught, that he learned his craft.
Barcelona was lucky enough soon after opening this museum to secure—from the master himself, who donated them to the museum—a collection of 921 paintings, many of them his earliest works, which his mother, sister, and nephew had preserved.
The very first room disproves the old tongue-in-cheek myth that Picasso invented Cubism merely because he couldn't draw properly.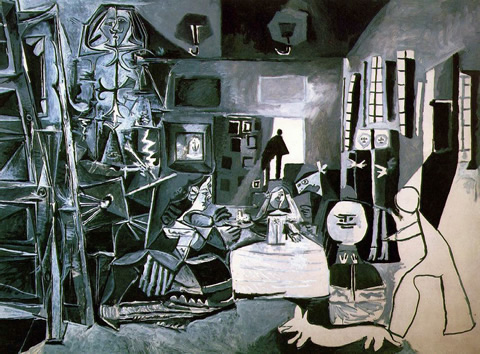 One of Picasso's Las Meninas studies (1957).Here you'll see remarkable drawings and paintings executed in a classical style with a high degree of realism—all when Picasso was a young teenager.
Other paintings show how Picasso also studied and dabbled with Impressionism and his fellow post-Impressionists, with works clearly inspired by Manet, Courbet, and Cezanne.
Not that there aren't also plenty of the more familiar Cubist works. Of the other 4,249 works in this collection, seek out his series of Cubist takes—58 paintings and drawings—based on his studies of Las Meninas, Velázquez's masterpiece in Madrid's Prado museum.
Tips & Links
Museu Picasso details
How long does Museu Picasso take?
Museu Picasso tours
Save with a sightseeing pass
Useful links & resources
Related Articles
(The images on this page are or works of art still protected by copyright. They are reproduced here under fair use principals as outlined on Wikipaintings.org.)
| | |
| --- | --- |
| The Travel Store | |
Museu Picasso
ADDRESS
Montcada 15-23
[ Ciutat Vella ]
Tel.
+34-932-563-000
www.museupicasso.bcn.es
OPEN
Tues-Wed and Fri-Sun 9am–7pm
Thurs 9am–9:30pm
Closed Mon
ADMISSION
€11
Free: After 3pm Sun; All day last Sun of month
With Barcelona Museum Pass
: Free
With Barcelona Card
: 20% discount
TRANSPORT
Metro:
Jaume I (L4), Liceu (L3), Arc de Triomphe (L1)
Bus:
14, 17, 19, 40, 45, 51, 59, 120
Hop-on/Hop-off route:
East, West, South (red)
TOURS