Mirador de Colom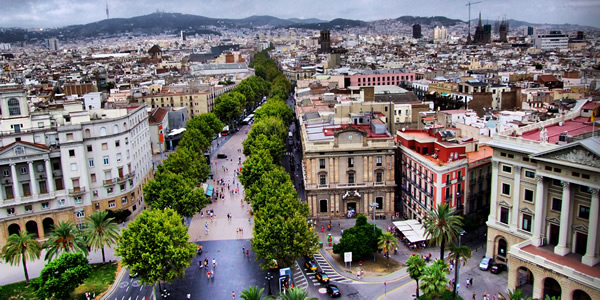 An aerial view of Barcelona and La Rambla from the Mirador de Colom. (Photo by xlibber)
Views from the top of the Columbus column by the port in Barcelona

The Mirador de Colom monument. (Photo by Gina Haltmair)This 1881 architecural exlamanation point is a monument to Chrisopher Columbus on Plaça del Portal de la Pau, anchoring the south (port) end of La Rambla, Barcelona's main boulevard.
You can ride the elevator 51m (167 feet) to the top of the column portion for sweeping views over the port and the city—and up La Rambla.
In full, the monument measures 60m (197 feet) in all, from the ground to the top of the 7.2m (24-foot) statue's head.
(And yes, believe it nor not, the statue actually is pointing in the proper direction; follow Columbus's outstretched finger long enough in a stright line, and you will hit the Northern Caribbean islands where he first landed (Cuba and Hispanola).
Why is there a statue of Chistopher Columbus in Barcelona?
Few remember that Barcelona is where King Ferdiand and Queen Isabel happened to be when Columbus got back from his first trip to the New World, so this is where he reported to them in 1493 upon his return from "discovering" America.
Most local tourism literature will give you the impression that Columbus actually landed here in Barcelona. He did not. He landed in the same port from which he set off, Palos de la Frontera on the Andalusian coast—though minus the Santa Maria, which sank in America.
(And, techncially speaking, he had already made landfall in Europe, sheltering from a storm in Lisbon for more than a week before officially returning to Spain.)
Tips & Links
Mirador de Colom details
How long does the Mirador de Colom take?
Save with a sightseeing pass
Useful links & resources
Barcelona tours
Related Articles
| | |
| --- | --- |
| The Travel Store | |
Mirador de Colom/Columbus Monument
ADDRESS
Pl. Portal de la Pau
[ Barri Gotíc / El Raval ]
Tel.
+34-932-853-834
OPEN
Mar-Sept:
Daily 8:30am–8:30pm
Oct-Feb:
Daily 8:30am–7:30pm
ADMISSION
€3.40
With Barcelona Card
: May be free (some years it is, some it is not)
Hop-on/hop-off bus discount
:
20%
TRANSPORT
Metro:
Drassanes (L3)
Bus:
14, 20, 21, 36, 57, 59, 64, 91, 120, 157.
Hop-on/Hop-off route:
East, West, South (red)