Munich Christmas market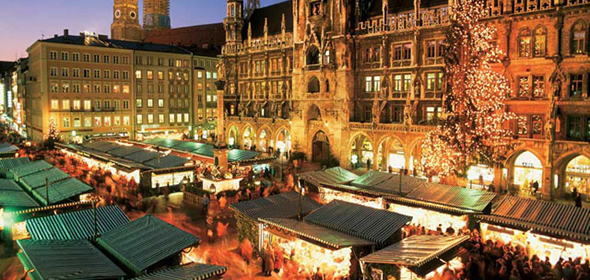 The Christkindlmärkte on Marienplatz in Munich.
The Christkindlmärkte Christmas market in Munich, Germany
Every evening at 5:30, from the Friday before Advent to the night before Christmas, a brass band and Alpine choir peal out carols from the balcony of the neo-Gothic Rathaus (Town Hall) as part of the Christkindlmärkte (Christ Child Market).
More than 140 crafts stalls surround a glittering 100-foot Christmas tree on the Marienplatz below, which is filled with Muncheners munching on sausages and reiber-datschi (potato pancakes), gulping glühwein (warm, spiced "glow-wine"), and crunching Lebkuchen (gingerbread).
Munich trains its next generation of marketers at the "Heavenly Workshop" in the Town Hall's pub, where kids dress up as angels to practice arts, crafts, and the baking of traditional cookies. (Nov. 25–Dec 24, www.muenchen.de)
Look for...
Munich hosts a gaggle of other Christmas markets, from the famed Kripperlmarkt (Crib Market) of Bavarian and Tyrolean nativity figures on Rindermarkt to a Medieval Market on Wittelsbacher Platz (www.mittelaltermarkt-muenchen.de).
A Christmas tram trundles through the old city passing several of them while serving spiced wine and gingerbread (www.mvg-mobil.de).

A craft stall at Munich's Kripperlmarkt. (Photo by Stephanie Wolf)

| | |
| --- | --- |
| The Travel Store | |