Day trips and side trips
Get out of the big city to see nearby sights and add breadth to your trip without adding too many days to your schedule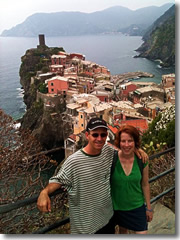 A side trip from Florence to hike the Cinque Terre coastal fishing villages. (Photo courtesy of Viator.com.)The famous sights and urban charms of Rome, Florence, and Venice are wonderful, but sometimes you just gotta get out of the big city and dip into a slower pace of life for a while in a small town—and what better small towns than the ones right at the doorsteps of Italy's major cities?
Daytripping out to medieval villages, nearby ancient ruins, quiet lakes, and sleepy islands can help add spice and variety to your trip without having to go to all the trouble of packing up and changing hotels. You just zip out for a half day or a full day and can be back in the city by dinnertime.
On a tight schedule, you can also take longer day trips to fit in some other major destinations or sights that lie within two to three hours of town—Pompeii from Rome, Pisa from Florence—places where, had you all the time in the world, you'd ideally spend a few days, but just can't quite carve that much time out of this trip.
Each city section will list and detail some of the best and most rewarding sidetrips you can do in just a day (here are shortcuts right to those pages for Rome, Florence, and Venice).

A side trip from Rome to tour Pompeii and the Amalfi Coast. (Photo courtesy of Viator.com.)
Escorted day trips
If you don't want to hassle with figuring out the logistics of how to get out of the city to see some nearby sights and small towns—or you have limited time in which to do it—a local escorted bus tour can be just the ticket.
It whizzes you out to the sights with a live guide who'll walk you through everything and returns you to town in time for lunch or dinner (most are either half-day or full-day excursions).
Using public transportation, for example, it's pretty much impossible to see both Siena and San Gimignano in a single day trip from Florence, but an escorted bus trip can do it no problem (not that you'll see either in depth, but at least you'll get a good taste).
You can also book day trips ahead of time via a site like our partners ContextTravel.com, Viator.com, SelectItaly.com, and MyCreativeTours.com. Here are some of their side trips and excursions out of major Italian cities.
Guided daytrips from...
Rome
Florence
Venice
Milan
Naples
Bologna
Turin
Related pages
This material was last updated January 2012. All information was accurate at the time.

about | contact | faq

» THE REIDSITALY.COM DIFFERENCE «

Copyright © 2008–2012 by Reid Bramblett. Author: Reid Bramblett