Pisa trip planner
A vacation guide to Pisa—the Leaning Tower, the Field of Miracles, and more
Pisa information
Pisa tourist information office
Most convenient location:
Piazza Arcivescovado 8 (in the Museo del Duomo, just behind the Leaning Tower)
tel
. +39-334-641-9408
Main location:
Piazza Vittorio Emanuele II 16 (two blocks north of the main train station)
tel
. +39-050-42-291
Other locations:
• At the aiport
• Near Ponte di Mezzo (Lungarno Galilei at Piazza XX Settembre)
www.pisaunicaterra.it
www.pisaturismo.it
ReidsItaly.com Italy Map
View Larger Map
TOURS FROM OUR TRUSTED PARTNERS that include Pisa

• Intrepid: Tuscan Express
(7 days)
• G Adventures: The Taste of Tuscany
(8 days)

• Intrepid: Best of Italy
(15 days)
• Intrepid: Italy Experience
(15 days)
• Intrepid: Classic Italy
(21 days)
• Intrepid: Italy Family Adventure
(14 days)
• G Adventures: Ultimate Italy
(13 days)

Pisa guide
Intro
See
Stay
Eat
Planning FAQ

The Leaning Tower of Pisa (with the Cathedral behind it).When Pisa was a world trading power riding high on its maritime empire in the 11th to 13th centuries, it used its wealth to commission a new religious core for the city.
This Campo dei Miracoli, or "Field of Miracles," is a collection of marble-clad buildings beautiful in their simplicity and crafted in a Eastern-influenced style that became known as the Pisan Romanesque.
The fact that the campanile, or bell tower, of this group is a little off kilter attracts hordes of the curious to Pisa all year to pose for snapshots of them holding up the Leaning Tower.
Pisa's Field of Miracles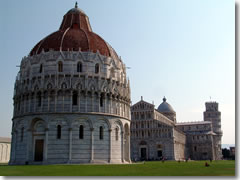 Pisa's Campo dei Miracoli, or "Field of Miracles" (aka the Piazza del Duomo).The Campo dei Miracoli, a huge grassy lawn studded with gleaming white-and-gray striped Romanesque and Gothic buildings, is one of the most beautiful squares in all of Italy.
It would likely be famous for the sheer beauty of its structures even if the soft, sandy subsoil hasn't given most of its buildings a jaunty, drunken tilt— the cathedral facade leans out, the baptistery lurches quietly to one side, and there's one more thing I'm forgetting... Ah, yes the bell tower slants a full 15 feet out of vertical (you may have seen a reproduction of it on a pizza delivery box).
For info on all of these sights (and to book an entry time for the Leaning Tower at least two weeks in advance—which I highly recommend): www.opapisa.it.
Here is more detailed information on and descriptions of the major sights around the square:
★★★ The Leaning Tower of Pisa - The cathedral bell tower would draw crowds even if it didn't have such horrible posture. Its long cylinder of white marble threaded with the lithe arches of stacked colonnades make it one of the prettiest towers you'll ever see—albeit one titling crazily out of plumb. The climb up is odd and thrilling... » more
★★ The Cattedrale - Pisa's cathedral is a massive Romanesque structure with blind arcades running down the side and a facade of stacked colonnades with mosaics by Cimabue and a pulpit by Giovanni Pisano inside... » more

★★ The Battistero - If you liked the Pisano pulpit in the Duomo, check out the one his pop Nicola Pisano sculpted in 1255-60 in the baptistery, a massive drum-like structure with a Gothic skullcap of a roof and brilliant acoustics inside... » more

★ The Camposanto - Pisa's "Holy Ground" is a kind of cloister-cum-mausoleum whose halls are stuffed with ancient sarcophagi and Renaissance tombs. Allied firebombs in World War II destroyed most of the dazzling medieval frescoes that once covered the walls, but they have slowly and painstaking been being restored as best they can and reattached to the walls... » more
★ Museo delle Sinopie - Across the square from the Camposanto, the Museo delle Sinopie contains the sinopie, or preparatory drawings, of the Camposanto's destroyed frescoes. It's actually pretty fascinating (especially when you compare the intended sketches with reproduced etchings of what the finished frescoes looked like)... » more
Museo dell'Opera del Duomo - Behind the Leaning Tower is a small museum containing many of the statues and other works removed from the outside surfaces of the Duomo group for safekeeping, among them the original Romanesque bronze doors from the cathedral and an 11th-century Islamic bronze griffin, part of Pisan war booty during the Crusades. There are also lovely views of the Leaning Tower beyond the grassy little courtyard framed by tall cypress trees... » more
Planning a trip to Pisa
Planning your time: Pisa is one place whose main sights you can comfortably see in 2-3 hours—a good half-day trip from Florence (picnic on the grassy plot in front of the Leaning Tower before heading back).
Tourism information in Pisa: The most convenient tourist office in Pisa is inside the Museo del Duomo, just east of (behind) the Leaning Tower at Piazza Arcivescovado 8 (tel. +39-334-641-9408, www.pisaunicaterra.it).

The main Pisa tourist info office two blocks north of the main train station on the wide Piazza Vittorio Emanuele II 16 (tel. +39-050-42-291).

There's also a tourist office at the Pisa Galileo Galilei airport (tel. +39-050-502-518) in the arrivals hall.

Finally, there is a downtown office near Ponte di Mezzo where Lungarno Galilei meets Piazza XX Settembre (tel. +39-050-910-350).

The website for all is www.pisaunicaterra.it.
Campo dei Miracoli admissions
Leaning Tower: €15
Cathedral: €2 (free in winter)
1 monument: €5
2 monuments: €6
4 monuments: €8
5 monuments: €10Book your tickets ahead of time. Think about how famous the Leaning Tower of Pisa is. Now imagine every tour group from Columbus, Ohio, to Tokyo, Japan, booking up visiting times in blocks of 50 and 60 tickets to accommodate their giant bus groups. Yeah, this is one sight you definitely want to reserve in advance, which you can only do online at Viator.com or www.opapisa.it (they no longer take telephone bookings—though you can call for information at tel. +39-050-835-011).

When you book your ticket, you pick an entry time to climb the tower (you get 30 minutes inside; children under 8 not allowed). To this you can add 1, 2, 4 (Nov–Feb, when the cathedral is free), or all 5 (in summer) of the other sights around the Campo to your ticket. You just pick the total number of sights you want, not the sights themselves; when you arrive, you can visit any of your choice of 2 or 4 or whatever, and can do so at any time (since you have to pick up your tickets at least 30 minutes before your Leaning Tower time slot, this makes a good way to kill time while you wait).

Look it sounds complicated, but here's what you do: by everything. Book the Leaning Tower ticket, and then go ahead and buy the ticket for all the other sights. It's just not worth troubling over—especially not for a mere €10 (€8 in winter when the cathedral is free)—and they're all worth popping into.

Note that you have a specific window in which you can book online: starting 45 days before your visit, but ending 15 days before your visit. In other words, if its two weeks before you arrive in Pisa, you're going to have to hope you get lucky and will be able to find tickets on the day at the ticket desk.

That said, you could get lucky. Last time I visited Pisa, in the fall of 2009, I lucked into a last-minute cancellation and was able to get into the Leaning Tower with just two-hour's wait (which was perfect, since I spent those two hours seeing some of the other sights on the Field of Miracles). Again, I got extremely lucky.

Hint: to avoid waiting in the regular Leaning Tower line, while booking tick the box that you want to pick up your tickets either at the Central Ticket Office or the Museo delle Sinopie.
Book a tour: Prefer to leave the driving and arrangements to someone else? Take either a bus tour to Pisa or a private walking tour of Pisa (or Pisa and Lucca) including transport from Florence with a private driver/guide. (Be sure to let them know you want admission to the Tower and other sights in Pisa, though; they'll tack it on to the price.)

• Private Tour: Pisa and the Leaning Tower from Florence (4 hrs)
• Context: Pisa in Context (4 hrs)
• Pisa and the Leaning Tower Half-Day Trip from Florence (5.5 hrs)
• Private Tour: Lucca and Pisa from Florence (10 hrs)
• Tuscany in One Day Sightseeing Tour (12 hrs)
Get tickets at the Museo delle Sinopie. There is a single ticket for entry into all the sights on the Campo dei Miracoli. if you didn't book it ahead of time, make sure you buy it at the Museo dell Sinopie, which has the largest ticketing desk and the shortest lines.
Open hours vary slightly sight to sight and with the seasons (hours are longest in the summer, April to September), but in general: the Museo delle Sinopie—since it houses the central ticketing office—opens half an hour before all the others (8am in summer, 8:30–9:30am otherwise), and the Cathedral opens last (at 10am—gives worshippers time for a service before the tourists arrive).

Everything closes as early as 5pm in winter, 6pm in March (5:30pm is the last Tower ascent), 7pm in October, and 8pm in summer.

In recent years, the Leaning Tower and Camposanto have stayed open until 11pm (last entry at 10:30pm) from June to August.
How to get to Pisa by train: Half-hourly trains from Florence make the trip in 60-75 minutes. Since Pisa is on a trunk line up the coast, there are 1–4 trains per hour from Rome of varying speeds (2:15-4:06). Pisa is also a short hop from nearby Lucca (1–2 per hour; 27 min.).

Unfortunately, the Campo dei Miracoli and Leaning Tower are a stiff 20– to 30-minute walk north of the main Pisa-Centrale train station.

To get to the Leaning Tower from the main Pisa train station (Pisa-Centrale), first buy two bus tickets—due biglietti autobus—from a newsstand inside the station (one for each way). Exit the station, cross the little piazza out front, and cross the street to stand on the far side, a bit to the right of center—you need to do this because the city bus (www.cpt.pisa.it) you are catching goes both ways, and you want the one headed to the left (west)—otherwise, you're on your way to the airport! The bus you want is called LAM Rosso (the high speed red line, also abbreviated L/R). This will take you to the "Torre 1" stop just beyond the western edge of Piazza del Duomo (a.k.a. Campo dei Miracoli).

If you happen to get off a train at the secondary Pisa-San Rossore station, you're in luck: it's just a five-minute stroll west of the Field of Miracles. Exit using the underpass of Piazza Fancelli. Walk straight ahead to Via Andrea Pisano and turn left. Walk three blocks. You can't miss it.
How to get to Pisa by car: No matter which highway you're on (A1 from Rome, A11 from Florence, A12 from Genova), get off at the Pisa Nord exit then find your way to a parking lot—most of Pisa's historic center is now ZTL ("Zona Traffico Limitato"—only residents with permits are allowed to drive into it). There's an amazingly convenient public parking lot just a block up from the western edge of the Campo dei Miracoli on Via Pietrasanta.
How to get to Pisa by cruise ship: This is covered in detail on its own page, but in brief: you actually dock at the town of Livorno, some 16 miles south of Pisa. Catching a bus to the Livorno train station is easiest. » more
Related pages
This material was last updated February 2011. All information was accurate at the time.

about | contact | faq

» THE REIDSITALY.COM DIFFERENCE «

Copyright © 2008–2012 by Reid Bramblett. Author: Reid Bramblett