The National Library
Digging for your Irish roots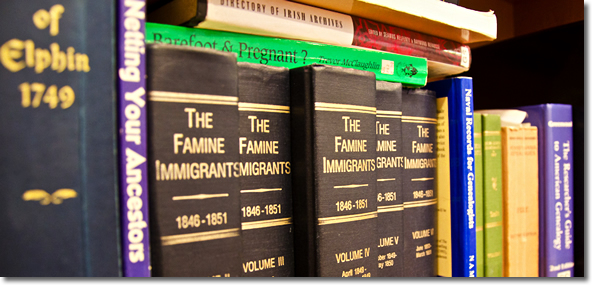 If you're like me—and approximately 40 million other Americans out there—you've got some Irish in ya.
Hundreds of Americans cross the Big Pond every year to search out their Irish ancestors here, and the Irish are much obliged to help.
The National Library's Geneaology Service

National Library of Ireland, DublinMany agencies specialize in lineage tracing (for a modest fee), but your first stop should be the National Library's Geneaology Service.
This otherwise unremarkable room contains leaflets galore, duty tomes of local records and books on emigration pattersn, and a gaggle of computers set up with links to all the useful on-line resources.
Even better, take a number, make an appointment, and get a one-on-one sit-down session with a specialist who can take what you already know and point you in the right direction to find out more and start tracking down the Gaelic branch of your family tree. (They can't do the work for you; just help you figure out the best places and ways to start your own search.)
What to bring with you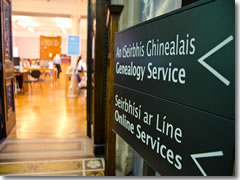 National Library's Geneaology ServiceWhenever doing any kind of ancestry research, it pays to come armed with as much information (even partial or suspect intel) as you can gather on your own.
Simply knowing that Great-grampa Patrick came from Ireland way back when is not going to help much.
Come prepared with as many specifics as possible, including full names, dates (birth, marriage, death, emigration), and places (down to the village, if possible; at least the county if not).
Tips
Planning your time: The library often has an interesting exhibit inside the rotunda just inside the doors, but really most people come here to roll up their sleeves and start looking for ancestors. If this is you, expect to spend at least half a day inside (possibly three or four days!)
Tours: Take a tour that includes a stop at the National Library with our partners at Viator.com:
| | |
| --- | --- |
| The Travel Store | |
National Library of Ireland
ADDRESS
Kildare St. (across from where Molesworth St. come in and just a bit north; across from the National Museum)
Tel.
+353-(0)1/603-0200
www.nli.ie
OPEN
Library: Mon–Wed 9:30am–7:45pm,
Thur–Fri 9:30am–4:45pm,
Sat 9:30am–12:45pm

Geneaology advisory service: Mon–Fri 9:30am–4:45pm
ADMISSION
Free
TRANSPORT
Bus: 7B, 7D, 10, 10A, 11, 11A, 11B, 14, 14A, 15, 15A, 15B, 15C, 20B, 25X, 32X
LUAS: Harcourt
DART: Pearse