National Museum of Ireland
The archaeological collections of Ireland's National Museum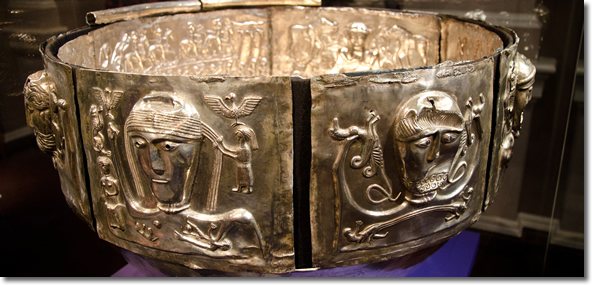 The Ardagh Chalice, an 8th century Celtic cup at the National Museum of Ireland.
If you're into antiquities and Celtic civilization, make a beeline for Ireland's foremost archeological collection, which spans prehistory to the middle ages.
Among the museum's treasures are the 8th-century Tara Brooch, an intricately designed jewel of white bronze; a half-dozen amazing (and creepy) bog men, ancient mummies preserved by peat bogs; and the famed Ardagh Chalice, an 8th century "cup" (but massive: several feet across) of beaten silver embellished with engravings, embossing, enamels, and gold filigree.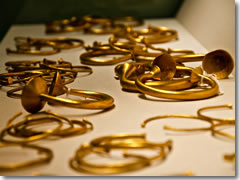 Gold torcs.You'll also see row after row of golden torcs, those thick yoke-shaped necklaces that were a symbol of royalty among Celtic peoples (and, if ancient Roman chroniclers are to be believed, the only article of clothing Celtic warriors wore into battle).
The museum's displays are unusually informative, really focusing on how the artifacts give insight into the daily lives of ancient people, not just the dry history. This is especially true in the medieval section upstairs, which is divided into thematic sections like 'Power," "Work," and "Prayer."

Clonycavan Man lived in the Early Iron Age (c. 392-201 BC). He was somewhere over 25 years old, about 5' 9", slight, sported a Van Dyke beard, and wore hair gel of resin to hold in place a fancy hairstyle. He was killed—possibly ritualistically—by blows to the back of the head with an ax and disembowlment. His body was preserved in a peat bog in Co. Meath near the Westmeath border until 2003, when harvesters discovered him in a peat-screening machine. About 85% of the exhibits are or Irish origin, with small sections devoted to ancient Rome and Egypt—no archeological museum with its salt doesn't have a mummy or two.
Tips
Planning your time at the National Museum of Ireland: Plan to spend at least an hour in here.
Tours: Take a tour that includes a stop at the National Museum of Archaeology with our partners at Viator.com:
Dublin Pass: While admission to the National Museum of Archaology is free for all, holders of the Dublin Pass do also get some perks: Four free postcards, 20% off the glossy museum guidebook, and 10% off in the Museum Café.
| | |
| --- | --- |
| The Travel Store | |
National Museum of Ireland: Archeology
ADDRESS
Kildare St. (across from where Molesworth St. come in and just a bit south)
Tel.
+353-(0)1/677-7444
www.museum.ie
OPEN
Tues-Sat 10am–5pm, Sun 2–5pm
ADMISSION
Free
Dublin Pass:
Discounts at shop, cafe
TRANSPORT
Bus: 7B, 7D, 10, 10A, 11, 11A, 11B, 14, 14A, 15, 15A, 15B, 15C, 20B, 25X, 32X
LUAS: Harcourt
DART: Pearse
St.