Apartments in Dublin
Renting a flat or apartment in Dublin, even just for a few nights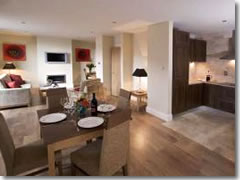 You can get a modern, stylish apartment for as little as €104 just of St. Stephen's Green in central Dublin, including a kitchen, dining room, living room, and bedroom at Premier Suites Dublin-Stephen's Hall.Most people assume apartment rentals are only long-term, but you can book a full-fledged flat—with kitchen, bedroom, and living room—for even just a night or two, and for as little as €59 for a studio, €68 for a one-bedroom apartment, or €86 for a three-bedroom apartment.
Even better: Many apartments are located in prime spots right in the heart of the city center, getting you closer to the sights at less than the price of a typical hotel in the same neighborhood.
Some examples? How about the Premier Suites Dublin-Stephen's Hall, a collection of 31 four-star luxury flats just around the corner from St. Stpehen's Green where suites start at €104, one bedrooms €119?
Or you stay in a one of the 37 modern apartments of Christchurch Hall Apartments not two blocks from Christ Church Cathedral (and four blocks from Temple Bar) starting at €67.50 for a one-bedroom, €85.50 for a two-bedroom.
Here are some more excellent deals:
Dublin apartments
| | |
| --- | --- |
| The Travel Store | |
details