Munich dining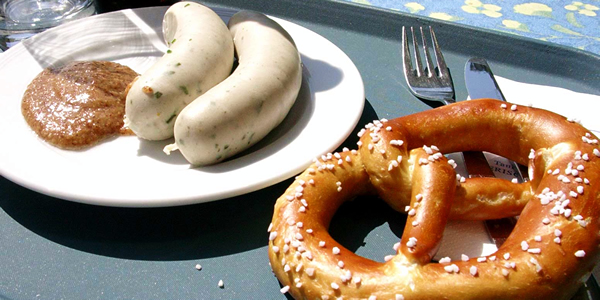 Weißwurst with a pretzel and mustard—a classic Munich meal. (Photo by Beat von Stein)
Restaurants in Munich, Germany
Munich is not a place for someone on a diet.
The primary food groups here are sausage, beer, salted white radishes, and pretzels.
The best and würst of Bavarian sausages
Sausages are called wurstel and come in so many shapes, sizes, and stuffings that it would take a whole book just to explain them all.
The greatest hits include:
Bratwurst - Finger-sized seasoned pork.
Frankfurter - The forerunner of hot dogs, only way more appetizing.
Blütwurst - Blood sausage.
Leberwurst - Liver sausge.
Weisswurst - A scrumptious specialty of Munich. The proper way to eat a Weisswurst is to cut it in half, dip the cut end in mustard, and suck the filling out of the casing in one fell slurp. What's it made of? (Spoiler alert! Please try one before reading this next bit, as you may not want to afterwords.) Veal, calf brains, and spleen, spiced to mild deliciousness and then boiled.
Dumplings—German starch

Any food ending in the word knödel is a dumpling, which may be made of semmel (bread), leber (liver), or kartoffel (potato).
Best bets for traditional fare
The best place to sample any of these specialties is the bräuhaus (beer hall tavern), where people sit communally and amicably at big tables.
Munich's other great contribution to the world of restaurant types is the outdoor biergarten.
Beer
No, I'm not forgetting the beer. In fact, it get's its own section.

Tips
Book a tour: Visit the beer halls of Munich on a guided culinary tour booked at a discount via our partners Viator.com:


| | |
| --- | --- |
| The Travel Store | |