Flying to Munich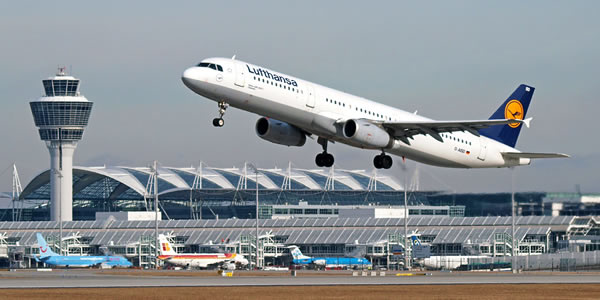 Flying into Munich. (Photo © FMG, courtesy of Flughafen München GMBH)
How to get between Munich and its airports
Munich has two airports.
Well, it really only has one airport—Munich International—but a handful of no-frills airlines instead use Memmingen, 71 miles west of the city.
Munich International Airport
Most flights land at Munich International Airport (tel. +49-(0)89-97-500; www.munich-airport.de) 18 miles northeast of the city.
How to get to downtown Munich from Munich airport
In brief: If you just need to get to a public transport stop downtown, take the train. If you want door-to-door service to a hotel, a private transfer will only cost about twice as much.
Allgäu Airport—Memmingen
Some low-cost carriers and no-frills airlines—including Ryanair, Wizz Air, and some AirBerlin flights—land at Allgäu Airport (tel. +49-8331-984-2000, www.allgaeu-airport.de), also known as Memmingen (the name of the town it's near).
This airport is also sometimes (laughably) called "Munich-West"—mostly by those self-same low-cost airlines in an attempt to make you believe the airport is near the city when it is, in fact, in a small Bavarian town 115 km (71 miles) west of Munich.
How to get to Munich from Memmingen airport
Express bus (95 min.; €20, or €17 if you book ahead online): The Allgäu Airport Express bus (www.aaexpress.de) meets all incoming Rynair and Wizz Air flights (that's four to six times daily) and travels to downtown Munich.

City bus/train (90–110 min.; €25–€28): If you can't link up with the Express Bus, hop a Memmingen city bus (nos. 810, 811, or 2) into downtown Memmingen (10 min; €3) and transfer to a train to Munich (75–95 min; €21.80–€25).
Private transfer (70–90 min.; ~ €190): The Express Bus company above (and local taxis) will drive you to Munich in a minivan—but it'll cost you. Only worthwhile for multiple passengers.
| | |
| --- | --- |
| The Travel Store | |
Useful Links
SIGHTS
Tourist info:
Muenchen.de
,
Bavaria.by
,
Germany.travel
Tours & activities:
Viator.com
,
City-Discovery.com
,
Intrepidtravel.com
,
Gadventures.com
LODGING
Hostels & camping:
Hostelworld.com
,
Gomio.com
,
Hostelbookers.com
,
HostelsClub.com
,
Hostelz.com
,
Booking.com
,
Venere.com
,
Muenchen.de
(campgrounds list)
TRANSPORTAirports:
Munich-airport.de
,
Allgaeu-airport.de
(Ryanair, flybe, Wizz)
Public transport:
Mvv-muenchen.de
Driving/parking:
Muenchen.de
Bike rentals & tours:
Viator.com
,
Mikesbiketours.com