Munich biergarten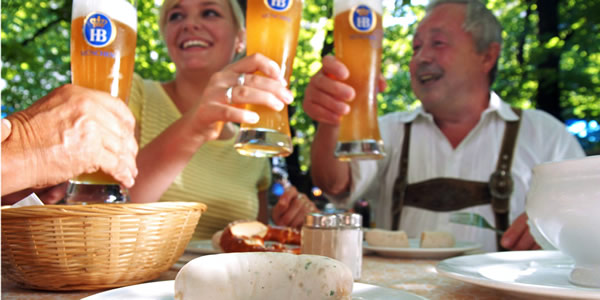 (Photo by BBMC Tobias Ranzinger)
Outdoor beer gardens in Munich, Germany
A biergarten is an outdoor space of picnic tables (occasionally with a few indoor tables) where you bring your own food, the servers provide the huge mugs of beer, and you can dine under the sun and shade trees and the central pole that marks all beer gardens (like a barber-striped flagpole with no flag).
Beer gardens are generally open 10am to 10pm or midnight (balmy summer nights can be fantastic). Biergartens usually offer simple sandwiches as well, and as always, pretzels and other snacks are on hand for noshing.
Some of Munich's best biergartens include:
Biergarten Chinesischer Turm - A beer garden in the heart of the Englischer Garten Park under the shade of a Chinese pagoda. (tel. +49-(0)89/383-8730; www.chinesischer-turm.de)
Augustinerkeller - A venerable (est. 1328) bräuhaus and biergarten several long blocks past Hauptbahnhof train station. (Arnulfstrasse 52, tel. +49-(0)89/594-393, www.augustinerkeller.de)
Hirschgarten - In the middle of Nymphenburg Park, this is the world's largest beer garden, seating 8,000 (tel. +49-(0)89/1799-9119, www.hirschgarten.de).
Tips
Book a tour: Visit the beer halls of Munich on a guided tour booked at a discount via our partners Viator.com:


| | |
| --- | --- |
| The Travel Store | |