Zum Koreaner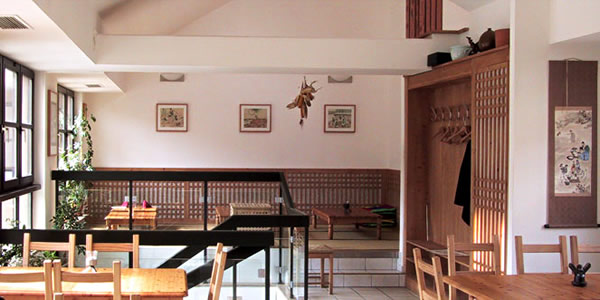 The upstairs dining room at the Nymphenburg location of Zum Koreaner, Munich.
Tasty, cheap, authentic Korean food in Munich
OK, OK. I know you came to Munich for bratwurst and beer—but sometimes that heavy German food can get just a wee bit overwhelming. That's where something like Korean cuisine can come in handy.
This started as a simple take-out joint in the trendy Schwabing district, but its low prices on excellent Korean staples like bulgogi (tasty marinated beef on fried rice), bibim bap (stir-fried vegtables on rice, meat and spice optional), and of course kimchi (spicy pickled cabbage) has led it to expand to a second location near the Schloss Nymphenburg at Nymphenburgerstrasse 132 (U-Bahn: Rotkreuzplatz; tel. +49-(0)89/1898-5993).
| | |
| --- | --- |
| The Travel Store | |
Restaurant Zum Koreaner
ADDRESS
Amelienstrasse 51
(3–4 blocks northwest of Odeonsplatz)

Tel. +49-(0)89/283-115
www.zum-koreaner.de
OPEN
Daily
TRANSPORT
U-Bahn: Universität
COST
€–€€