Dublinia
A fun, fact-filled museum dedicated to teh medieval era of Viking and Norman Dublin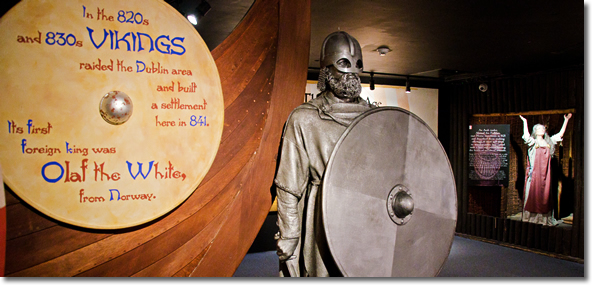 Suspend your Swiftian sarcasm for an hour to examine Viking-era and Norman-era Dublin at this Disneyesque mix life-sized dioramas, audio tours, and earnestly bad video acting that tries, and sometimes succeeds, to bring medieval Dublin to life.
Interactive and edutaining exhibits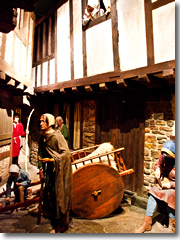 A stret scene of medeival Dublin at Dublinia The exhibits are aimed squarely at an adolescent audience so as to engage the most jaded of customers—witness the medieval outhouse, complete with seated mannequin and rather embarassing flatulant-and-relieved-moaning sound effects. (Not kidding. Ostensibly, the purpose of the display is to inform you that the Vikings used moss for toilet paper.)
There's a focus on those aspects of medieval life likely to be most appealing to kids and young teens: medieval fairs, death and diseases (the constant couching in the Black Plague room is a bit much), rime and punishments, Viking raids, etc.
You also get to try on a helmet and chain mail hood, throw "eggs" at a (mannequin) woman in a pillory, do brass rubbings, sit in a stockade, do a bit of archeology, etc.
Fun trivia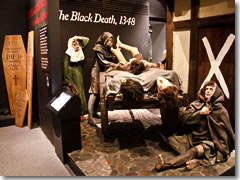 The Black Death exhibit at Dublinia. There is much of genuine interest despite the focus on trying to appeal to younger set. In fact, perhaps because of it.
The plaques focus on intriguing tidbits and fun historical trivia (as opposed to the usual dry academics), which means you might actually learn a few things, such as:
Various common English words were inherited from those Vikings: ship, rope, fish, egg, ice, boat, sky, rock, wicker...
The phrase "good, square meal" derives from the shape of the wooden, trencher-like plates once used by apprentices.
The word "coroner" comes from the royal detectives who investigated capital crimes, like murder. See, they were sent by "the crown"—which, in Latin, would be the corona.
There's plenty more, so I won't give it all away.
The Wood Quay controversy

The archaeology exhibits on the top floor at Dublinia On the museum's top floor is an exhibit devoted to the act and science of modern archeology, focused on the dark days in the 1970s when the Dublin city fathers decided to build a new (exceedingly ugly) headquarters for what was then called the Dublin Corporation (known since 2002 simply as Dublin City Council) at a riverside site known as Wood Quay.
In the process of excavating for the foundations at a site by the Liffey (just two blocks north of the museum), workers uncovered the heretofore lost remains of Dublin's Viking-era wooden quay, or wharf, including defensive pallisades, the remains of fourteen houses, paths and streets, and evidence of land reclamations into the river itself, all of it spanning a period roughly from 925 to 1320.
The anaerobic soil had preserved a remarkable amount of wooden and other objects intact, including furniture, toys, jewelry, toys, tool, coins, and artworks.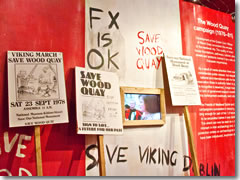 A display about the protests at Wood Quay. It was an unique archeological record of a lost period that had only by accident been preserved for more than ten centuries.
Despite numerous and vociferous public protests that sought to protect this precious heritage, the civic government granted scientists and academics all of four years to work a hurried dig on the site before encasing the whole thing in cement and plowing on ahead with their monstrosity of a new Civic Offices.
Tips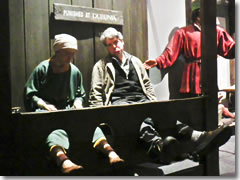 Your intrepid author, in the stocks at Dublinia
Planning your time at Dublinia: You could zip through Dublinia in 30–45 minutes, but it takes at least 50 to 75 mnutes to peruse most of the material and really get the most out of it.
Tours: Take a tour that includes a stop at Dublinia with our partners at Viator.com:
Dublin Pass: You can get into Dublinia for free using the Dublin Pass.
Joint ticket: You can get a joint ticket for Dublinia and the adjacent Christ Church Cathedral for TK.
Living history & museum tours at Dublinia: The museums holds tours and archology workshops throughout the year (check the website for details). On Living History Days (usually on weekends June through August), interpreters dressed in period costume populate the museum to demonstrate period skills and help explain life in medieval Dublin.
| | |
| --- | --- |
| The Travel Store | |
Dublinia
ADDRESS
St. Michael's Hill, at the corner of High St./Christchurch Pl. and Winetavern St./Nicholas St./Patrick St. (connected to Christ Church Cathedral by a medieval footbridge)

Tel. +353-(0)1-679-4611
www.dublinia.ie
OPEN
Jun-Jul, daily 9:30am–5pm
Apr-May, Aug-Sep, daily 10am–5pm
Oct-Mar, daily 10am–4:30pm
ADMISSION
€7.50
[Joint ticket with Christ Church Cathedral: €TK]
Dublin Pass: Yes (free)
TRANSPORT
Bus: 49, 49A, 49X, 50X, 51B, 51C, 54A, 78A, 121, 123, 150
LUAS: The Four Courts