Neue Pinakothek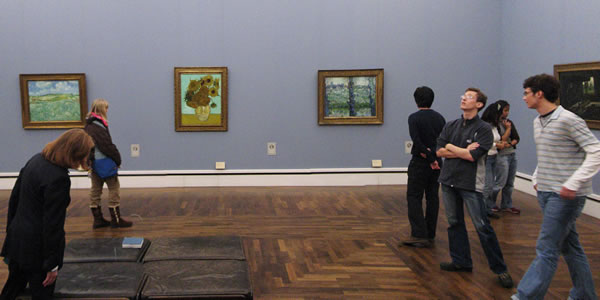 Impressionists and other 19th and 20th century painters at the "New Picture Gallery" of Munich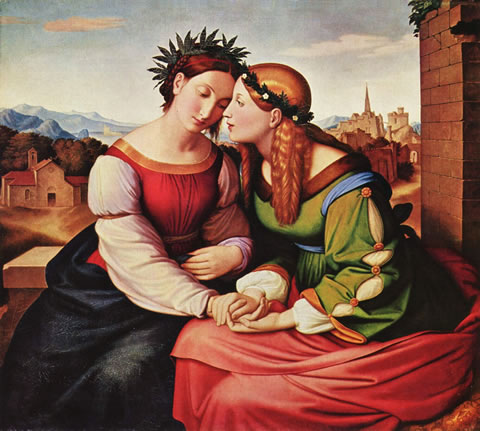 "Italia et Gemania" by Johann Friedrich Overbeck (1815/28) put a fine point on the Nazarene movement's Romantic ideal: to join German painting to the Italian Renaissance.Across from the Alte Pinakothek, the Neue Pinakothek covers the late 18th to mid-20th centuries with everyone from Gainsborough, Goya, Delacroix, and Manet to Monet, Degas, Cézanne, van Gogh (some pictured above), and more modern masters such as Gustav Klimt, Max Beckmann, and Edvard Munch.
There's even an amusing section displaying works by the "Nazarenes," a group of early 19th century German artists trying their darndest to paint like 15th century Italian artists (see the picture below to the right).
Although the Neue Pinakothek contains quite a fine set of works, it really doesn't hold a candle to the collection of older paintings in its nearby sister gallery, the Alte Pinakothek.
If you're on a tight schedule, visit the Alte Pinakothek first, then see if you have an hour or so left for these galleries.
Tips & Links
Neue Pinakothek details
ADDRESS
Barerstrasse 29 (off Theresienstrasse)
Tel.
+49-(0)89/2380-5295
www.pinakothek.de
OPEN
Thurs–Mon 10am–6pm, Wed 10am–8pm
ADMISSION
€7 (Sundays: €1)
Combined ticket (5 museums): €12
TRANSPORT
U
-Bahn
:
Königsplatz (U2) Odeonsplatz (U3, U4)
Tram:
27
Bus:
100
» Munich City Hop-on Hop-off Tour
TOURS
•
Munich Art Tour: Neue Pinakothek Gallery

How long does the Neue Pinakothek take?
Planning your time: It takes about an hour to see the Neue Pinakothek; maybe two hours if you're really into it.
Save on Sundays
On Sunday, admission is just €1 (instead of €7).
Cumulative ticket
Neue Pinakothek tours
Visit the Neue Pinakothek on a guided tour of Munich booked at a discount via our partners Viator.com:
Useful Munich links & resources
SIGHTS
Tourist info:
Muenchen.de
,
Bavaria.by
,
Germany.travel
Tours & activities:
Viator.com
,
City-Discovery.com
,
Intrepidtravel.com
,
Gadventures.com
LODGING
Hostels & camping:
Hostelworld.com
,
Gomio.com
,
Hostelbookers.com
,
HostelsClub.com
,
Hostelz.com
,
Booking.com
,
Venere.com
,
Muenchen.de
(campgrounds list)
TRANSPORTAirports:
Munich-airport.de
,
Allgaeu-airport.de
(Ryanair, flybe, Wizz)
Public transport:
Mvv-muenchen.de
Driving/parking:
Muenchen.de
Bike rentals & tours:
Viator.com
,
Mikesbiketours.com
Munich tours
| | |
| --- | --- |
| The Travel Store | |
Neue Pinakothek

ADDRESS
Barerstrasse 29 (off Theresienstrasse)
Tel.
+49-(0)89/2380-5295
www.pinakothek.de
OPEN
Thurs–Mon 10am–6pm, Wed 10am–8pm
ADMISSION
€7 (Sundays: €1)
Combined ticket (5 museums): €12
TRANSPORT
U
-Bahn
:
Königsplatz (U2) Odeonsplatz (U3, U4)
Tram:
27, 28
Bus:
100
» Munich City Hop-on Hop-off Tour
TOURS
•
Munich Art Tour: Neue Pinakothek Gallery