Munich S-Bahn and U-Bahn
The S-Bahn (light rail) and U-Bahn (subway) systems in Munich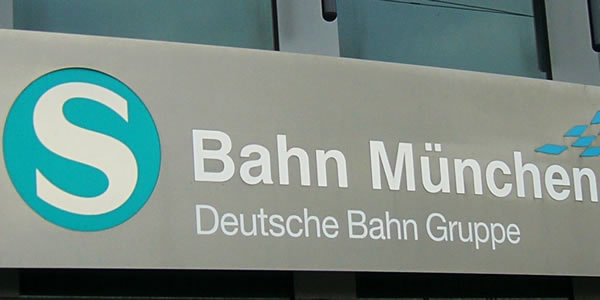 Tickets & info
All forms of transport in Munich use the same tickets and are operated by (or at least linked to) www.mvv-muenchen.de.For most tourists, Munich's two overlapping light rail systems will prove the most useful form of public transport.
Yes, there are two systems, but since they use the same tickets (and, in the city center, both run mostly underground) you can pretty much think of them as just one large subway system.
S-Bahn - A state-run commuter train line that covers a wide area of greater Munich and often runs aboveground (though it is underground in the city center). Within the Altstdat, the S-Bahn lines run roughly east–west.
U-Bahn - A city-run subway system that runs mostly underground. Within the Altstdat, the U-Bahn lines loop roughly north(ish)–south(ish).
Useful German
Fahrkarte - Ticket
Streifenkarte - Strip card
Tageskarte - Day ticket

Erwachsene - Adult
Kinder - Child

Eingang - Entrance
Ausgang - Exit
Nach - To (as in a destination)

Ein - One
Zwei - Two
Bitte - Please
Danke - Thanks
The only real practical difference for tourists between the U-Bahn and the S-Bahn in Munich is that you can use your rail pass on the S-Bahn, but not on the U-Bahn.
Useful lines
Almost all the S-Bahn lines (S1 through S8) run the same east-west route through the city, with stops at Hauptbahnhof, Karlsplatz, Marienplatz, and Isartorplatz. (Tourists will rarely find a reason to use the southern suburban S20 or S27 lines.)
The most useful of the U-Bahn lines are U3 and U6, which run north-south through the city center, stopping at Sendlingertor, Marienplatz, and Odeonsplatz before continuing on north into Schwabing.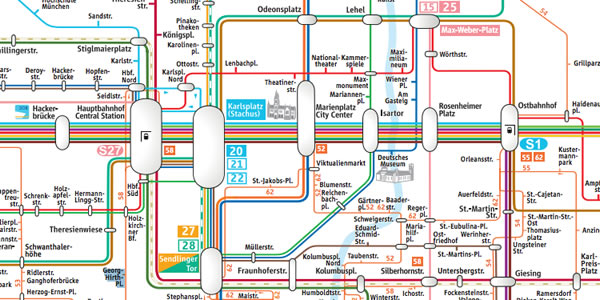 Major U-bahn/S-bahn intersections
The major junctures of multiple S-Bahn and U-Bahn lines are:
Hauptbahnhof (the main train station, a few blocks west of the city center)
Karlsplatz (at the western edge of the Altstadt)
Marienplatz (the central city square)
Ostbahnhof (at Ostbahnhof train station, several blocks east of the river and city center)
Odeonsplatz (in the northern part of the city center, near the Residenz)
Sedlingertor Platz (at the south edge of the city center)
| | |
| --- | --- |
| The Travel Store | |
Useful Links
SIGHTS
Tourist info:
Muenchen.de
,
Bavaria.by
,
Germany.travel
Tours & activities:
Viator.com
,
City-Discovery.com
,
Intrepidtravel.com
,
Gadventures.com
LODGING
Hostels & camping:
Hostelworld.com
,
Gomio.com
,
Hostelbookers.com
,
HostelsClub.com
,
Hostelz.com
,
Booking.com
,
Venere.com
,
Muenchen.de
(campgrounds list)
TRANSPORTAirports:
Munich-airport.de
,
Allgaeu-airport.de
(Ryanair, flybe, Wizz)
Public transport:
Mvv-muenchen.de
Driving/parking:
Muenchen.de
Bike rentals & tours:
Viator.com
,
Mikesbiketours.com