Alte Pinakothek
★★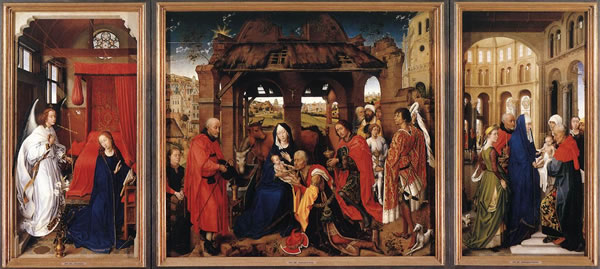 Rogier Van der Weyden's "St. Columba Altarpiece" (c. 1455).
Old Master paintings at the Old Art Museum in Munich, Germany
Munich's Alte Pinakothek, several long blocks northwest of city center, may not be a Louvre or Uffizi, but its rich collection of 14th- to 19th-century works is well worth an hour or three of your time.
German & Dutch painters
As you might expect, the Dutch and Germans are very well-represented.
Roger van de Weyden weighs in with many works, including the huge St. Colombia Altarpiece (pictured above).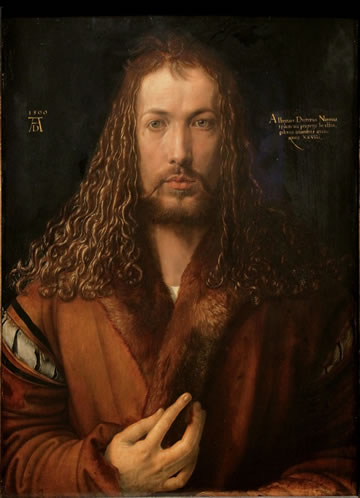 Dürer's Self-Portrait (1500). There are loads of Rembrandts and Van Dycks, several fleshy Rubens works, and a host of good Germanic altarpiece paintings by maestros of the mid-15th to mid-16th centuries, from Hans Memling, Joos Van Cleef, and the Elders Cranach and Holbein to the crowning masterpieces of a slew of lesser known artists.
The gallery's greatest work is Albrecht Dürer's Self Portrait of 1500. Dürer brought the Renaissance from Italy to northern Europe. He also invented the self-portrait.
Many artists in the past had painted themselves into the background or crowds in large works as a kind of insider-joke signature, but Dürer was the first to make himself, the artist, the star of the show. Until then, such full frontal portraiture had only been used to portray Christ.
Italian & Spanish painters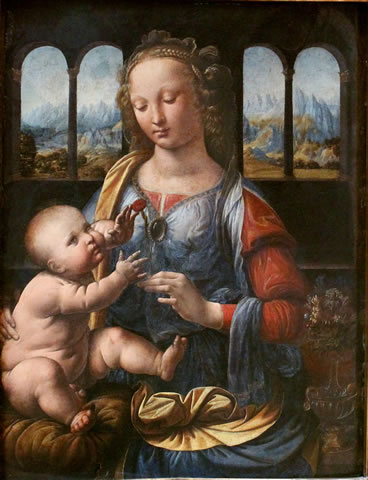 Leonardo da Vinci's Madonna of the Carnation (1478/80). The Alte Pinakothek also features paintings by Italian Renaissance gurus Giotto, Filippo Lippi, Botticelli, Perugino, Signorelli, and and Tintoretto.
Of the greatest Italian masters there is a Madonna and Child (or "Madonna of the Carnation") by Leonardo da Vinci, painted around 1478 or 1480.
Several works by Raphael include a Holy Family and a couple of Madonna and Childs.
Titian's Christ with the Crown of Thorns is one of his most mature works.
The are also some Spanish pieces from El Greco, Ribera, Velasquez, and Murillo.
Tips & Links
Alte Pinakothek details
How long does the Alte Pinakothek take?
Planning your time: Figure on spending one to three hours inside the museum, depending on how much you love art..
Save on Sundays
On Sunday, admission is just €1 (instead of €7).
Cumulative ticket
Useful Munich links & resources
SIGHTS
Tourist info:
Muenchen.de
,
Bavaria.by
,
Germany.travel
Tours & activities:
Viator.com
,
City-Discovery.com
,
Intrepidtravel.com
,
Gadventures.com
LODGING
Hostels & camping:
Hostelworld.com
,
Gomio.com
,
Hostelbookers.com
,
HostelsClub.com
,
Hostelz.com
,
Booking.com
,
Venere.com
,
Muenchen.de
(campgrounds list)
TRANSPORTAirports:
Munich-airport.de
,
Allgaeu-airport.de
(Ryanair, flybe, Wizz)
Public transport:
Mvv-muenchen.de
Driving/parking:
Muenchen.de
Bike rentals & tours:
Viator.com
,
Mikesbiketours.com
Munich tours
| | |
| --- | --- |
| The Travel Store | |