Barcelona sights
The sights, museums, and monuments of Barcelona
From the striking Modernisme Art Nouveau buldings of Gaudí to the Romanesque frescoes from across Catalonia in the MNAC, strolling La Rambla to indulging in a tapas crawl, admiring Picasso's earliest paintings to clapping along to a flamenco show in the Poble Espanyol Spanish village—this is why you came to Barcelona.
Barcelona sightseeing
Top sights in Barcelona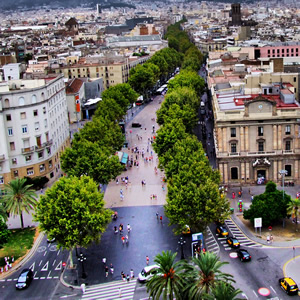 La Rambla ★★★ - La Rambla (Les Rambles in Catalán) is the long, wide, pedestrian boulevard that glides right through the heart of the old city, from Plaça de Catalunya to the port. Laid out in 1766 along the line of the demolished medieval city walls, this boulevard shunts the vehicular streets to either side and fills the broad middle of the path with a wide pedestrian road, shaded by trees and filled with kisoks, street performers, and what feels like half the city out for a stroll... » more
Gaudí & Modernisme ★★★ - Catalonia's particularly fluid and idiosyncratic version of the Art Nouveau revolution was called Modernisme, and its high priest was Antoni Gaudí (1852–1926). Gaudí incorporated creative wrought-iron patterns and colorful mosaics into his flowing, organic structures, from residential buldings (dragon-backed Casa Batlló ★★★; the undulating La Pedrera ★★) to a marvelous city park (Park Güell ★) to the amazing sand-castle basilica of Sagrada Familia ★★★, which you can watch still being built... » more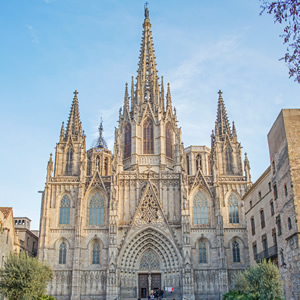 Catedral ★★ - Behind an elaborate neo-Gothic facade and spire from the 19th century lies Madrid's massive and genuinely Gothic cathedral, a dark, echoey space built largely between 1298 and 1450. It'll take a good 45 minutes to see the marvelously carved 15th-century choir stalls, ranks of glowing votive candles, and shady cloisters surrounded by magnolias and palms and ponds swimming with geese. The adjacent museum is stuffed with medieval Catalonian art... » more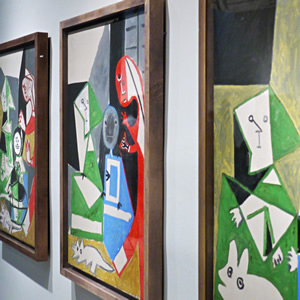 Museu Picasso ★★ - The greatest Picasso museum outside of Paris is filled with 3,000 works by Andalusia native Pablo Picasso (1881–1973). There are plenty of those crowd-pleasing (or crowd-confusing) Cubist paintings, yes, but also many early works in an exactingly, surprisingly classical style worthy of an Old Master... but which Picasso painted while living here in Barcelona when he was still just a teenager... » more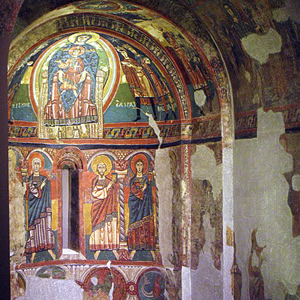 Museu Nacional d'Art de Catalunya ★ - In an enormous 1929 palace atop Montjuïc hill is the MNAC, one of the world's biggest and best collections of Romanesque art, centered around a series of gorgeous 12th-century frescoes removed from Catalonian churches in the Pyrenees. The late-Medeival art is actually just the highlight. The point of this museum is to catalogue the best of Catalan art from the Romanesque all the way to the 1940s... » more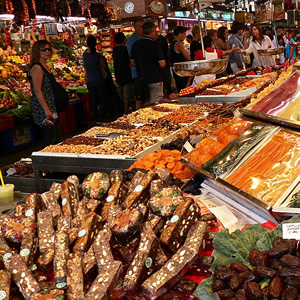 Boqueria market ★ - Barcelona's cenrtal covered food market lies just off La Rambla, packed with stalls filed with ranks of round fruit, stacks of string beans, boxes of earthy mushrooms, fish straight from the docks, bins of briny olives, hocks of serrano ham ready for carving, bags of Valencia oranges, bushels of woodland berries, and piles of dried salt cod. Many of the stalls have been in the same family for three or four generations... » more
Fundació Joan Miró ★ - The world's greatest collection of art by Barcelona native Joan Miró (1893–1983) inhabits this modernist building on Montjuïc hill. The foundation owns a staggering 14,000 works by the modern master of colorful whimsical, often delightfully playful art alongside works by Miró contemporaries (Duchamp, Ernst, Calder, Léger, Moore, Oldenburg, etc.)... » more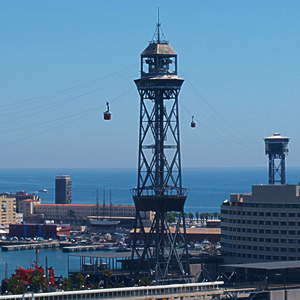 Aeri del Port (Transbordador) ★ - This low-key, 1,292-meter (0.8-mile) thrill ride in a gondola over the harbor of Barcelona from Barceloneta to the Miramar viewpoint halfway up Montjuïc Hill offers spectacular views. The busy waterfront is below and all around you. In one direction, all of downtown Barcelona and spreads to either side of La Rambla; in the other direction, the waters of the Mediterranean stretch to the horizon... » more
Tips & Links
How long should I spend in Barcelona?
Save with a sightseeing pass
Barcelona tours
Useful links & resources
Related Articles
| | |
| --- | --- |
| The Travel Store | |
Useful Links
SIGHTS
Barcelona tourist info:
Barcelonaturisme.com
(info office),
Guiadelocio.com
(events mag);
Catalunya.com
(regional info),
Spain.info
Sightseeing passes:
Barcelona Card
(20+ sights; transport; discounts),
Museum Pass
(6 sights)
Tours & activities:
Viator.com
,
ContextTravel.com
,
UrbanAdventures.com
,
City-Discovery.com
,
Intrepidtravel.com
,
Gadventures.com
LODGING
Hotels:
Booking.com
,
Venere.com
,
Priceline.com
,
Hotels.com
B&Bs:
Booking.com
,
Bedandbreakfast.com
,
Airbnb.com
,
Venere.com
Apartments:
Rentalo.com
,
Vrbo.com
,
Booking.com
,
Airbnb.com
,
Interhomeusa.com
,
Homeaway.com
Hostels & campgrounds
:
Hostelbookers.com
,
Hostelworld.com
,
Hostelz.com
,
Booking.com
TRANSPORT
Airfares:
Airports:
Aena.es
Trains:
Raileurope.com
(throughout Europe),
Renfe.com
(within Spain),
Bahn.de
(throughout Europe),
Seat61.com
Public transport:
Barcelona Card
(free transport; sightseeing);
Search all public transit:
mou-te.gencat.cat
;
Metro/Bus:
Tmb.cat
;
Tram:
Trambcn.com
;
Light rail:
Fgc.cat
;
Taxi:
Taxibarcelona.cat
Car rentals:
Autoeurope.com
,
RentalCars.com
,
Momondo.com
,
Orbitz.com
,
Expedia.com,
Travelocity.com
,
Kayak.com