Barcelona views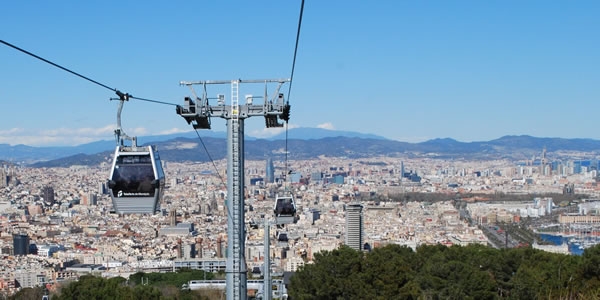 Views of Barcelona from the Montjuïc Cable Car. (Photo by Ivan Mlinaric)
Great panoramas and viewpoints around Barcelona
Aeri del Port (Teleférico del Puerto) - A gondola thrill ride dangling over the port of Barcelona and its historic downtown. Nice, close-up views of the harbor, La Rambla, and the Ciutat Vella (Old City).
Telefèric de Monjuïc - Another cable car ride, this one over Montjuïc Hill to the 18th century castle. Lovely views over gardens and glimpsing the wide Mediterranean beyond.
Park Güell - Gaudí designed this hilltop park and its amazing Art Nouveau buildings, staircases, fountains, and benches, with low-level panoramic views over the city.
Sagrada Familia - Skyscraping views over the exacting street plan of Eixample—and, more importantly, the amazing details of the basilica itself—from one of the towers of this work-in-progress cathedral designed by Gaudí.
Mirador de Colom - A 51m (167-foot) high view over the port and the start of La Rambla pedestrian drag from the top of the Columbus Monument.
Fundácio Joan Miró - A museum filled with the 20th century master's whimsical works—and with peekaboo city views from its perch atop Montjuïc Hill.
La Pedrera - A close-up view over the rooftops of the Eixample district from the rooftop of its most famous apartment block, the Gaudí-designed Casa Milá.
Tips & Links
Useful links & resources
SIGHTS

Barcelona tourist info: Barcelonaturisme.com (info office), Guiadelocio.com (events mag); Catalunya.com (regional info), Spain.info

Sightseeing passes: Barcelona Card (20+ sights; transport; discounts), Museum Pass (6 sights)

Tours & activities: Viator.com, ContextTravel.com, UrbanAdventures.com, City-Discovery.com, Intrepidtravel.com, Gadventures.com

LODGING

Hotels: Booking.com, Venere.com, Priceline.com
, Hotels.com

B&Bs: Booking.com, Bedandbreakfast.com, Airbnb.com, Venere.com

Apartments: Rentalo.com, Vrbo.com, Booking.com, Airbnb.com, Interhomeusa.com, Homeaway.com


Hostels & campgrounds: Hostelbookers.com, Hostelworld.com, Hostelz.com, Booking.com

TRANSPORT

Airfares:
Airports:
Aena.es
Trains:
Raileurope.com
(throughout Europe),
Renfe.com
(within Spain),
Bahn.de
(throughout Europe),
Seat61.com
Public transport:
Barcelona Card
(free transport; sightseeing);
Search all public transit:
mou-te.gencat.cat
;
Metro/Bus:
Tmb.cat
;
Tram:
Trambcn.com
;
Light rail:
Fgc.cat
;
Taxi:
Taxibarcelona.cat
Car rentals:
Autoeurope.com
,
RentalCars.com
,
Momondo.com
,
Orbitz.com
,
Expedia.com,
Travelocity.com
,
Kayak.com
Barcelona tours
Related Articles
| | |
| --- | --- |
| The Travel Store | |
Useful Links
SIGHTS
Barcelona tourist info:
Barcelonaturisme.com
(info office),
Guiadelocio.com
(events mag);
Catalunya.com
(regional info),
Spain.info
Sightseeing passes:
Barcelona Card
(20+ sights; transport; discounts),
Museum Pass
(6 sights)
Tours & activities:
Viator.com
,
ContextTravel.com
,
UrbanAdventures.com
,
City-Discovery.com
,
Intrepidtravel.com
,
Gadventures.com
LODGING
Hotels:
Booking.com
,
Venere.com
,
Priceline.com
,
Hotels.com
B&Bs:
Booking.com
,
Bedandbreakfast.com
,
Airbnb.com
,
Venere.com
Apartments:
Rentalo.com
,
Vrbo.com
,
Booking.com
,
Airbnb.com
,
Interhomeusa.com
,
Homeaway.com
Hostels & campgrounds
:
Hostelbookers.com
,
Hostelworld.com
,
Hostelz.com
,
Booking.com
TRANSPORT
Airfares:
Airports:
Aena.es
Trains:
Raileurope.com
(throughout Europe),
Renfe.com
(within Spain),
Bahn.de
(throughout Europe),
Seat61.com
Public transport:
Barcelona Card
(free transport; sightseeing);
Search all public transit:
mou-te.gencat.cat
;
Metro/Bus:
Tmb.cat
;
Tram:
Trambcn.com
;
Light rail:
Fgc.cat
;
Taxi:
Taxibarcelona.cat
Car rentals:
Autoeurope.com
,
RentalCars.com
,
Momondo.com
,
Orbitz.com
,
Expedia.com,
Travelocity.com
,
Kayak.com