Barcelona in 2 days
How to see Barcelona in just two days
Barcelona in two days: DAY 1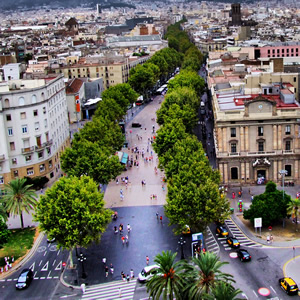 9am
La Rambla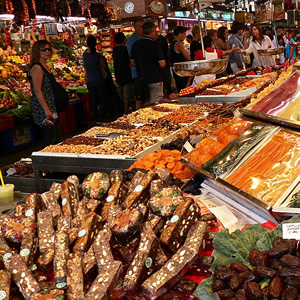 9:30am
Boqueria market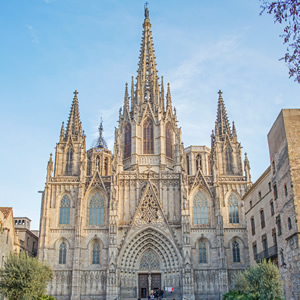 10:30am
Cathedral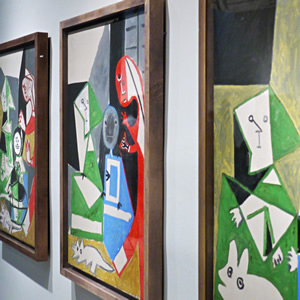 11:15am
Picasso Museum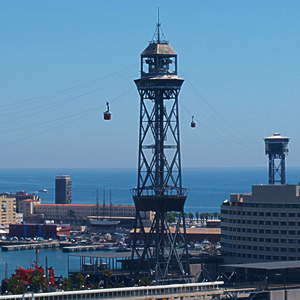 2pm
Aeri del Port
3pm
Miró Museum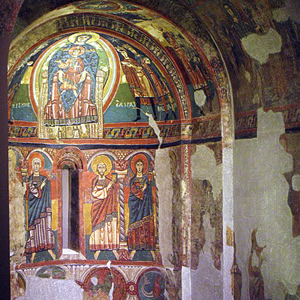 4pm
MNAC
6:15pm
Flamenco
Morning: La Rambla and the Old City
Begin Day One at perhaps Barcelona's greatest sight: La Rambla, that long, wide, pedestrian boulevard that glides right through the heart of the old city, from Plaça de Catalunya to the port.
9am: Start at the port end, at the Drassanes metro stop, perhaps with a quick ride to the top of the Columbus column for city and port views (20 minutes).
9:30am: Then just stroll up the boulevard, passing street performers and popping into La Boqueria market (45 minutes).
10:30am: Follow La Rambla all the way to Carrer de Portaferrisa and turn right until you get to the Gothic Catedral to explore (30 minutes).
11:15am: Then head over to the Museu Picasso for a marvelous collection of works by the Spanish master, including many early works he painted in a classical-style as a teenager, well before his discovery of Cubism (45 minutes).
Lunch
12:30: For lunch, work your way southwest through the back streets of the medieval Barri Gòtic to Los Caracoles for classic Catalan cuisine (75 minutes).
Afternoon: The sights of Montjuïc
2pm: Walk down to the harbor road, Passeig de Colom, and grab the No. 64 bus headed northest (left). It will take you out onto the Barceloneta peninsula, past the fishing town, to the teminus for the Aeri del Port cable car. Ride this scenic gondola over the harbor for great vistas of downtown Barcelona and up the Miramar on Montjuïc Hill (the ride is 7 minutes, but getting there will take 30 minutes).
3pm: Gab the no. 150 bus along Av. Miramar to the Fundació Joan Miró to see the work's of Barcelona's other towering Titan of twentieth-centuy art (45 minutes).
4pm: Turn right out of the Fundació Joan Miró and, right at the bus stop at teh end fo the property, look for the entance to the Jadrins de Laribal park. Stroll its paths, keeping a vaguely westerly direction to pop out onto Passeig de Santa Madrona. Turn right, and the road will shortly loop to the left and dposit you beside the Museu Nacional d'Art de Catalunya, filled with amazing Romaneque and Gothic art (90 minutes).
Evening: Flamenco and dinner
6pm: Have already booked tickets to the flamenco show and dinner at El Tablao de Carmen in the nearby Poble Espanyol. This is key, since a flamenco show ticket also gets you into (for free) the Poble Espanyol itself, an architectural theme park of re-created buildings from across Spain that now host craft workshops and artisan studios (in addition to restaurants, bars, and discos).
8:30pm: Aiming for the 6:15pm seating would make things a bit tight—and not allow you any time to enjoy shopping/strolling the workshops of the poble—so if you can handle one of those late Spanish dinnertimes, go for the 8:45pm seating (this will also give you more room in your afternoon schedule to take a bit more time at all the sights above).
Barcelona in two days: DAY 2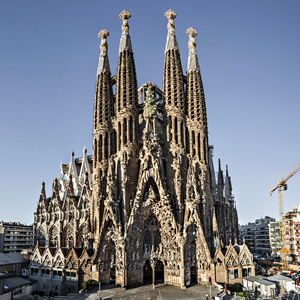 9am
Sagrada Familia
11am
La Pedrera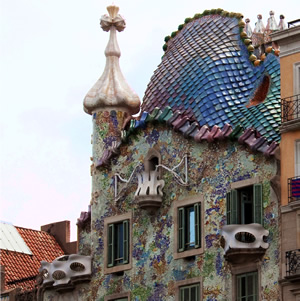 Noon
Casa Batlló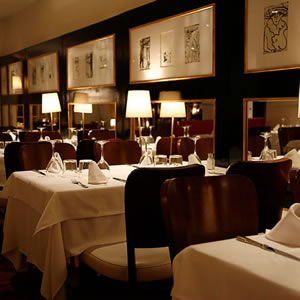 1pm
Lunch
2:30pm
Park Güell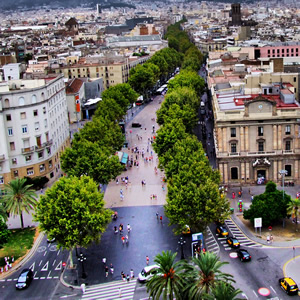 4pm
La Rambla
6pm
Tapas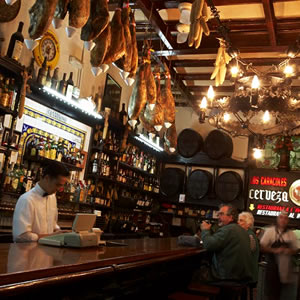 7pm
Dinner
Morning: Modernisme in the New City
Day Two is the day for Modernisme, Barcelona's signature style of Art Nouveau architectures.
9am: Start at the only grand cathedral of Europe still in the midst of being built, Gaudí's massive, drippy, sand castle of a church called the Sagrada Familia, a masterpiece-in-progress of Moderisme. Take the time to clamber around its spires and admire the whimsical sculpture adorning its odd hidden corners. (90 minutes)
11am: Then take the metro to Diagonal for more Modernisme masterpieces, starting with a tour of Gaudí's Casa Milà "La Pedrera" (spend about 45 minutes in there).
Noon: Then proceed to the Art Nouveau wonderland of Passeig de Gràcia to stroll its famed Illa de la Discòrdia block, home to a string of Modernisme buildings. Take the walk and plenty pictures of the Casa Batlló (you can even go inside, if you have time for the hour-long audio tour) and other striking Art Nouveau structures. (45 minutes)
Lunch
1pm: You're in luck that La Rita is just a block away from the Illa de la Discòrdia for lunch. (90 minutes)
Afternoon: Parks & relaxation
2:30pm: Now, because the last day-and-a-half have been pretty packed (and with lots of walking), take the afternoon to relax while still sightseeing. Head up to the Gaudí-designed Park Güell, a wonderful place to wander, full of whimsical architectural accents, plus the Casa-Museu Gaudí, where the master once lived. (90–120 minutes)
4:30pm: Spend the rest of the day relaxing on one of Barcelona's beaches, or strolling La Rambla some more before heading off for a tapeo, a stroll from tapas bar to tapas bar, nibbling your way through Catalan specialities and staving off that late, Spanish dinner time.
9pm: Dig into a well-deserved dinner—and a vow to return to Barcelona one day.
Tips & Links
How long should I spend in Barcelona?
If you're just passing through, I'd give Barcelona at least two full days, as outlined here.
It is a lovely place to relax, however, so you might be happier spending 3-4 days.
Why don't the hours and time spent add up?
You may notice that—for example— on Day 2 I have you arriving at Sagrada Familia at 9am, spending 90 minutes there, but then not starting at the next stop (La Pedrera) until 11am.
No, my math is not wrong. I am simply allowing you the necessary time to get from place to place—walking, riding the Metro, walking some more—plus the inevitable time lost standing in ticket lines or waiting on a tour to start.
Whenever drawing up an itinerary, always leave time for the logistics.
Also, pad it with a bit extra for potential delays, unexpected discoveries along the way, or just for thsoe times when you find yourself delighted with something and end up spending longer there than originally planned.
Useful links & resources
SIGHTS

Barcelona tourist info: Barcelonaturisme.com (info office), Guiadelocio.com (events mag); Catalunya.com (regional info), Spain.info

Sightseeing passes: Barcelona Card (20+ sights; transport; discounts), Museum Pass (6 sights)

Tours & activities: Viator.com, ContextTravel.com, UrbanAdventures.com, City-Discovery.com, Intrepidtravel.com, Gadventures.com

LODGING

Hotels: Booking.com, Venere.com, Priceline.com
, Hotels.com

B&Bs: Booking.com, Bedandbreakfast.com, Airbnb.com, Venere.com

Apartments: Rentalo.com, Vrbo.com, Booking.com, Airbnb.com, Interhomeusa.com, Homeaway.com


Hostels & campgrounds: Hostelbookers.com, Hostelworld.com, Hostelz.com, Booking.com

TRANSPORT

Airfares:
Airports:
Aena.es
Trains:
Raileurope.com
(throughout Europe),
Renfe.com
(within Spain),
Bahn.de
(throughout Europe),
Seat61.com
Public transport:
Barcelona Card
(free transport; sightseeing);
Search all public transit:
mou-te.gencat.cat
;
Metro/Bus:
Tmb.cat
;
Tram:
Trambcn.com
;
Light rail:
Fgc.cat
;
Taxi:
Taxibarcelona.cat
Car rentals:
Autoeurope.com
,
RentalCars.com
,
Momondo.com
,
Orbitz.com
,
Expedia.com,
Travelocity.com
,
Kayak.com
Get a sightseeing / transport pass
Barcelona tours
Related Articles
| | |
| --- | --- |
| The Travel Store | |
Useful Links
SIGHTS
Barcelona tourist info:
Barcelonaturisme.com
(info office),
Guiadelocio.com
(events mag);
Catalunya.com
(regional info),
Spain.info
Sightseeing passes:
Barcelona Card
(20+ sights; transport; discounts),
Museum Pass
(6 sights)
Tours & activities:
Viator.com
,
ContextTravel.com
,
UrbanAdventures.com
,
City-Discovery.com
,
Intrepidtravel.com
,
Gadventures.com
LODGING
Hotels:
Booking.com
,
Venere.com
,
Priceline.com
,
Hotels.com
B&Bs:
Booking.com
,
Bedandbreakfast.com
,
Airbnb.com
,
Venere.com
Apartments:
Rentalo.com
,
Vrbo.com
,
Booking.com
,
Airbnb.com
,
Interhomeusa.com
,
Homeaway.com
Hostels & campgrounds
:
Hostelbookers.com
,
Hostelworld.com
,
Hostelz.com
,
Booking.com
TRANSPORT
Airfares:
Airports:
Aena.es
Trains:
Raileurope.com
(throughout Europe),
Renfe.com
(within Spain),
Bahn.de
(throughout Europe),
Seat61.com
Public transport:
Barcelona Card
(free transport; sightseeing);
Search all public transit:
mou-te.gencat.cat
;
Metro/Bus:
Tmb.cat
;
Tram:
Trambcn.com
;
Light rail:
Fgc.cat
;
Taxi:
Taxibarcelona.cat
Car rentals:
Autoeurope.com
,
RentalCars.com
,
Momondo.com
,
Orbitz.com
,
Expedia.com,
Travelocity.com
,
Kayak.com