La Rambla
★★★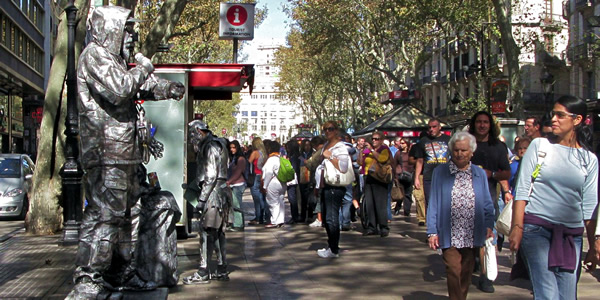 Pedestrians (and one of many "living statues" on Les Rambles in Barcelona. (Photo by Alain Rouiller)
Las Ramblas (Les Rambles in Catalan) is the bustling, tree-shaded main boulevard of Barcelona

An aerial view of La Rambla from the Mirador de Colom. (Photo by xlibber)La Rambla is the long, wide, pedestrian boulevard that glides right through the heart of the old city, from Plaça de Catalunya 1.2km (3/4 mile) all the way to the port.
Laid out in 1766 along the line once formed by the medieval city walls—and once drained by a sewer-like creek ("rambla" means intermittent stream)—this boulevard shunts the vehicular streets to either side and fills the broad middle of the path with a wide pedestrian road, shaded by trees and filled with kisoks, street performers, and—on any given day—what feels like half the city out for a stroll.
Start at the port end, at the Drassanes metro stop, and the architectural exclamation point of the Mirador de Colom. Ride the elevator to the top of for an overview of La Rambla (and a nice panorama of the port and the city).

The Miró mosaic on La Rambla. (Photo by Edal Anton Lefterov)Then just amble north.
Stop into La Boqueria covered food market to see the string beans stacked perfectly and the dried salt cod piled high.
Pause at the twittering, tweeting cages of the tiny portable bird market (techncially illegal since 2003, but still around).
Check out the Joan Miró pavement mosaic at Pla de l'Os (where Carrer de Sant Pau and Carrer de la Boqueria hit La Rambla).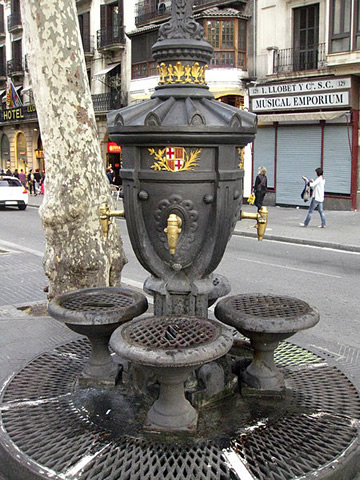 The Font de Canaletes on La Rambla. (Photo by Enric Fontvila)Sip from the Canaletes Fountain, by La Rambla 133, a 19th century streetlamp-topped fountain that pipe water in from the Collserola Ridge. Legend holds that thsoe who drink from it will fall in love with Barcelona and want to return. (It's also where Barça fans congregate to celebrate soccer victories, harking back to when the offices of long-vanished La Rambla newspaper were here and posted the scores on a chalkboard out front.)
Toss coins to the performers who pose as statues and only move when the clink of change hits their hats.
Or just sit on a bench and watch the parade of Barcelona life waltz past.
Note: You may see La Rambla referred to in the plural, as "Las Ramblas" (Castillian spelling) or "Les Rambles" (Catalan spelling), since different stretches of it technically have different names, all starting with "Rambla": Rambla de Canaletes, Rambla dels Caputxins, Rambla de Santa Monica, etc.
Tips & Links
La Rambla details
How long does La Rambla take?
La Rambla tours
Useful links & resources

A map showing the various named segments of La Rambla. (Image by Enric Fontvila)
Related Articles
| | |
| --- | --- |
| The Travel Store | |
La Rambla
ADDRESS
La Rambla (Plaça de Catalunya to Plaça del Portal de la Pau)
[ border between Barri Gotíc and El Raval ]
Amics de La Rambla association:
www.laramblabcn.com
OPEN
Always open
ADMISSION
Free
TRANSPORT
Metro:
South end:
Drassanes (L3);
middle:
Liceu (L3);
north end:
Pl. Catalunya (L1, L3, L6, L7, S1, S2, S5, S55)
Bus:
14, 59, 91, N9, N12, N15
Hop-on/Hop-off route:
East, West, South (red), North (blue)
TOURS