Barcelona dining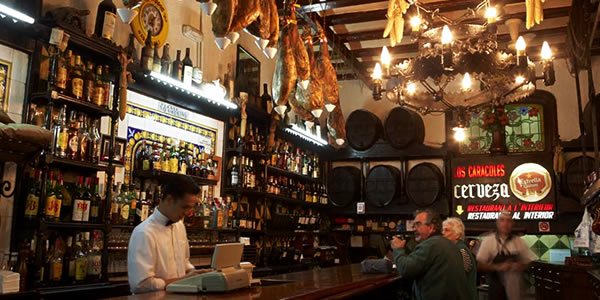 The bar at Los Caracoles restaurant. (Photo courtesy of the restaurant)
The restaurants, tapas bars, and cuisine of Barcelona
As the capital of Catalonia, Barcelona has plenty of traditional local restaurants that make the excellent casseroles that made this region famous.
As a port city, Barcelona has incredible seafood.
Make sure you try some of the interesting surf-n-turf combinations, such as the traditional llagosta i pollastre (chicken and lobster in a tomato-hazelnut sauce).
Suquet is made of shellfish stewed with tomatoes, potatoes, saffron, and wine.
Unattractive but tasty is butifarra negra amb mongetes, a fat, black sausage (pork bellies, blood, and spices) in a plate of white beans.
Spend at least one evening doing a tapeo, or tapas bar crawl.
Other regional cuisines
Nearby Valencia contributes to Barcelona's tables the mighty paella, saffron-tinged rice simmered with a medley of seafood, chicken, tomatoes, peppers, beans, pork, hare, and so on.
Don't leave Spain without sampling some Basque cuisine—although Catalonians are no slouches in the kitchen, supremacy for invention and refinement goes to the Basque. (My recommendation: Splurge at Beltxenea.)
Cava
Be sure to sample cava, the Catalonian champagne, a dry sparkling white wine with fruity overtones and a crisp finish.
The two biggies are Cordorníu and Freixenet (for what it's worth, I prefer the latter), but when in Barcelona you can sample cava from smaller producers that don't export internationally.
Tips & Links
Useful Catalan dining phrases
| | |
| --- | --- |
| table for two | Una taula per dos (oo-nah TOWEL-ah pair dohs) |
| I would like | Voldria (vohl-DREE-ya) |
| ...some (of) | una mica (de) (OO-na MEE-ka (day)) |
| ...of this / of that | d'això (dye-SHO) / d'aquest (dah-QWEST) |
| and | i (ee) |
| ...a glass of... | un vaso de (oon BAH-soh day) |
| ...a bottle of... | una botella de (oon boh-TAY-yah day) |
| ...fizzy water | aigua amb gas (AY-gwah ahm gahs) |
| ...still water | aigua sense gas (AY-gwah SEN-say gahs) |
| ...tap water | aigua de l'aixeta (AY-gwah day lie-SHET-tah) |
| ...red wine | vi negre (bee NAY-gray) |
| ...white wine | vi blanc (bee blahnk) |
| ...beer | una cerveza (OO-nah sair-B'VAY-sah) |
| Check, please | el compte si us plau? (el KOHMP-tay see yous PLOW) |
| Is service included? | S'inclou el servei? (seen-CLEW el sair-BAY) |
| | |
| Thank you | Gràcies (GRAH-see-yuhs) |
| Please | Sisplau (sees-PLOW) |
| Yes | Sí (see) |
| No | No (no) |
| One | Un/una (oon / OO-bah) |
| Two | dos/dues (dohs / DOO-ways) |
| Do you speak English? | Parles anglès? (PAR-lus un-GLAYS) |
| I don't understand | No l'entenc (noh LEN-tenk) |
| Excuse me (get attention) | Excuseu-me (ex-COO-zoo-mee) [or] Disculpi (dee-SKOOL-pee) |
Barcelona food tours
Useful links & resources
SIGHTS

Barcelona tourist info: Barcelonaturisme.com (info office), Guiadelocio.com (events mag); Catalunya.com (regional info), Spain.info

Sightseeing passes: Barcelona Card (20+ sights; transport; discounts), Museum Pass (6 sights)

Tours & activities: Viator.com, ContextTravel.com, UrbanAdventures.com, City-Discovery.com, Intrepidtravel.com, Gadventures.com

LODGING

Hotels: Booking.com, Venere.com, Priceline.com
, Hotels.com

B&Bs: Booking.com, Bedandbreakfast.com, Airbnb.com, Venere.com

Apartments: Rentalo.com, Vrbo.com, Booking.com, Airbnb.com, Interhomeusa.com, Homeaway.com


Hostels & campgrounds: Hostelbookers.com, Hostelworld.com, Hostelz.com, Booking.com

TRANSPORT

Airfares:
Airports:
Aena.es
Trains:
Raileurope.com
(throughout Europe),
Renfe.com
(within Spain),
Bahn.de
(throughout Europe),
Seat61.com
Public transport:
Barcelona Card
(free transport; sightseeing);
Search all public transit:
mou-te.gencat.cat
;
Metro/Bus:
Tmb.cat
;
Tram:
Trambcn.com
;
Light rail:
Fgc.cat
;
Taxi:
Taxibarcelona.cat
Car rentals:
Autoeurope.com
,
RentalCars.com
,
Momondo.com
,
Orbitz.com
,
Expedia.com,
Travelocity.com
,
Kayak.com
Related Articles
| | |
| --- | --- |
| The Travel Store | |
Useful Links
SIGHTS
Barcelona tourist info:
Barcelonaturisme.com
(info office),
Guiadelocio.com
(events mag);
Catalunya.com
(regional info),
Spain.info
Sightseeing passes:
Barcelona Card
(20+ sights; transport; discounts),
Museum Pass
(6 sights)
Tours & activities:
Viator.com
,
ContextTravel.com
,
UrbanAdventures.com
,
City-Discovery.com
,
Intrepidtravel.com
,
Gadventures.com
LODGING
Hotels:
Booking.com
,
Venere.com
,
Priceline.com
,
Hotels.com
B&Bs:
Booking.com
,
Bedandbreakfast.com
,
Airbnb.com
,
Venere.com
Apartments:
Rentalo.com
,
Vrbo.com
,
Booking.com
,
Airbnb.com
,
Interhomeusa.com
,
Homeaway.com
Hostels & campgrounds
:
Hostelbookers.com
,
Hostelworld.com
,
Hostelz.com
,
Booking.com
TRANSPORT
Airfares:
Airports:
Aena.es
Trains:
Raileurope.com
(throughout Europe),
Renfe.com
(within Spain),
Bahn.de
(throughout Europe),
Seat61.com
Public transport:
Barcelona Card
(free transport; sightseeing);
Search all public transit:
mou-te.gencat.cat
;
Metro/Bus:
Tmb.cat
;
Tram:
Trambcn.com
;
Light rail:
Fgc.cat
;
Taxi:
Taxibarcelona.cat
Car rentals:
Autoeurope.com
,
RentalCars.com
,
Momondo.com
,
Orbitz.com
,
Expedia.com,
Travelocity.com
,
Kayak.com