Park Güell
★

The curvy bench on the main square of Park Güell. (Photo by Alain Rouiller)
A delightful hilltop park designed and decorated by Gaudí in Barcelona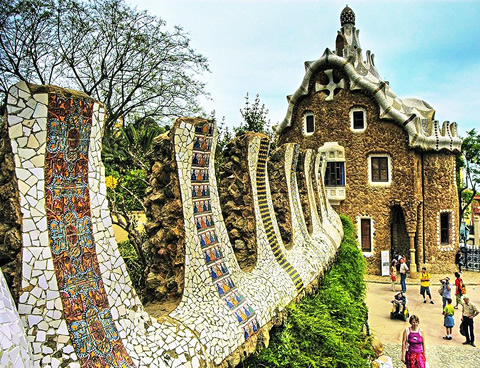 Park Güell. (Photo by Wolfgang Staudt)In the northern reaches of the Grácia district, north of the Eixample, rises one of architect Antoni Gaudí's most colorful creations and a UNESCO World Heritage Site.
This idiosyncratic, 37-acre park was intended as an unusual little residential garden community of 40 houses commisisoned by Gaudí's patron, Eusebi Güell, but only two of the structures were ever built between 1900 and 1914.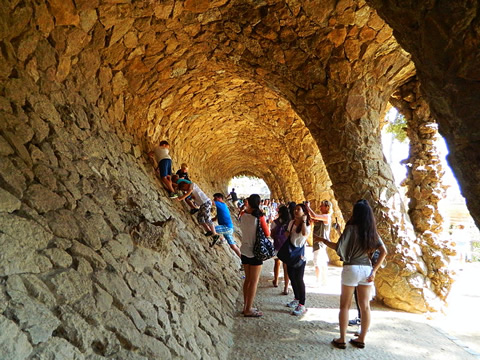 A colonnade at Park Güell. (Photo by Andrea Freepenguin)The city bought the property in 1922 and turned it into a public park filled with Gaudí's colonnades of crooked columns (they look like tree trunks), narrow gardens, small fountains, and whimsical animals coated in multicolored mosaics.
A large, spectacular curving bench brightened by a patterned mosaic of tile and mirrors dominates the outer edge of the main plaza (this bench was actually designed by one of Gaudí's disciples, Jujol).
From this spot, you get great views of the city.
Small museums in the Park Güell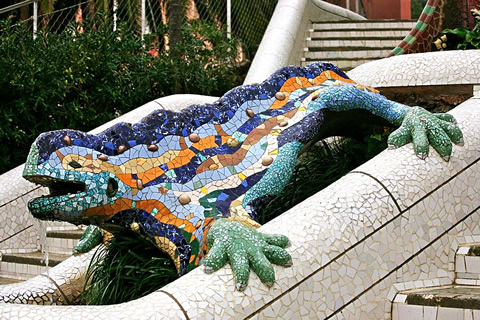 The much-phtographs "El Drac," a fountain at the base of the main staircase at Park Güell. (Photo by Alex Primos)Also in the park is the Centre d'Interpretació del Park Güell, part of the Museu d'Història de Barcelona (Tel. +34-932-562-122 or +34-932-856-899; www.museuhistoria.bcn.es), installed in the Porter's Lodge, one of the mosaicked, Gaudí-designed gatehouses.
Inside are the plans, models, and photographs that went into designing and building the park, as well as displays on the park's flora and fauna. It is open Apr–Sept daily 10am–8pm, Oct–May daily 10am–6pm.
The Casa-Museu Gaudí (Tel. +34-932-193-811, www.casamuseugaudi.org), where the master lived from 1906 to 1926, was built by Ramón Berenguer. Gaudí's models, furnishings, and drawings fill the interior. It is open Apr–Sept daily 10am–8pm, Oct–May daily 10am–6pm.

The little houses at the entrance to Park Güell. (Photo by Bernard Gagnon)
Tips & Links
Park Güell details
How long does Park Güell take?
Book ahead to guarantee entry
Park Güell tours
Useful links & resources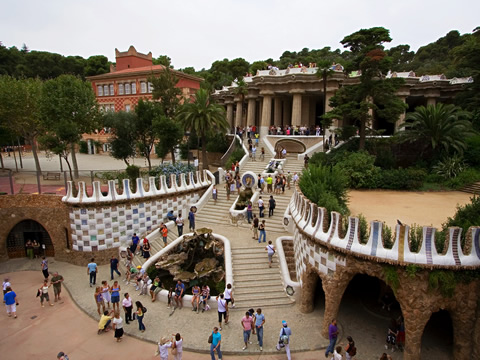 The main staircase at Park Güell. (Photo by Matti Frisk)
Related Articles
| | |
| --- | --- |
| The Travel Store | |
Park Güell
ADDRESS
Carrer d'Olot, 1-13 (Sant-Montjuïc)
[ Grácia ]
Tel.
+34-932-130-488
www.parkguell.cat
OPEN
May 24–Oct 19: Daily 8am–9:30pm
Oct 20–Mar 23: Daily 8:30am–6pm
ADMISSION
Park:
€8 (€7 if bought in advance online)
MUHBA/Centre d'Interpretació del Park Güell:
€2 (free
with Barcelona Card
)
Casa-Museu Gaudí:
€5.50 (€1 off
with Barcelona Card
)
TRANSPORT
NOTE:
Both nearish
Metro
stations are a bit of a walk; the 116 bus (which passes both stations) will drop you off right at the park entrance
Metro:
Lesseps or Vallarca (L3), Joanic (L4)
Bus:
116, H6, 24, 32
Hop-on/Hop-off route:
East (green), North (blue)
TOURS