Schloss Nymphenburg
★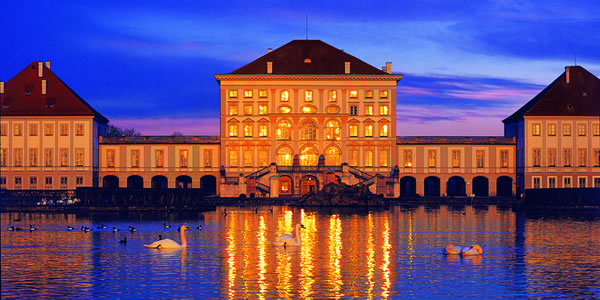 (Photo courtesy of Turismusant München)
An extravagent baroque palace in Munich, Germany

Nymphenburg park. (Photo courtesy of Bayerische Schlösserverwaltung)The Residenz in downtown Munich may have been the official seat of the Wittelsbachs, but in summer they escaped to their more sophisticated countryside palace, now situated in the Munich suburbs.
Though it cerainly has its moments of rococo excess, some of the private apartments are refreshingly plain—well, plain for royalty—seemingly more appropriate to an upscale, up-sized manor house than a royal palace.
The palace and museums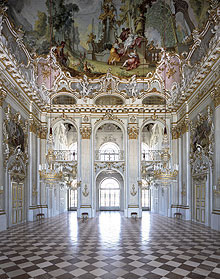 The Great Hall of Schloss Nymphenburg. (Photo courtesy of Bayerische Schlösserverwaltung)The palace was named Schloss Nymphenburg, after the nymphs frescoed in its main entrance hall (concerts are presented here in summer).
You wouldn't know it from the unified French baroque exterior, but this place started as a modest Italianate villa in 1664 and was changed radically over the following 150 years.
The palace itself is a network of pavilions. The most worthwhile is the south pavilion (the apartments of Queen Caroline) where you can see Ludwig I's Gallery of Beauties—filled with portraits commissioned by the king of the 36 most beautiful women in the realm.
The Mastrallmuseum contains a collection of royal coaches including King Ludwig II's riotous wedding coach, entirely gilded and encrusted with a profusion of rococo stucco swirls.
Nymphenburg's park, pavilions, and pagoda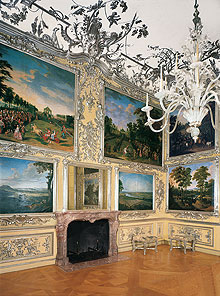 The Hunting Room in the Amenlienburg. (Photo courtesy of Bayerische Schlösserverwaltung)Nymphenburg has a park to rival Versailles—over 500 acres of grassy lawns, English-style gardens, canals, pavilions, and fountains (the fountains splash from Easter through mid-Oct, 10am–noon and 2–4pm).
It would take hours to explore it all, but you can see the highlights of the park in 60–90 minutes or so.
There are four main park pavilions (smaller palaces and structures) to seek out. Roughly in order of interest, they are:
Amalienburg - Built for Electress Amalia and extravagantly rococo inside. If you have time for only one park pavilion, make it this one.
Badenburg - This pavillion on the lake has a lovely ballroom and a frescoed-ceilinged bath in the basement.

Badenburg Pavilion. (Photo courtesy of Bayerische Schlösserverwaltung)
Pagodenburg - This cute-as-a-button, pseudo-Chinese pavilion has an (imitation) porcelain imitation, all blue and white.
Magdalenenklause - No, it is not in dire need of maintenance. This pavilion was actually built to look like a ruin, a simple religious retreat for when the royals felt overdosed on too much of the good life. (Sidenote: The first time I visited, this was covered in scaffolding. For some reason, I found this hilarious: they were resotring the fake "ruins" to their pristine, fake-ruined state.)
Tips & Links
Schloss Nymphenburg details
How long does Schloss Nymphenburg take?
How to get to Schloss Nymphenburg
Useful Munich links & resources
Munich tours
| | |
| --- | --- |
| The Travel Store | |
Schloss Nymphenburg
ADDRESS
Schloss Nymphenburg 1 (three miles west of the city center)
Tel.
+49-(0)89/179-080

www.schloss-nymphenburg.de
OPEN
Palace/Pavillion hours:
Apr–Oct 15:
daily 9am–6pm
Oct 16–Mar:
daily 10am–4pm (though the pavilions in the park are closed in winter)
Park hours:
May–Aug:
daily 6am–9:30pm
Apr, Sept:
daily 6am–8:30pm
Mar:
6am–6:30pm
Oct:
6am–7pm
Jan–Feb, Nov:
6:30am–6pm
Dec:
6:30am–5:30pm
ADMISSION
€11.50 (Oct 16–Mar: €8.50)
TRANSPORT
S-Bahn
:
Laim, then bus 51
Tram:
17 (Schloss Nymphenburg), 12, 16 (Romanplatz)
Bus:
51, 151
» Munich City Hop-on Hop-off Tour