Oktoberfest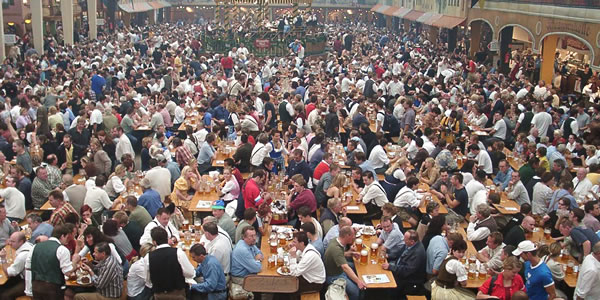 Oktoberfest. (Photo by Gutsul)
The world's greatest kegger in Munich, Germany
What is Oktoberfest?
Picture this: a city park filled with big-top tents, each of which can seat 6,000 people plus an oompah brass band.
For 16 days, tens of thousands of people do nothing but party medieval-style, roasting whole oxen on spits and drinking more than five million liters of beer.
This is Oktoberfest, the world's ultimate keg party. It started with the celebrations for Prince Ludwig's marriage to Princess Therese in 1810, and the locals enjoyed themselves so much they made it an annual event.
When is Oktoberfest?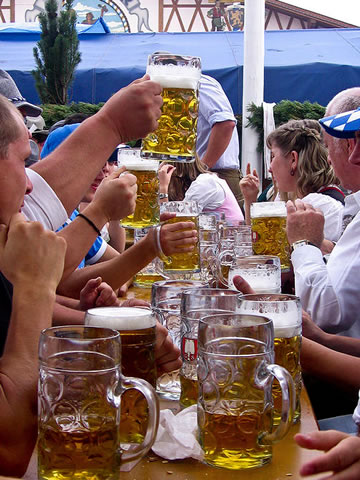 Hoisting Maß (liter-sized mugs) of beer at Munich's Oktoberfest. (Photo by Senator86) The name "Octoberfest" is a bit misleading, because the first weekend in October actually marks the end of the festivities.
The kick-off parade of some 6,000 people occurs about two weeks before the end of September with the formal declaration of "O´zapft is!" ("It is tapped!").
Contact the tourist office to determine the exact dates of this year's festival. (For 2013: September 21 to October 6).
When they're tapping the 750,000th keg and you're starting to feel woozy, stumble off to one of the thoughtfully placed recovery tents to lie on cushions and chill out to zither music.
Where is Oktoberfest?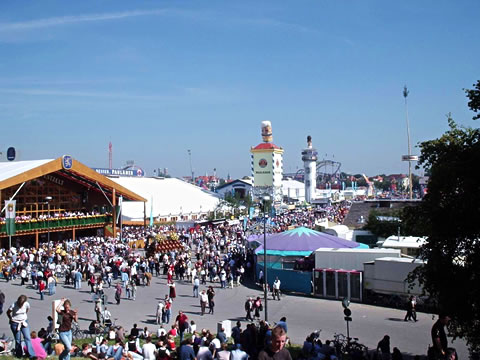 The tent city of Oktoberfest. (Photo by Gutsul) Ground zero is the Theresienwiese park fairgrounds, southwest of Hauptbahnhof train station.
The complex comes complete with permanent "tents" (really more like small airplane hangers) and an amusement park with Ferris wheels, roller coasters, and various spinning rides (which is exactly what you want to be doing on a bellyful of beer).
You do need tickets to get into the actual Oktoberfest park. However, the whole city gets in on the festive occassion and has a distinct party air (and beery smell).
Where do I stay during Oktoberfest?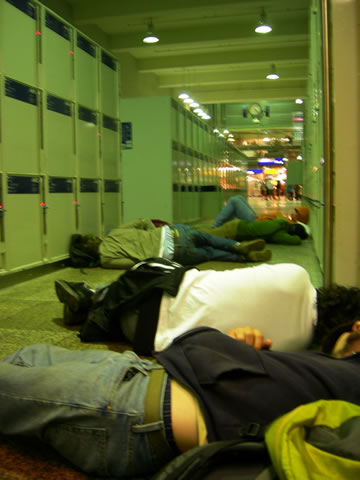 Sleeping in the Munich train station during Oktoberfest. (Photo by kdeierlein) Reserve your hotel room months in advance—and be prepared to pay top dollar, even at one-star joints—or be prepared to join the backpackers sleeping on the floor of the train station, their heads pillowed on their bag inside a locker.
Note: This is neither comfortable nor preferable. It is, in fact, a little scary (certainly a lot sad). Look at those guys on teh left. Do they look happy?
Try to avoid bascially being a bum by booking your hotel way ahead of time, or by signing up with a packaged tour that includes lodging.
Our partners at Gadventures.com usually offer a five-day package that includes a place to stay, Oktoberfest tickets, a Bavarian dinner, a tour of a local brewery, and a walking tour of Munich. For $1,200, this is not a bad bargain at all.
Tips & Links
Oktoberfest details
Oktoberfest tickets & tours
Useful Munich links & resources
Munich tours
| | |
| --- | --- |
| The Travel Store | |
Oktoberfest

ADDRESS
Theresienwiese
Tel.
+49-(0)89/2339-6500
www.muenchen.de
OPEN
Sept 21–Oct 6 (2013 dates):
Daily 10am–11:30pm (though parts stay open to 1am)
ADMISSION
Free. (Unless you want a reserved seat in a tent. Also, you do have to pay for the beer!)
TRANSPORT
U
-Bahn
:
Theresienwiese (U4, U5), Goetheplatz (U3, U6)
Tram:
18, 19
Bus:
58, 131, 134
TOURS
•
Munich Oktoberfest Tickets and Tour
•
5-day Oktoberfest package