Marienplatz
★★★

(Photo by Chris 73)
The central square of Munich, Germany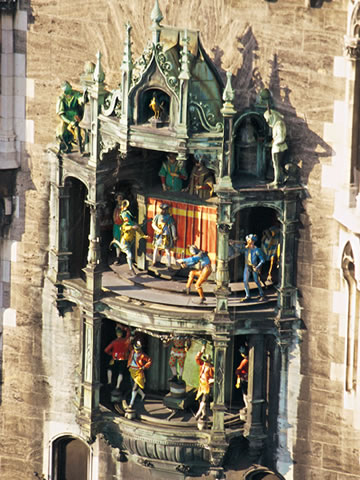 The Glockenspeil on Munich's Neues Rathaus. (Photo by S. Böttcher, courtesy of München Tourismus)The center of Munich is the lively, cafe-lined Marienplatz, home to street performers and the daily bustle of the city—and the seasonal bustle of Munich's famous Christmas market.
The Munich Rathaus
This city square is bounded along its long north side by the pinnacles and tracery of the 19th-century Neues Rathaus (New City Hall), done in neo-gothic style with a fabulous tavern beer hall in the basement.
The clock on this town hall is equipped with a bi-level glockenspiel, the fourth largest in Europe, whose mechanical jousting show plays out daily at 11am and noon (and at 5pm in summer).
The Peterskirche
Off the southeast corner of the square at Rindermarkt 1 sits St. Peter's church (www.alterpeter.de) whose 300-foot tower you can climb for excellent city views that, on clear days, reach the Alps.
There is a small fee (€1.50) for climbing the tower, which is open Mon–Fri 9am–6:30pm, Sat–Sun 10am–6:30pm (in winter, it closes at 5:30pm).
Tips & Links
Marienplatz details
How long does Marienplatz take?
Marienplatz tours
Useful Munich links & resources
Munich tours
| | |
| --- | --- |
| The Travel Store | |
Marienplatz
ADDRESS
Marienplatz
OPEN
Always
ADMISSION
Free
TRANSPORT
S-Bahn/U
-Bahn
:
Marienplatz
» Munich City Hop-on Hop-off Tour
TOURS
•
Munich City Hop-on Hop-off Tour
•
Munich Bike Tour