Englischer Garten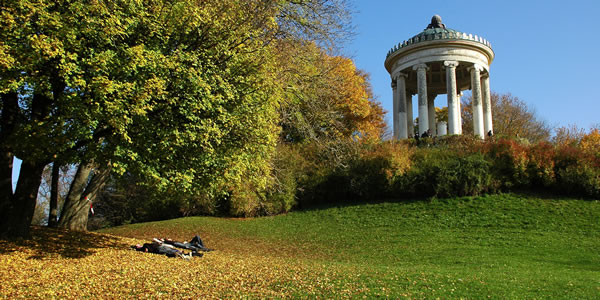 (Photo by GuidoR)
Munich's large public park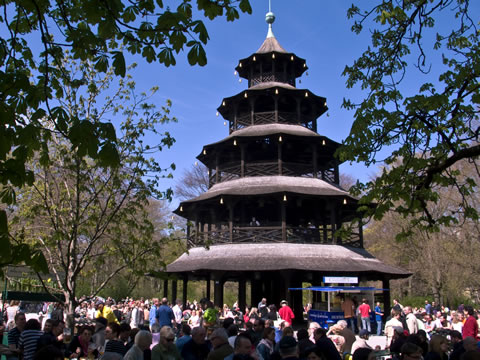 The beer garden under the Chinesischer Turm in the Englisher Garten. (Photo by Softeis)Intrigued by the thought of a biergarten under the shadow of a 75-foot faux 1790 Chinese pagoda (tel. +49-(0)89/383-8730; www.chinesischer-turm.de)?
Looking for a spot to do some nude sunbathing? (Hint: it's on the Schönfeldwiese near the Eisbach.)
Perhaps you just want to walk some of the 75km of pathways, roads, and bridle paths under some shady trees to work off some of those beer calories?
Munich's Englischer Garten—named for a British expat, Sir Benjamin Thompson, who first devised the park—stretches for three miles along the west bank of the Isar River.
The park full of beer gardens, trees, grassy lawns, bicycle paths, and streams and lakes where you can go swimming.
There's also a merry-go-round by the Chinese Tower open April to October from 2pm daily (in good weather).
It is one of the world's larger urban parks, proud to be slightly bigger than New York's Central Park, a fact which the tourist literature often crows about.
(All the guidebooks point this out—that the Englisher Garten is 914 acres and Central Park is 843 acres. As a native Philadelphian, I am obliged to note that Philly's Fairmont Park, at 4,100 acres, could easily fit in both of them.... twice... with room to spare. Just sayin'.)
The Japanese teahouse
Near the park's southern entrance, just behind the Haus der Kunst on Prinzregentenstrasse, is a Japanese teahouse in the middle of a small lake (tel. +49-(0)89/224-319; www.urasenke-muenchen.de).
Traditional Japanese tea service is available the second weekend of each month from April to October at 2pm, 3pm, 4pm, and 5pm. It costs €6.
Tips & Links
Englischer Garten details
How long does the Englischer Garten take?
Bike tour
Useful Munich links & resources
Munich tours
| | |
| --- | --- |
| The Travel Store | |
Englischer Garten

ADDRESS
Englischer Garten 2–3 (northeast of the center along the Isar River)
Tel.
+49-(0)89/3866-6390
www.schloesser.bayern.de
OPEN
Always
ADMISSION
Free
TRANSPORT
U
-Bahn
:
Universität or Giselastrasse (U3, U6), Odeonsplatz (U4, U5)
Tram:
18
Bus:
54, 100, 144, 154.
TOURS
•
Munich Bike Tour