Cuvilliés Theater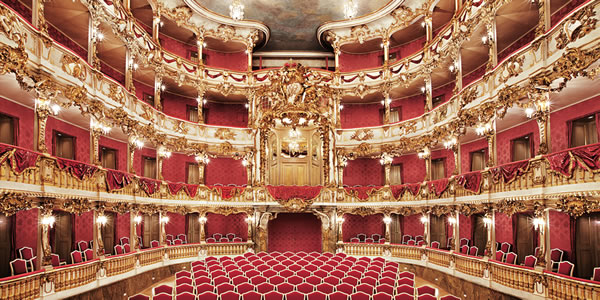 A gorgeous rococo theater and opera house in Munich, Germany
The flamboyantly rococo Cuvilliés Theater was named after its architect, François Cuvilliés, a former court jester who overcame 18th-century prejudices at his dwarfism, won the patronage of the Wittlesbachs, and went on to become one of southern Germany's most important architects.
It was originally a private theater reserved for the enjoyment of the royal family and their guests, but soon opened to all members of high society.
In 1781, it hosted the premier of Mozart's opera Idomeneo.
The original theater building was actually destroyed during an Allied bombing raid on March 18, 1944. Luckily, such a thing had long been feared and, just six weeks earlier, workers had finished removing the entire interior of the theater and placed it in storage. The building that was destroyed was already an empty shell.
By 1958, all of the Cuvilliés fittings had been taken out of mothballs and reassembled in a new part of the Residenz. It has remained in operation ever since.
Tips & Links
Cuvilliés Theater details
ADDRESS
Residenzstrasse 1
Tel.
+49-(0)89/290-671
www.residenz-muenchen.de
OPEN
Mid-Sept–mid-Oct and Apr–Jul:
Mon–Sat 2–6pm, Sun 9am–6pm
Aug–mid-Sept:
Daily 9am–6pm
Mid-Oct–Mar
: Mon–Sat 2–5pm, Sun 10am–5pm
ADMISSION
Cuvilliés-Theatre:
€3.50
Combined (with the Residenz):
€13
TRANSPORT
U
-Bahn
:
Odeonsplatz (U3, U4, U5, U6)
Tram:
17
Bus:
100
How long does the Cuvilliés Theater take?
Planning your time: It only takes about 10 to 20 minutes. Last entry is 1 hour before closing.
To enjoy the setting at its fullest, get tickets to attend one of the frequent classical concerts and operas.
Tickets start around €23. (www.muenchenticket.de)
Cumulative ticket
A combined entry to both Residenz museums plus the theater runs €13 (which saves you €4.50).
Getting there
Though the Cuvilliés Theater is part of the greater Residenz complex, you have to exit the Residenz, walk around the corner to Residenzstrasse 1, and re-enter the complex in order to get to it.
Useful Munich links & resources
SIGHTS
Tourist info:
Muenchen.de
,
Bavaria.by
,
Germany.travel
Tours & activities:
Viator.com
,
City-Discovery.com
,
Intrepidtravel.com
,
Gadventures.com
LODGING
Hostels & camping:
Hostelworld.com
,
Gomio.com
,
Hostelbookers.com
,
HostelsClub.com
,
Hostelz.com
,
Booking.com
,
Venere.com
,
Muenchen.de
(campgrounds list)
TRANSPORTAirports:
Munich-airport.de
,
Allgaeu-airport.de
(Ryanair, flybe, Wizz)
Public transport:
Mvv-muenchen.de
Driving/parking:
Muenchen.de
Bike rentals & tours:
Viator.com
,
Mikesbiketours.com
Munich tours
| | |
| --- | --- |
| The Travel Store | |
Cuvilliés-Theatre

ADDRESS
Residenzstrasse 1
Tel.
+49-(0)89/290-671
www.residenz-muenchen.de
OPEN
Mid-Sept–mid-Oct and Apr–Jul:
Mon–Sat 2–6pm, Sun 9am–6pm
Aug–mid-Sept:
Daily 9am–6pm
Mid-Oct–Mar
: Mon–Sat 2–5pm, Sun 10am–5pm
ADMISSION
Cuvilliés-Theatre:
€3.50
Combined (with the Residenz):
€13
TRANSPORT
U
-Bahn
:
Odeonsplatz (U3, U4, U5, U6)
Tram:
19
Bus:
100