Bayerisches Nationalmuseum
★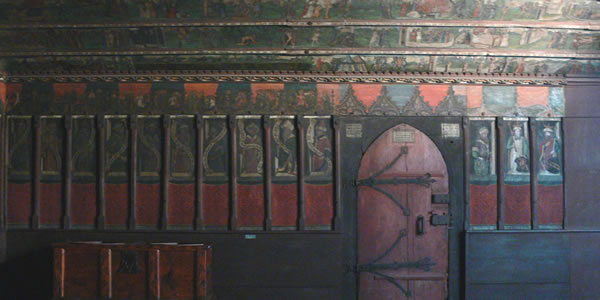 The Augsburger Weberstube.
The Bavarian National Museum in Munich, Germany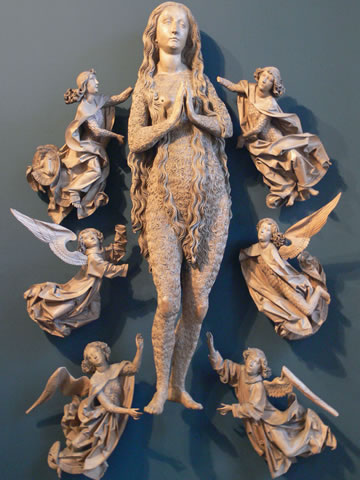 A hairy Mary Magdalen (1490/92) by Tilman Riemenschneider.One of this hodgepodge museum's main attractions is the impressive collection of medieval church art, including vibrant altarpieces, carved ivories (look for the AD 400 Munich Ivory showing the Lamentation and Christ ascending into Heaven), and especially statuary.
No Bavarian sculptor was a greater master at his craft than Tilman Riemenschneider, who carved in the early 16th century and often managed to fashion the most eloquent expressive figures out of plain, unpainted wood. (See the picture to the right.)
You'll find armor from the 16th to 18th centuries, baroque porcelain confections, delicate stained-glass panels, and, in the basement, elaborate Christmas crèches from Germany, Austria, Italy, and Moravia.
My favorite part, though, is the remarkably well-preserved 15th-century Augsburger Weberstube, or Weaver's Guild Room (pictured at the top of the page).
Its low, barrel-vaulted wooden ceiling was painted with stories from both the Bible and from the life of Alexander the Great.
Tips & Links
Bayerisches Nationalmuseum details
ADDRESS
Prinzregentenstrasse 3 (off the southeast corner of the Englischer Garten, northeast of the center)
Tel.
+49-(0)89/211-2401
www.bayerisches-nationalmuseum.de
OPEN
Tues–Wed and Fri–Sun 10am–5pm
Thurs 10am–8pm
ADMISSION
€7 (Sundays: €1)
TRANSPORT
U
-Bahn
:
Lehel (U4, U5)
Tram:
18
Bus:
100
How long does the Bayerisches Nationalmuseum take?
Planning your time: The Bavriaan National Musuem takes about 60–90 minutes to visit.
Save on Sundays
On Sunday, admission is just €1 (instead of €7).
Useful Munich links & resources
SIGHTS
Tourist info:
Muenchen.de
,
Bavaria.by
,
Germany.travel
Tours & activities:
Viator.com
,
City-Discovery.com
,
Intrepidtravel.com
,
Gadventures.com
LODGING
Hostels & camping:
Hostelworld.com
,
Gomio.com
,
Hostelbookers.com
,
HostelsClub.com
,
Hostelz.com
,
Booking.com
,
Venere.com
,
Muenchen.de
(campgrounds list)
TRANSPORTAirports:
Munich-airport.de
,
Allgaeu-airport.de
(Ryanair, flybe, Wizz)
Public transport:
Mvv-muenchen.de
Driving/parking:
Muenchen.de
Bike rentals & tours:
Viator.com
,
Mikesbiketours.com
Munich tours
| | |
| --- | --- |
| The Travel Store | |
Bayerisches Nationalmuseum