Staying in an Italian convent
You don't have to take vows of chastity and poverty or wear those itchy woolen robes to shack up in an Italian convent for as little as $30. You don't even have to be particularly religious.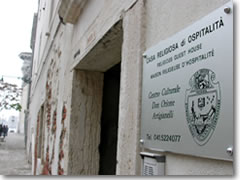 There are religious guesthouses scattered all over Europe, including the one attached to the Centro Culturale Don Orione Artigianelli in Venice (+39-041-522-4077, www.donorione-venezia.it). However, it's proof that religious lodgings aren't always the cheapest: this one charges €115 for a double room (still not bad, by Venice standards).
Introduction
What to expect
Resources
Many convents in Italian cities and towns run guest houses set up and administered something like a bare-bones hotel.
These convent hotels are most widely available in major cities and places of pilgrimage, particularly Rome and Assisi.
Convent guesthouses are often designed to host pilgrims—from church trips to solo folks seeking enlightenment—but are open to anyone of any religious persuasion.
Usually, they just request that you respect their community and its values—be quiet, attend major masses, avoid throwing keg parties, that sort of thing.

Not only is this one of the ultimate budget lodging options, it's also a great cultural experience, and a chance to get yourself out of your own head for a day or two, no matter what your religious affiliation or beliefs.
Take a day or two to empty your mind and cleanse your soul. Wander the gardens. Sniff the flowers. If invited, eat in the rectory with the sisters. Contemplate the country you've been visiting, your life, God, that itchy rash that developed since you stopped washing out your clothes every night, whatever.
What is is like to stay in a convent?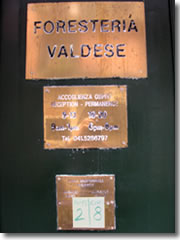 Across town from Don Orione, the Foresteria Valdese in Venice is a fantastic cheap religious hostelry run by the Waldesians. It has both private rooms and shared dorms (the Post-It on the door there is letting you know how many bunks are left in the boys and girls dorms, respectively), and the kicker is that many of them are covered in 18th century frescoes and overlook a canal, and the prices start at just $25 a person. There's much more on this remarkable hostelry on the Venice hotels section.
Expect small rooms, battered functional furnishings, few amenities (private baths are common, though not guaranteed; TV and room telephone are rare), and a décor that begins and ends with the crucifix nailed to the wall above your bed.
Speaking of beds, the Brady Bunch bedroom revolution hasn't hit convents. Like a 1950s sitcom, the beds are narrow twins with a healthy, holy amount of space between them (though double beds are occasionally an option for married couples). Unmarried couples will not be allowed to share a room.
Nuns are like anybody else. Some are kindly; some are sourpusses. The best strategy is to treat them with respect and a smile, and accept with good grace their many rules, like curfew (usually falls between 10pm and midnight), early checkout (by 10am), and keeping relatively quiet (24/7).
How much does it cost to stay in a convent in Italy?
Convents usually charge somewhere between hostel and hotel rates. Rates for two can range from €40 to €200, with a sweet spot around €50–€100, prayers for your immortal soul included. Often, these rates include a continental breakfast. In some cases, you can get a simply, hearty family-style dinner as well for a modest price (€11 to €30).
Where can I find a convent to stay in?
Many Italian towns have at least one convent that takes in guests, and you're spoilt for choice in major pilgrimage sites like Rome and Assisi—though also in stiff competition against church groups for bed space.
How to find a convent with guest accommodations in Italy
Ask local tourism offices; do lots of Googling.
There are several guidebooks to religious lodgings:
There are also several good online resources:
Related pages
This material was last updated November 2010. All information was accurate at the time.

about | contact | faq

» THE REIDSITALY.COM DIFFERENCE «

Copyright © 2008–2012 by Reid Bramblett. Author: Reid Bramblett