Nördlingen
Medieval Nördlingen on Southern Germany's Romantic Road
Nördlingen is a perfectly round town still encircled by its 14th- and 15th-century fortifications. It has a few more sights than Dinklesbühl, though nothing spectacular.
Still, the odd history of the valley in which it sits—once thought to be an extinct volcano, but now known to be an enormous meteorite crater—has endowed the town with an interesting geological museum.
The sights of Nördlingen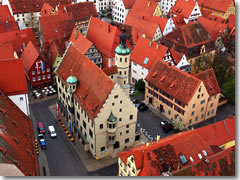 (Photo by Marcela) In many ways, Nördlingen feels more like a living extension of the Middle Ages than the other Romantic Road towns you'll visit. Many townsfolk dress daily in something approaching traditional local costume, and the pace of life is slower, less modernized.
They haven't, however, slowed down when it comes to the lively bustle of the food market on Gothic Marktplatz, the town's center.
Poke your head into St. Georgskirche, a 15th-century German Hall Church with fan vaulting.
Before you leave, walk around the ramparts of the city walls (the best stretch is from Berger Tor to Reimlinger Tor).
For the geologically-minded...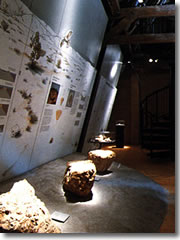 The Rieskratermuseum, Nördlingen Check out the Rieskrater Museum to learn about the meteorite that smashed into this spot nearly 15 million years ago. It was almost mile across, traveled at 100,000 miles per hour, and destroyed all life within 100 miles, throwing debris as far away as the Czech Republic.
The meteor's imprint left the Ries Crater, the circular valley in which Nördlingen now sits, a landscape whose soil is exceedingly rich and yet eerie and rugged enough that Apollo 14 and Apollo 17 astronauts trained here for their trips to the moon.
It also caused a local graphite deposit to instantly fuse and harden into an estimated 79,000 tons of micro-diamonds, which to this day are scattered by the millions throughout the rocks and stone that make up most of Nördlingen's buildings.

The shape of the Reis Crater is echoed in the circular shape of the town and the surrounding fields. The museum is open Tues–Sun 10am–4:30pm (closed noon–1:30 Nov-Apr). Hintere Gerbergasse/Eugene-Shoemaker-Platz 1; tel. +49-(0)9081/273-8220; www.rieskrater-museum.de.
Where to eat in Nördlingen
The fertile valley provides the rustically elegant Meyer's Keller, in an 1880s brewery a little south of the town walls, with fresh ingredients for its creative continental cuisine. Marienhöhe 8; +49-(0)9081/4493; www.meyerskeller.de.
Where to stay in Nördlingen

Hotel NH Klösterle Nördlingen [€] is the best of the hotels in the historic center of town (of which there are only three), with large, modernized rooms and all the amenties four-star prices can buy—not that they're that high in such a small town. Doubles start at €92. Beim Klösterle 1; tel. +49-(0)9081/87-080; www.nh-hotels.com.

Kaiser Hotel Sonne [€€] has slightly dated rooms, but the enviable position of being bang on the main market square in the center of town. Marktplatz 3; tel. +49-(0)9081/5067, www.kaiserhof-hotel-sonne.de.
Continuing on the Romantic Road
Tips
Planning your time: Nördlingen makes a nice, quick stop. You can see it in as little as 30 minutes, or spend a more leisurely hour or two.
Visitor information:The tourist office is at Marktplatz 2 (tel. +49-(0)9081/4380, www.noerdlingen.de).
Book a Romantic Road tour: Perhaps the easiest way to tour the Romantic Road if you don't have a car (and don't want to be stuck on the bus's schedule) is to let others take care of the logistics and transportation—and provide you with a tour guide. You can book these at a discount via our partners Viator.com:

Day tours


| | |
| --- | --- |
| The Travel Store | |
Tourism info

ADDRESS
Marktplatz 2
Tel.
+49-(0)9081
/
4380
www.noerdlingen.de
TOURS
From Munich to Frankfurt
•
2 day overnight Munich to Frankfurt - Romantic Road, Rothenburg
•
3 day Munich to Frankfurt Tour - Romantic Road, Rothenburg, Hohenschwangau, Neuschwanstein
•
3 day Munich to Frankfurt - Romantic Road, Heidelberg, Rothenburg
•
4 day Munich to Frankfurt - Romantic Road, Linderhof, Hohenschwangau, Neuschwanstein
From Frankfurt to Munich
•
2 day overnight Frankfurt to Munich - Romantic Road, Rothenburg
•
3 day Frankfurt to Munich - Romantic Road, Rothenburg, Hohenschwangau, Neuschwanstein
•
3 day Frankfurt to Munich - Romantic Road, Heidelberg, Rothenburg
•
4 day Frankfurt to Munich - Romantic Road, Hohenschwangau, Neuschwanstein