Augsburg
A Renaissance city on Southern Germany's Romantic Road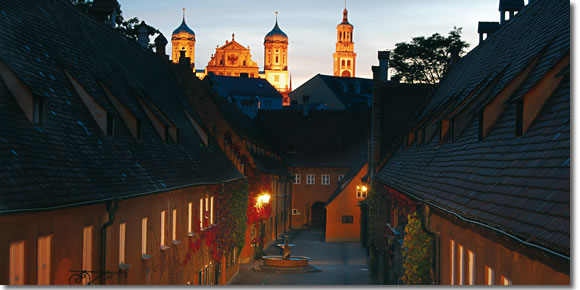 The Fuggerei at night. (Photo by
Wolfgang B. Kleiner
)
All that remains of Augsburg's Roman era founding here is the city's name. Emperor Augustus's kinsmen established it in the year 15 BC as one of the first major stopping points on a major Roman highway (the Via Claudia) after it crossed the Alps.
Later, as a religious seat, it hosted Martin Luther in 1518 when he read the controversial "Confession" that laid out Protestantism. Its medieval wealth left the city with some of the finest Renaissance art and buildings in southern Germany.
The sights of Augsburg
The social welfare settlement of the Fuggerei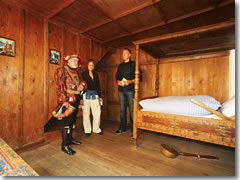 A bedroom in the Fuggerei Museum (Haus Nummer 13), Augsburg. (Photo by Wolfgang B. Kleiner) In 1521, Jakob Fugger the Rich—the aptly named scion of one of Augsburg's wealthiest families (there's a Dürer portrait of him below)—established a welfare housing complex for the poor.
This self-contained city-within-a-city and model of Renaissance planning became known as the Fuggerei—and its subsidized housing is still in operation today. In fact, it still charges the equivalent of just $1 in annual rent. The only requirement: you must pray daily for the souls of its founders.
There are several ways to learn more about the Fuggerei.
You can see a model modern unit—furnished but currently unoccupied— at Ochsengasse 51.
You can visit the simple, traditional interior of one of the units at Mittleregasse 13, also known as the Schauwohnung (display flat) or Fuggereimuseum. You actually enter next door at no. 14, where an out-of-work mason named Franz Mozart once lived, great-grandfather of the famous composer.
You can take a tour of the Fuggerei, but must book a week in advance. Tours cost €30 for up to ten people, plus €3 per additional person. (Technically, they have a ten-person minimum, but they will run tours for fewer as long as you pay for ten—hence: €30.)
There's also a World War II bunker to tour, a beer garden by the museum shop (at Ochsengasse 46), and a tavern restaurant (recommended below)
The Fuggerei is about seven blocks due east of the central Rathausplatz, and is open to non-residents daily 8am–8pm (Oct–Mar 9am–6pm).
Fuggerei 56 (off Jakobstrasse); tel. 0821/319-8810; www.fugger.de. (Adm)

The prohet Daniel, early 12th century stained glass, Augsburg Cathedral.
The stained glass of Ausgburg's cathedral
The city's cathedral, Dom St. Maria, on Hoherweg, is famous for containing the world's oldest surviving stained-glass windows, some dating as far back as the early 1100s.
Also in the medieval interior are Romanesque and Gothic frescoes and panel paintings by Hans Holbein the Elder on the side altars.
The modern bronze doors, cast in 200, replace the original Romanesque bronze Virgin's Doors of lovely relief panels (c. 1065), now on display in the nearby Diözesanmuseum, or Diocesan Museum, around the north side of the cathedral at Kornhausgasse 3-5 (tel. +49-(0)821/313-3663), open Tues–Sat 10am–5pm, Sun noon–6pm. (Adm)
The cathedral itself is open Mon–Sat 7am–6pm, Sun noon–5pm.
Hoher Weg 1/Domplatz; tel. +49-(0)821/316-6353; www.bistum-augsburg.de.
The double church that buried the hatchet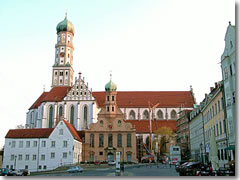 The purposefully paired churches of St. Ulrich and St. Afra. (Photo by Geoethno)Another pair of churches of note are St. Ulrich and St. Afra, next door to each other on Ulrichplatz.
The latter has the more elaborate baroque interior—the churches themselves are Gothic—but it's not so much their architecture that's important. It's the story they tell. The very existence of these ecclesiastical neighbors is a tribute to peaceful religious coexistence.
St Afra is a Roman Catholic church, named for a Roman martyr. St Ulrich is Lutheran, named for a Augsburg prince-bishop who saved the early empire by repelling Magyar invaders in 955. Both saints are patrons of the city, and their remains are interred inside the shared crypt of these churches.
The churches were built, together, as part of the Peace of Augsburg compact—signed in the city in 1555—to help seal the rift between Catholicism and Protestantism by recognizing both as valid faiths.
The chruches are open dail 9am–5pm. Ulrichplatz 19; tel. +49-(0)821/345-560; www.ulrichsbasilika.de.
Art at the Schaezlerpalais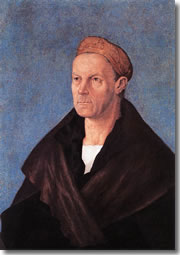 A portrait of Jakob Fugger the Wealthy (1518) by Albrecht Dürer, Staatsgalerie, Augsburg The Staatsgalerie, or city art gallery, in the Schaezler Palace and adjacent St. Catherin's Church has a good collection of Renaissance and baroque works by German and Italian artists such as Holbein the Elder, Dürer, Rubens, Veronese, and Tiepolo.
Also don't miss the palace's rococo ballroom.
The palace is open Tues 10am–8pm, Wed–Sun 10am–5pm.
Maximilianstrasse 46; tel. +49-(0)821/324-4102; www.kunstsammlungen-museen.augsburg.de. (Adm)
Augsburg city hall
The Renaissance town hall, or Rathaus, Am Rathausplatz 2, was rebuilt after its destruction during World War II, and you can visit the restored magnificence of its Goldener Saal ("golden chamber").
Where to eat in Augsburg
You can get cheap, filling food at the old-fashioned Fuggerei Stube, which also operates a biergarten in fine weather. Jakoberstrasse 26; tel. +49-(0)821/30-870; www.fuggerei-stube.de.
Far more fun—if overly popular and a bit cheesy—is the three-hour medieval feast at Weiser Kuche. You eat with just your fingers and a knife here, the food is served by costumed "knaves and wenches," and the dishes are based on a 16th-century cookbook. Unfortunately, the orignal branch closed in December, 2010 (though the Munich one is still operating). They plan to re-open in Augsburg, but as I write this a year later, the new location hasn't yet been finished. Check the website for updates: www.welser-kuche.de.
Where to stay in Augsburg
Dom Hotel [€€] has a half-timbered facade and modern-meets-trad rooms (wood beams in some; mod modular units in others) a block from the cathedral. Doubles from €104. Frauenorstrasse 8; tel. +49-(0)821/343-930; www.domhotel-augsburg.de.


City Hotel Ost am Kö [€€] is a modern hotel of 49 contemporary carpeted rooms by the Konigsplatz, conveniently halfway betwen the train station and the Rathaus. Even more convenient: the rates. Doubles start at just €109. Fuggerstrasse 4-6; tel. +49-(0)821/502-040; www.ostamkoe.de.

Continuing on the Romantic Road
Northbound buses between Füssen and Augsburg detour to stop at the Wieskirche.
Tips
Planning your time:To many, Augsburg is the end of the Romantic Road, one last stopping point before turning east to Munich. Give it a good couple of hours.
Visitor information:The tourist office is at Rathausplatz 1 (tel. +49-(0)821/324-9410 or +49-(0)821/502-070, www.augsburg.de).
Book a Romantic Road tour: Perhaps the easiest way to tour the Romantic Road if you don't have a car (and don't want to be stuck on the bus's schedule) is to let others take care of the logistics and transportation—and provide you with a tour guide. You can book these at a discount via our partners Viator.com:

Day tour


| | |
| --- | --- |
| The Travel Store | |
Tourism info

ADDRESS
Rathausplatz 1
Tel.
+49-(0)821
/
324-9410 or +49-(0)821/502-070
www.augsburg.de
TOURS
Day tour
•
Augsburg Day Trip from Munich
Multi-day trips
•
3 day Munich to Frankfurt - Romantic Road, Heidelberg, Rothenburg
•
4-Day Frankfurt to Munich - Romantic Road, Rothenburg, Augsburg, Neuschwanstein Castle
•
5-Day Frankfurt to Munich - Rothenburg, Augsburg, Zugspitze
•
7-Day Frankfurt to Munich - Romantic Germany, including Neuschwanstein Castle and Heidelberg