The Romantic Road
The Romantischestrasse through Southern Germany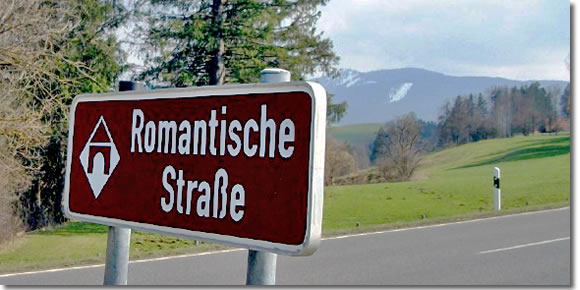 From Würzburg to Füssen via Rothenburg ob der Tauber, this 180-mile road meanders through hamlets, medieval walled villages, and 2,000-year-old towns established by the Romans.
It's called the Romantic Road and passes through the regions of Franconia, Swabia, and Bavaria to arrive in the foothills of the Alps.
Along the way it wanders by much of what makes southern Germany attractive and fun: baroque churches, half-timbered, festive-colored houses, costumed locals, Renaissance palaces, cobblestone streets, carved wooden altarpieces, craft boutiques, and mile after mile of scenic countryside.
This area is dotted with picturesque villages and castles, and most are well-prepared to receive visitors. Part of the fun of taking this trip is in exploring out-of-the-way places no guidebook covers, places where you'll have medieval Germany all to yourself for a few hours.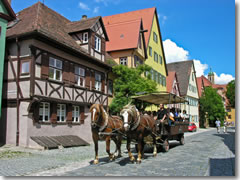 Dinkelsbühl, a small town on Germany's fabled Romantic Road.With that in mind, I'll just introduce the major, not-to-be-missed towns along the route, which together will already be more than enough to fill a two-day schedule.
How long does it take to see the Romantic Road?
You can do it in one extremely long day—the bus takes 12.5 hours—or in a slightly shorter long day (maybe 8 hours) by limiting yourself to only two or three towns (most popular/rewarding: Rothenburg, Würzburg, and Dinkelsbühl).
(In fact, though the Romantic Road continues all the way to Füssen, many consider Augsburg to be the more convenient southern terminus of the route, as it's a quick, straight shot to Munich from there.)
Most people take two days for the Romantic Road (if they can spare them), stopping for the night in Rothenburg, or maybe Dinkelsbühl.
How to visit the Romantic Road: By car, bus, and tour
I'd choose either driving or taking the bus tour for this excursion.
Trying to connect these villages by public transportation is a complicated and time-consuming juggling of bus and train schedules that wastes more of your time than it's worth.
Tips
Visitor information: There is now an official website devoted to the Romantic Road: www.romantischestrasse.de.
Book a tour: Perhaps the easiest way to tour the Romantic Road if you don't have a car (and don't want to be stuck on the bus's schedule) is to let others take care of the logistics and transportation—and provide you with a tour guide—on a guided tour side trip from Munich.

You can book these at a discount via our partners Viator.com:

Day tours


| | |
| --- | --- |
| The Travel Store | |
Tours
Day tours
•
Romantic Road, Rothenburg and Harburg Day Tour from Munich
•
Guided Rothenburg Day Trip from Frankfurt
•
Full Day Tour to Rothenburg from Frankfurt
From Munich to Frankfurt
•
2 day overnight Munich to Frankfurt - Romantic Road, Rothenburg
•
3 day Munich to Frankfurt Tour - Romantic Road, Rothenburg, Hohenschwangau, Neuschwanstein
•
3 day Munich to Frankfurt - Romantic Road, Heidelberg, Rothenburg
•
4 day Munich to Frankfurt - Romantic Road, Linderhof, Hohenschwangau, Neuschwanstein
From Frankfurt to Munich
•
2 day overnight Frankfurt to Munich - Romantic Road, Rothenburg
•
3 day Frankfurt to Munich - Romantic Road, Rothenburg, Hohenschwangau, Neuschwanstein
•
3 day Frankfurt to Munich - Romantic Road, Heidelberg, Rothenburg
•
4 day Frankfurt to Munich - Romantic Road, Hohenschwangau, Neuschwanstein