Dinkelsbühl
Dinky Dinkelsbühl is a postcard-perfect village on Southern Germany's Romantic Road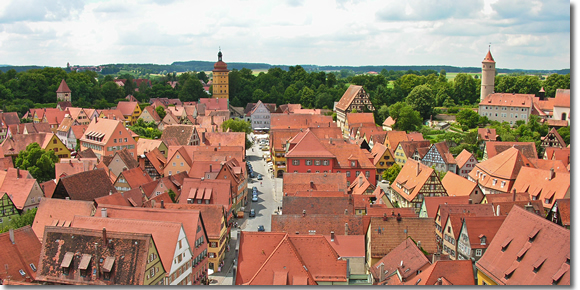 Dinkelsbühl has no particular sights other than its own half-timbered medieval self.
It has pretty much been singled out as the one quaint little village to be sacrificed to the tour-bus schedule, and is therefore perpetually a bit crowded.
Fortunately, this hasn't stopped it from remaining charming in its simple way.
The sights of Dinkelsbühl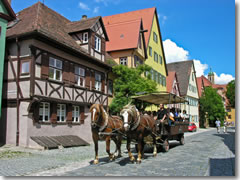 If you're taking the tour bus, you'll have some time here.
Spend it in the 15th-century Georgenkirche (climb the belltower for lovely views) and simply wandering the pretty, sobblestone streets lined with 16th-century gabled houses.
There's not much to see in Dinkelsbühl, and that's kind of the point.
Where to eat in Dinkelsbühl
Grab a bite at the Deutsches Haus on the central Weinmarkt, with a woodsy Fanconian interior and tables out on the sunny terrace in summer. (It is also reviewed as a hotel below.) Weinmarkt 3, tel. +49-(0)9851/6058, www.deutsches-haus-dkb.de.
Where to stay in Dinkelsbühl

Hotel Deutsches Haus [€€] is an historic four-star hotel smack on the main square in town across from the church, with free WiFi, half-timbered charm, and ten comfy old-fashioned rooms. Doubles start at €129. Weinmarkt 3, tel. +49-(0)9851/6058, www.deutsches-haus-dkb.de.

Hotel Dinkelsbühler Kunst-Stuben [€] is a fabulous little hotel of 14 rooms in an artist's house (you can peek into the studio). A very homey place, including a comfortable library and inner courtyards. Doubles from €85. Segringer Strasse 52; +49-(0)9851/6750; www.kunst-stuben.de.


Hotel Haus Appelberg [€] is a thoroughly Bavarian three-star hotel in a restored 15th century farmhouse in the center (yes, back then there were farms inside the city walls). Doubles from €87. Nördlinger Strasse 40; tel. +49-(0)9851/582-838; www.haus-appelberg.de.

Continuing on the Romantic Road
Tips
Planning your time: I kind of dig Dinkelsbühl and would recommend spending at least an hour here. Actually, I've spent the night before and, though there's nothing to do, it's quite a relaxing spot.
Visitor information:The Dinkelsbühl tourist office is a block east from the back side of the church at Altrahausplatz 14. (tel. +49-(0)9851/902-440, www.dinkelsbuehl.de)
Book a Romantic Road tour: Perhaps the easiest way to tour the Romantic Road if you don't have a car (and don't want to be stuck on the bus's schedule) is to let others take care of the logistics and transportation—and provide you with a tour guide. You can book these at a discount via our partners Viator.com:

Day tours


| | |
| --- | --- |
| The Travel Store | |
Tourism info

ADDRESS
Altrahausplatz 14
Tel
.
+49-(0)9851
/
902-440
www.dinkelsbuehl.de
TOURS
Day tours
•
Romantic Road, Rothenburg and Harburg Day Tour from Munich
From Munich to Frankfurt
•
2 day overnight Munich to Frankfurt - Romantic Road, Rothenburg
•
3 day Munich to Frankfurt Tour - Romantic Road, Rothenburg, Hohenschwangau, Neuschwanstein
•
3 day Munich to Frankfurt - Romantic Road, Heidelberg, Rothenburg
•
4 day Munich to Frankfurt - Romantic Road, Linderhof, Hohenschwangau, Neuschwanstein
From Frankfurt to Munich
•
2 day overnight Frankfurt to Munich - Romantic Road, Rothenburg
•
3 day Frankfurt to Munich - Romantic Road, Rothenburg, Hohenschwangau, Neuschwanstein
•
3 day Frankfurt to Munich - Romantic Road, Heidelberg, Rothenburg
•
4 day Frankfurt to Munich - Romantic Road, Hohenschwangau, Neuschwanstein