The Flower Island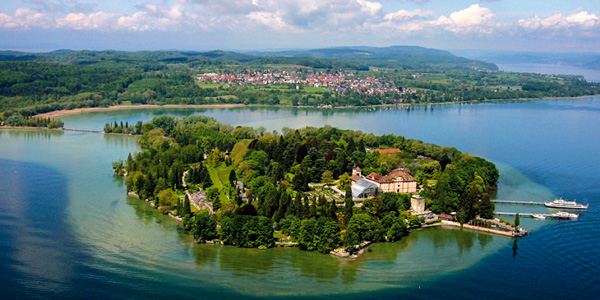 The botanical garden island of Mainau in Lake Constance. (Photo courtesy of Mainau GmbH)
Mainau is a gorgeous botanical garden on an island off Konstanz in the Bodensee (Lake Constance)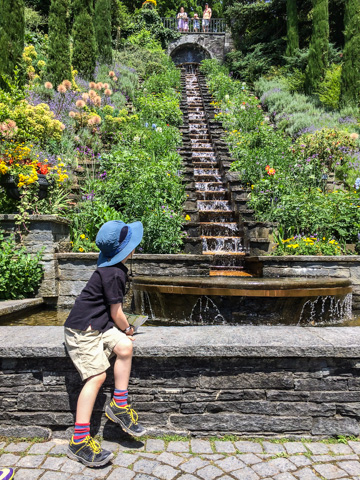 A water staircase on Mainau.
When Grand Duke Friedrich I of Baden bought this island off Konstanz in 1853 to use as a summer retreat, he built a baroque palace (a few parts of which are open to the public) and—perhaps inspired by the rare trees installed by previous owner Prince Nikolaus Esterházy—planted the grounds with exotic trees from Asia, the Americas, North Arica, and the rest of Europe.
After the grand duke died in 1907, the island was left untouched—and overgrown—so that when Count Lennart Bernadotte came in 1932, he was able to carve it into a vast 45-hectare (111-acre) botanical garden. This jewel of Lake Constance is now in its fifth generation of Bernadotte family management.
Spend a morning wandering the Italian rose garden featuring 1,000 varieties, the hothouse orchids, the marching lines of tulip beds, and the butterfly house with 40 species of flutterers (fun fact: the various North American turtles in the ponds were snuck in by unknown visitors, but fit in so well they have been allowed to stay and informative placards on them have been installed).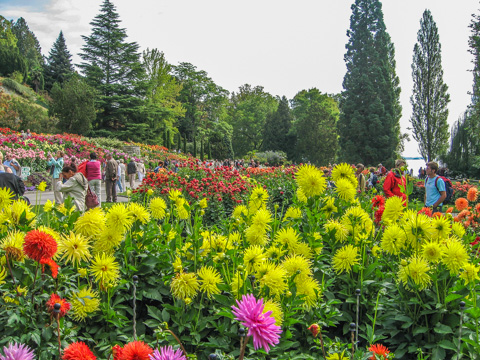 The dahlia terraces at Mainau. (Photo by ST)
The terraced dahlia garden holds 12,000 blooms in 250 varieties, the educational insect garden is all about ecosystem sustainability, and spreading over the center of the island is a vast arboretum descended from the grand duke's plantings, featuring such exotics as California redwoods and sequoias.
There are also some less plant-oriented attractions, including—my favorite—a lovely water staircase, a small petting zoo, an extensive playground, and plenty of lakeside terraces with binoculars to spy on the Alps of Switzerland across the waters.
Across the small bridge near the parking lot is Mainau's newest initiative—decidedly more adrenaline-fueled than the botanical gardens—the Erlebniswald high ropes course and zip line (www.erlebniswald-mainau.de), open daily 10am–8pm (last entry: 5pm).
Tips & links
Details
How long should I spend on Mainau?
It takes at least a good two hours to stroll the paths and relax a little—though you easily spend longer.
Stay half the day, and have lunch at one of the on-site cafes or restaurant; they grow much of their own food, and their tasty apfelshorle (apple juice mixed with sparkling water) is made from heirloom varieties from their own orchards.
Useful links & resources
| | |
| --- | --- |
| The Travel Store | |