Oz by car
Touring Australia by rental car

A road through the Outback.As always, the best way to find the best rates on rental cars is to first check the prices at a consolidator (who rents at wholesale costs), then see if you can beat this with the lowest standard rate by using an aggregator, or meta-search engine, that will search all other search engines, major vendors, discounters, and other venues on your behalf.
Car rental consolidator:
Car rental aggregators:
Car rental search engines:
A few notes on driving in Australia

A dirt road through the Outback.Australia as I have said elsewhere, is amazingly huge. It is, in fact, larger than the contiguous lower 48 states of the U.S.—and with far, far fewer roads. To drive across the country, on either axis, would take several days—and that's without stopping.
Reconsider driving great distances—say, Sydney to Alice Springs (2,774km—that's a solid 30 hours)—and taking a plane instead.
Not that there aren't some gorgeous, classic drives in Australia well-worth making, from the Great Ocean Road carved from the Victoria coast to the Stuart Highway through the Outback.
Just give yourself plenty of time to cover any distance in Australia, and in the Outback, always gas up when you have the chance.
A few tips on driving in the Outback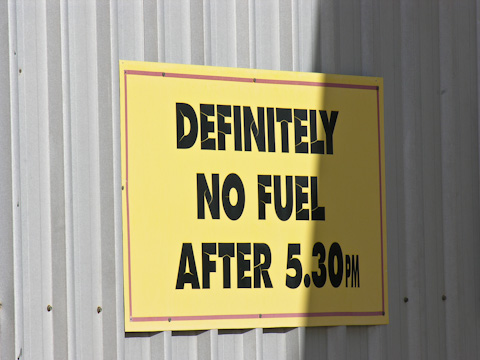 Be sure to buy petrol at every oppprtunity in the Outback; gas stations are few and far between—and even then are not always open!Outback roads are often surveyor-straight, unvarying, and pancake flat for hundreds of miles at a stretch, surrounded by scrubby red desert.
It is downright hypnotic, which can be dangerous. Luckily, the government provides free coffee at regular intervals on highways to help keep motorists (and road train drivers) awake.
Ah, yes. That lovely Aussie invention: The road train. This is a semi, or tractor trailer—only with three trailers (occasionally four—though the front one is stubby). A "32-wheeler," if you will. These comically long trucks barrell down the ruler-straight roads of the Outback at a frightening clip.
Also, do not drive around the Outback at dusk. The roads aren't lit, and wallabies and countless other critters come crawling and hopping out of the desert in shocking numbers at dusk, and they tend to wander into the roads.
Not only is it sad to squash a cute little wallaby, it can be dangerous (they can get quite big). Kangaroos, camels, and brumbies (wild horse), too. I'm just saying: don't drive if it's is not daylight out (and especially avoid the roads at dusk and dawn).
You can run over as many bufos (large, invasive cane toads) as you like.
| | |
| --- | --- |
| The Travel Store | |