Neuschwanstein Castle
Mad King Ludwig's fairy tale castle (and his everyday Hohenswchangau castle) in Bavaria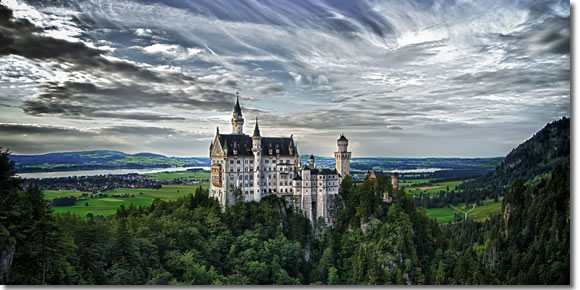 (Photo by Fjpuentes)
Ever wonder where Walt Disney got the idea for that precious Cinderella castle at his theme parks? He drew direct inspiration, and even some architectural blueprints, right from Bavaria's storybook castle, Neuschwanstein.
King Ludwig II—in many ways the epitome of a 19th-century Romantic—built or renovated many a castle for himself.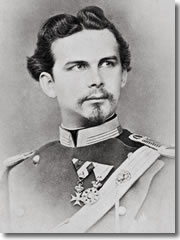 "Mad King" Ludwig II But in the end, he decided that the only thing that would completely satisfy him would be to create a castle that looked truly befitting of the knights of old, a fairy-tale edifice straight out of a story by the Brothers Grimm.
Neuschwanstein was the result and is still a stunning, dreamlike sight, perched halfway up a forested mountain near a waterfall. It's all slender towers, ramparts, and pointy turrets done in pale gray.
A strenuous 25-minute downhill walk (you can also take a bus) from Neuschwanstein is Hohenschwangau, the much more practical day-to-day castle created by Ludwig II's father and where Ludwig actually lived.
Neuschwanstein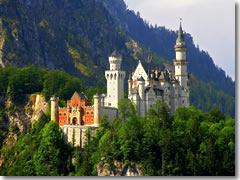 (Photo by Cezary Piwowarski) Of the many weird and theatrical details the tour of Neuschwanstein will show you, some of the most impressive include the king's bedroom—almost every inch covered in intricately carved wood—and his near-finished neo–Byzantine-Romanesque Throne Room.
The huge Sängerhalle (Singers Hall) is covered with paintings that refer to the work of composer Richard Wagner.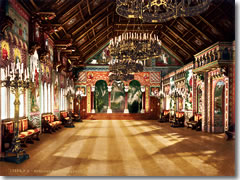 An 1886 colorized photo postcard of the Singer's Hall at Neuschwanstein Castle.Ludwig II was positively enthralled by Wagner's music. He supposedly convulsed and writhed in such bliss to the strains of the composer's operas that his aides feared he was having an epileptic fit.
Ludwig fished Wagner out of hiding (his early career in shambles, the composer was hiding from creditors), bailed him out of his enormous debt, poured money into whatever project the composer desired, and generally went above and beyond the call of a patron's duty, often to the neglect of his state duties.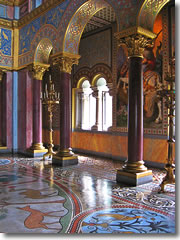 Inside Neuschwanstein Castle. (Photo by Lokilech) This was the sort of thing that earned Ludwig II the moniker "Mad King Ludwig," but the monarch probably wasn't certifiable.
Although beloved by his subjects as a genial and well-meaning ruler, Ludwig's withdrawal into his fantasies caused him to lose touch with his court and the political machinations in Munich.
Sadly, the castle was never quite finished, and even by the time it was completed enough to the impatient king to move in, he had less than six months to enjoy his half-finished home.
In 1886, Mad King Ludwig was deposed in absentia. A few days later his body was found drowned, under suspicious circumstances, in a few feet of water at the edge of a lake. Ludwig only got to spend 170 days in his perfect fantasy palace.
Neuschwanstein practicalities
You can only visit the interior of Neuschwanstein on a 35-minute guided tour (in English—or just about any other major langauge, for that matter).
Neuschwanstein is open April to September daily from 8am to 5pm, October to March daily from 9am to 3pm.
This is Bavaria's biggest tourist draw by a long shot. The crowds pack the place to the rafters by 9am, and they don't thin out until 4pm or so. Unless you book your entry time ahead (or take a guided tour), you can wait for hours just to get in.
Hohenschwangau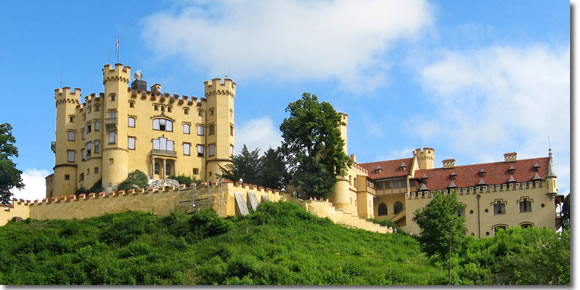 At the bottom of Neuschwanstein's hill is the tiny village/parking lot of Schwangau, which serves as a lunch stop for tour-bus crowds.
Across its only road and on top of a much shorter hill is Hohenschwangau (tel. 08362/81-127; www.hohenschwangau.de), a yellow sandy-colored castle restored in neo-gothic style by Ludwig's father, Maximilian II.

(Photos by Lokilech) It's a much more businesslike, everyday fortress than its fanciful neighbor; although it doesn't have the same kind of excessive glamour, tours can prove interesting (usually in German, unless enough English speakers show up).
This was a real home of a castle, where Ludwig lived for 17 years—and where he hosted his broke buddy Wagner in a guest room.
You could almost picture yourself moving in here—though you might never use the dramatic Hall of the Swan Knight, with its dramatic wall paintings of the Germanic myths, unless it were a special occasion.
Hohenschwangau is open daily: April to September 8am to 5:30pm, October to March 9am to 3:30pm. (Adm)
How to get to Neuschwanstein
A baroque sidetrip
Between Neuschwanstein and Munich, off a side road, hides the pilgrimage church of Wieskirche, one of the most over-the-top examples of the late baroque period in Germany.
The sister castles of Neuschwanstein and Hoheschwangau are usually referred to collectively on road signs as Königsschlösser (king's castles).
It's best to get around by car for this trip, but you can swing it via public transportation from Munich. Take one of the nearly hourly trains to Füssen (a two-hour trip), from which hourly buses make the 10-minute trip to the castle parking lot.
Where to park at Neuschwanstein
When driving into this castle complex, you'll have your choice of parking lots in Schwangau, that little tourist center by the lake. Which one you pick will determine which trail you take up to the castle:
Fastest but steepest: Park in the P3 lot (sometimes still called Lot D; the first one on the left coming from Munich, just before the intersection) for the quickest—but steepest—walk up to Neuschwanstein (20 to 30 minutes).
Slower but easier: Go farther down the road to the P4 lot (the big lot on the right) if you want to take the long, but less steep, paved road up (30 to 45 minutes).
It's a fairly strenuous hike either way.
Other options:
A horse-drawn carriage: Costly horse-drawn carriages (€6 up, €3 back) will take you as far as the ticket office, which is two-thirds of the way up the path. (A hike of about 15 minutes takes you the rest of the way.)
Shuttle bus:The easiest route up is to take the shuttle bus (€1.80 up; €1 back) that leaves from near Hotel Lisl and actually overshoots the castle to stop at Marienbrücke, a bridge across the gorge above Neuschwanstein.

Overshooting is actually a good idea. It not only lets you walk (steeply) back downhill in 10–15 minutes to the castle, but also affords that classic, great view—beloved by the local postcard industry—of the castle with Alpsee lake and its valley in the background.
Tips
Planning your time at Neuschwanstein: Although you can do both castles in a day (budget two hours total for Neuschwanstein, another 45–60 minutes for Hohenschwangau), you may find it more relaxing to stay a night in the area, basing yourself in Füssen.

A good plan is to take a late train into Füssen and spend the night. That way, you can be up early and to Neuschwanstein with the first wave of crowds (it's just as crowded early as it is at any other time, but at least the ticket lines haven't backed up yet).
Neuschwanstein visitor information: There's a local tourist office (tel. +49-(0)8362/81-980; www.schwangau.de) in the tiny village/parking lot of Schwangau; it's closed mid-November through mid-December. You can also get information on the ever-popular Neuschwanstein at the tourist offices in Munich and Füssen.
Arrive early, book ahead, or take a tour: I once arrived at Neuschwanstein with a group of nine Boy Scouts bright and early one fine summer's day, only to find (after waiting 30 minutes in a ticket line) that all tours for the day had already sold out. In summer especially, tour buses and other groups gobble up nearly all the entry times. Don't let this happen to you: either book tickets ahead for a small fee (+49-(0)8362/836-293-0830; www.hohenschwangau.de) or sign up for a tour (see below).
Combined admission: If you plan to visit both castles, you can save a whopping €1 by buying the "King's Ticket" covering entry to both (you start with a Hohenschwangau tour, then proceed up the hill to Neuschwanstein).
Book a tour: Perhaps the easiest way to get to Neuschwanstein is to let others take care of the logistics and transportation—and provide you with a tour guide—on a guided tour side trip from Munich. You can book these at a discount via our partners Viator.com:
| | |
| --- | --- |
| The Travel Store | |
Schloss Neuschwanstein
ADDRESS
Neuschwansteinstrasse 20
Schwangau


Tel.
+49-(0)8326/930-830
www.neuschwanstein.de
OPEN
Apr–Sept:
Daily 8am–5pm
Oct–Mar:
Daily 9am–3pm
ADMISSION
Neuschwanstein: €12
Hohenschwangau: €12
Both castles: €23
TOURS
•
Neuschwanstein Castle Small Group Day Tour from Munich
•
Royal Castles Day Tour of Neuschwanstein and Linderhof from Munich
•
Overnight Royal Castles Tour - Linderhof, Hohenschwangau, Neuschwanstein
•
3 day Munich to Frankfurt - Romantic Road, Rothenburg, Hohenschwangau, Neuschwanstein
•
4 day Munich to Frankfurt - Romantic Road, Linderhof, Hohenschwangau, Neuschwanstein
•
3 day Frankfurt to Munich - Romantic Road, Rothenburg, Hohenschwangau, Neuschwanstein
•
4 day Frankfurt to Munich - Romantic Road, Hohenschwangau, Neuschwanstein